[bsa_pro_ad_space id=4]
20-09-2014 – 01-01-1970
eAuction #29
Auctiones' new eAuction
Bern-based auction house Auctiones announces that eAuction #29 will end on September 21, featuring 323 lots from the following areas: Celtic and Greek (18), Roman Provincial (13), Roman Republic (3), Roman Imperial (32), Early Medieval and Byzantine (8), Islamic (12), Modern (229), Lots (8).
The sale has a pre-sale estimate of more than 200'000 CHF and includes many rarities in sometimes pristine condition.
6: Gaul. Treviri. 1/4 Stater (13 mm, 1.80 g), 2nd-1st Century BC. LT 6821; Sch/GB 132; DT 124. Extremely rare. Minor flan crack, otherwise, extremely fine. Estimate: 5,000 CHF.
Highlights such as an extremely rare Treviri 1/4 Stater, an EF Syracuse AV Dekadrachm, an impressive Caligula AE Sestertius and a series of exceptional late Roman gold are to be found among the ancient coins, whereas the islamic section includes a number of rare AV denominations.
233: France. Charles VI. Gold coin (ecu d'or à la couronne) (29 mm, 3.92 g), Toulouse, 1394. Dupl. 369c. Rare in this state. Extremly fine. Estimate: 1,500 CHF.
The modern section starts with Merovingian gold coins …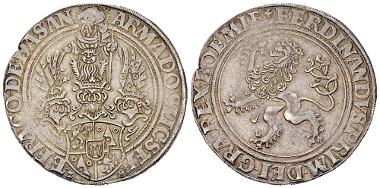 136: Holy Roman Empire of the German Nation. Schlick, County. Stefan, Burian, Hieronymus, Heinrich and Lorenz. Taler 1528 (40 mm, 29.07 g), Joachimstal. Dav. 8148; Doneb. 3782. Extremely rare. Almost extremely fine. Estimate: 3,000 CHF.
… followed by a large collection of European Talers.
296: Savoy. Vittorio Amadeo III. Doppio nuovo 1792 (25 mm, 9.11 g), Torino. KM C67; Fr. 1120. Rare. BU. Estimate: 3,500 CHF.
Other highlights include a run of French medieval coins, a small collection of rare Savoyan issues and many other interesting discoveries. The sale closes with a small selection of Olympic medals and 12 lots.
The coins can be viewed during the auction time in Bern, CH, by prior appointment.
You can browse through the auction catalogue on the Auctiones website.