[bsa_pro_ad_space id=4]
07-05-2014 – 01-01-1970
Fixed-Price List May
Atlas Numismatics Publishes their Newest Fixed-Price List
Atlas Numismatics has updated their website with 135 new coins, medals, and tokens at fixed price. Selections include late eighteenth century Spanish gold, medals celebrating the campaigns of the Duke of Wellington, and an exquisite group of British trade tokens. Below is a sampling of this offering.
1015335: BRITISH, Great Britain. Arthur Wellesley, 1st Duke of Wellington (1769-1852). 1809 AR Medal (issued 1820). PCGS MS64. Mudie's National Medals Series: Passage of the Duoro (41mm). By N. G. A. Brenet, E. J. Dubois, & J. Mudie. Eimer 997; BHM 671; Mudie 15; Bramsen 843. Attractively toned.
$985
1015222: BRITISH, Great Britain. Victoria (Queen, 1837-1901). 1861 AE Penny. PCGS PF65+ Red-Brown. London mint. Bun head type. Dies 6/G. KM 749.2; S 3954; Peck 1649; Freeman 37. Exceptional gem proof.
$4,950
1015716: BRITISH, Trade Tokens. Middlesex. Thomas Spence. 1795 CU Halfpenny Token. PCGS MS65 Brown. D&H 686. Stunningly lustrous gem.
$495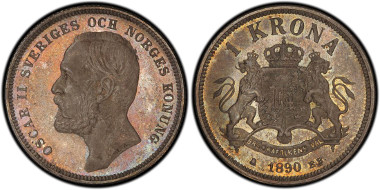 1015162: SWEDEN. Oscar II (King, 1872-1907). 1890-EB AR Krona. PCGS MS66. Stockholm mint. KM 760; Ahlström 73. Deeply and attractively toned, with mirrored fields indicating that this may well be a proof striking. Includes old collection ticket. Ex "Colonel" E. H. R. Green Collection.
$1,750
Updates to their online inventory are issued on the final Friday of each month.
For more information and to sign up for the firm's monthly newsletter, visit the website of Atlas Numismatics.