[bsa_pro_ad_space id=4]
Atlas Numismatics Publishes their Newest Fixed-Price List
Atlas Numismatics has updated their website with 728 new coins, medals, and tokens at fixed prices. Selections include the following items: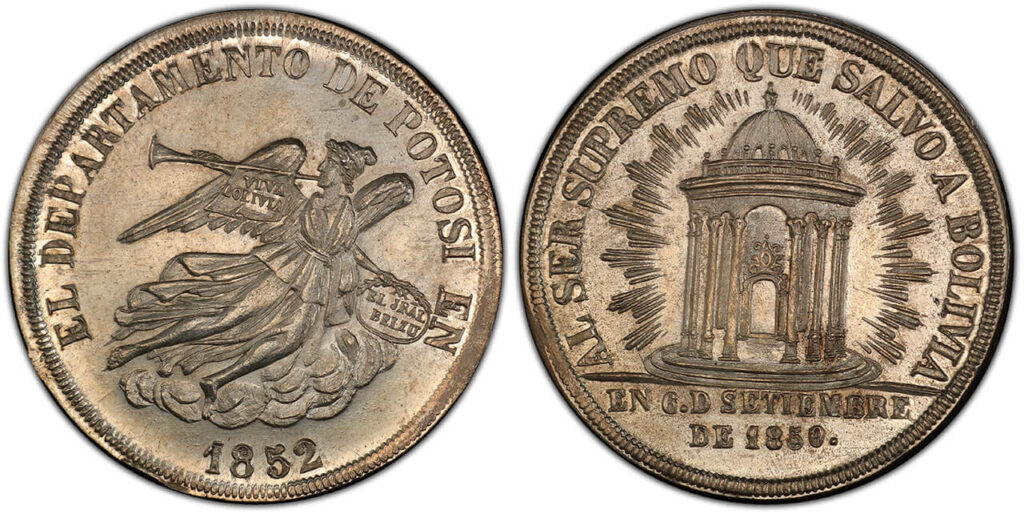 Superb Bolivia Proclamation 8 Soles
1055689: Bolivia. 1852 AR Proclamation 8 Soles. PCGS MS65. Potosi. Edge: Plain. Angel in flight, blowing horn and holding wreath / Radiant temple. Burnett 40A1. Superb frosty gem, extremely rare in this quality. Please use this link to verify the PCGS certification number 37450861. $1,650.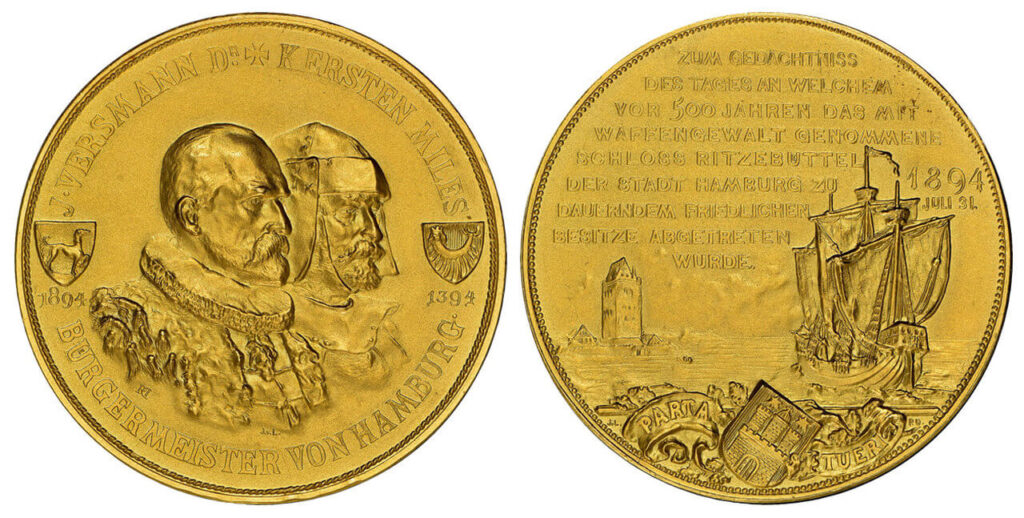 Exceptional Medallic 100 Mark or Portugalöser
1055546: German States. Hamburg. 1894 AV Medallic 100 Mark, Portugalöser. NGC MS66. By J. von Langa and P. F. Düyffcke. Edge: H.M. GOLD 980. 42.58mm. 36.59gm. Conjoined half-length portraits of two mayors of Hamburg, Johannes Versmann (1820-1899) and Kersten Miles (1340-1420), with their coats of arms at sides / Sailing ship, in the background the Great Tower on the island of Neuwerk, coat of arms below. Gaedechens 2453; Vogel 8885; Geschichte in Gold 316. On the 500th anniversary of the granting of the castle Ritzebüttel to the city of Hamburg. Superb matte gem, exceptional surfaces. Very rare. $14,950.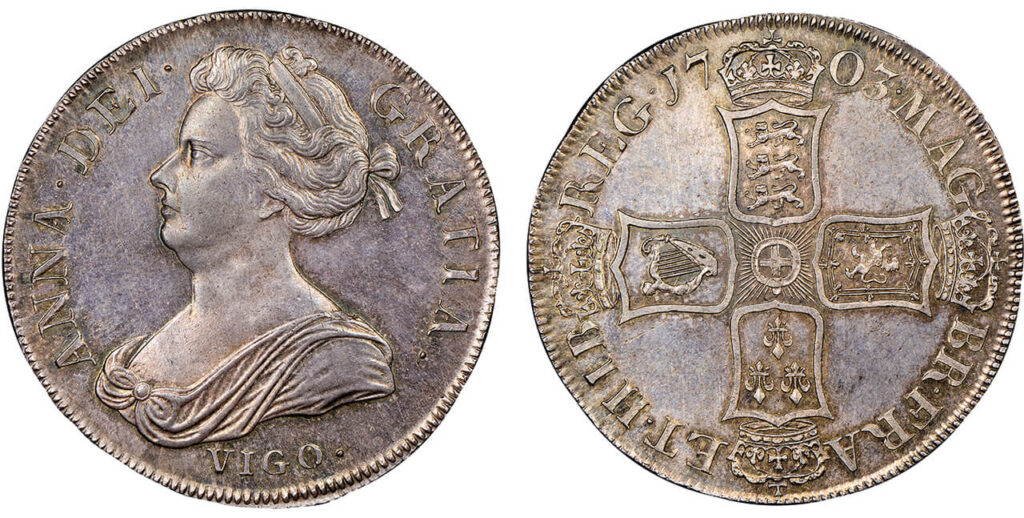 Exquisite Queen Anne Vigo Crown
1055681: Great Britain. England. Anne. (Queen, 1702-1714). 1703 AR Crown. NGC MS65. 29.81gm. ANNA . DEI . – GRATIA . VIGO below bust / MAG – BR . FRA – ET HIB – REG. Crowned shields in cruciform. KM 519.1; SCBC-3576; ESC-1340 (Prev. ESC-99); Davenport 1338. Struck from silver seized at Vigo Bay, Spain.
Superb prooflike gemwith a razor-sharp strike and lovely cabinet patina. Struck on a generous flan with crisp denticles; we believe this piece is likely a specimen or presentation striking although not noted as such by NGC.
Ex. Samuel Arthur Henry Whetmore, from collection auctioned by Glendining & Co. on July 14th, 1961, lot 89, where noted as "purchased from an estate at some time this century, in an original envelope endorsed 'from Aunt 1703'" and sold for £135.0.0. Includes complete original paper catalogue from Glendining & Co.'s 1961 sale of Whetmore's "Important Collection of Crowns" (scans of corresponding pages shown). $85,000.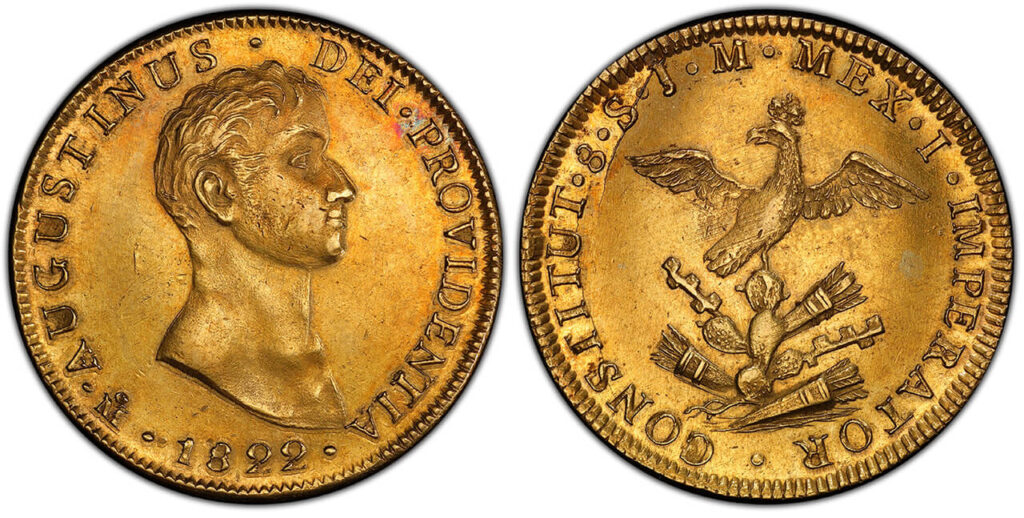 Attractively Toned Iturbide 8 Escudos
1054763: Mexico. Augustin I Iturbide. 1822-Mo JM AV 8 Escudos. PCGS AU55. Mexico City. AUGUSTINUS . DEI… Head right / CONSTITUT.8.S.I.M… Crowned eagle. KM 313.1. Beautifully toned and conservatively graded. $11,500.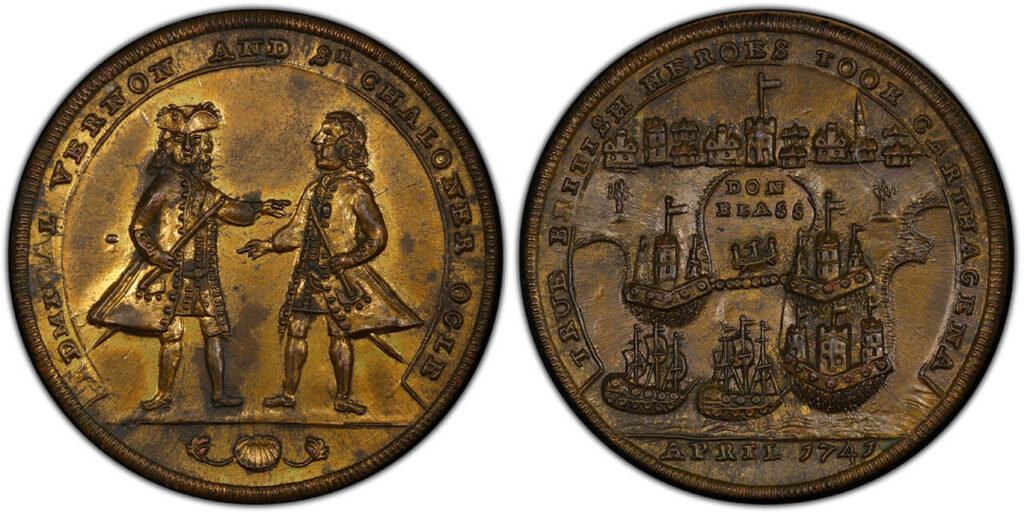 Mint State Admiral Vernon Medal
1054995: Great Britain. Admiral Vernon. 1741 Bath Metal Medal. PCGS MS62. Edge: Plain. 38mm. 10.58gm. ADMIRAL VERNON AND SR CHALONER OGLE. Admiral Vernon facing slightly right, and Sir Chaloner Ogle left, each holding baton, standing on tablet with shell and leaf ornament below / TRUE BRITISH HEROES TOOK CARTAGENA. Three ships under sail right and small boat left attacking three forts with two inner forts connected by chain; in background, view of city and inner harbor with DON/BLASS above small boat; in exergue, APRIL 1741. Betts 319; Adams-Chao CAvo 2-B; MI, pl. CLVIII, 3. On the Capture of Cartagena. $1,750.
Current and Upcoming Events
Atlas will be attending the following numismatic convention. Please stop by and say hello if you have a chance.
The 13th Annual Summer F.U.N. Convention
July 11th – July 13th, 2019 – Table #TBD
Orange County Convention Center
9800 International Drive, West Building, Hall WE1
Orlando, Florida
The 2019 Chicago World's Fair of Money- Table #s 1736-1738
August 13-17, 2019
American Numismatic Association (ANA)
Donald E. Stephens Convention Center
5555 N. River Road, Rosemont, Illinois
Updates to their online inventory are issued monthly.
For more information and to sign up for the firm's monthly newsletter, visit the Atlas website.