[bsa_pro_ad_space id=4]
Atlas Numismatics Publishes their Newest Fixed-Price List
Atlas Numismatics has updated their website with 151 new coins, medals, and tokens at fixed prices. Selections include the following items: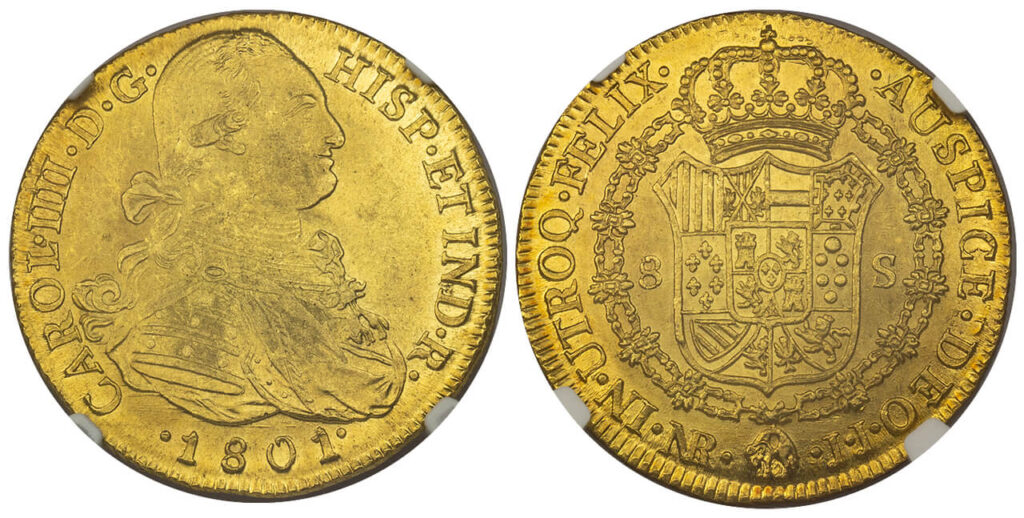 Exceptional Charles IV 8 Escudos of Colombia
1056092: Colombia. Charles IV. (King, 1788-1808). 1801-NR JJ AV 8 Escudos. NGC MS64. Santa Fe de Nuevo Reino (Bogotá) mint. CAROL · IIII · D · G · HISP · ET … Uniformed bust right / IN · UTROQ · FELIX · AUSPICE · DEO ·. Crowned arms within Order chain. KM 62.1. Superb frosty surfaces, an exceptional example of the type. $6,950.
Wholesome James II Five Guineas
1056116: Great Britain. England. James II. (King, 1685-1688). 1688 AV Five Guineas. NGC XF40. Edge: Raised lettering, QVARTO. Laureate bust of James II left / Crowned cruciform shields, sceptres in angles. KM 460.1; SCBC-3397A; MCE-1192. Attractive cabinet patina. Includes original collector's ticket. $19,500.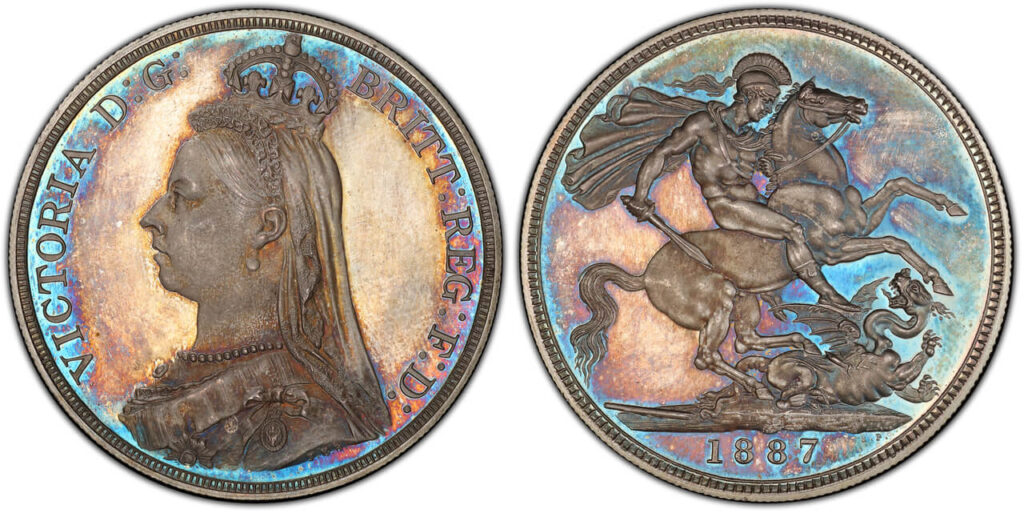 Gem 1887 Proof Crown
1054204: Great Britain. Victoria. (Queen, 1837-1901). 1887 AR Crown. PCGS PR65+. Edge: Reeded. VICTORIA D:G: BRITT: REGINA: F:D:. Bust left wearing small crown and veil, J.E.B. on truncation / St. George slaying dragon right. KM 765; SCBC-3921; Dav.-107. Jubilee head. Cameo contrast is evident but not noted by PCGS. $6,750.
Exceedingly Rare Matte Proof 1927 Shilling
1056297: Great Britain. George V. (King, 1910-1936). 1927 AR Shilling. NGC PR66 Matte. By B. Mackennal (Obv.); Kruger Gray (Rev.). GEORGIVS V DEI GRA: BRITT: OMN: REX. Head left / FID DEF – IND IMP • ONE • SHILLING • 1927. Lion atop crown. KM 833; SCBC-4039; ESC-1440A (R7). Modified Reverse. Exceedingly rare with the matte finish. $7,500.
Choice Treaty of Paris Medal
1056120: Russia. Treaty of Paris. 1814 AE Medal. PCGS SP64. Edge: Plain. 47mm. 46.68gm. NVNQVAM VIDEBIMVS EIS SIMILES ITERVM (around) / THOMASON DIREX (below busts). Conjoined laureate busts of Prince Regent George IV, Friedrich Wilhelm III of Prussia, Francis II of Austria, and Alexander I of Russia / AVSPICIVM MELIORIS AEVI (around) / PAX PER EVROPAM/ MDCCCXIV/ MAI XXX (in exergue). Peace standing, holding olive branch and cornucopia. Eimer-1045; BHM-802; Diakov-385. Great Britain designated on the PCGS insert. Housed in an oversized holder. Insert notes "Great Britain" as country. $495.
Current and Upcoming Events
Atlas will be attending the following numismatic convention. Please stop by and say hello if you have a chance.
The 13th Annual Summer F.U.N. Convention
July 11th – July 13th, 2019 – Table #TBD
Orange County Convention Center
9800 International Drive, West Building, Hall WE1
Orlando, Florida
The 2019 Chicago World's Fair of Money
August 13-17, 2019 – Table #s 1736-1738
American Numismatic Association (ANA)
Donald E. Stephens Convention Center
5555 N. River Road, Rosemont, Illinois
Updates to their online inventory are issued monthly.
For more information and to sign up for the firm's monthly newsletter, visit the Atlas website.