[bsa_pro_ad_space id=4]
Atlas Numismatics Publish Their Newest Fixed-Price List
Atlas Numismatics has updated their website with 451 new coins, medals, and tokens at fixed prices. Selections include the following items: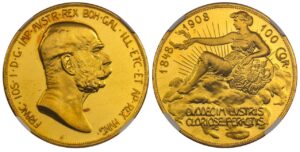 Superb Lady-in-the-Clouds 100 Corona
No. 1061593: Austria. Franz Joseph I. (1848-1916). 1908, 100 Corona, Kremnitz. By Rudolf Marschall & Rudolf Neuberger. NGC PR64 Cameo. Edge: Incuse lettering. FRANC·IOS·I·D·G·IMP·AVSTR·REX BOH·GAL·ILL·ETC·ET AP·REX HUNG·. Head right / 1848 1908 100 COR· with DVODECIM LVSTRIS / GLORIOSE PERACTIS Resting figure of Fame (Lady in the clouds). KM-2812; Fr.-514; J.-400; Schl.-646.
Struck to commemorate the 60th anniversary of the reign of Franz. A superb example of this popular type. Price: $115,000.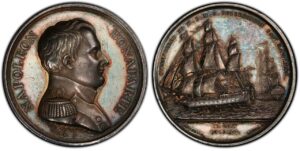 Napoleon's Surrender Medal in Silver
No. 1061655: France. Napoleon Bonaparte (1804-1814, 1815). AR Medal, 1815. By Nicolas-Guy-Antoine Brenet. PCGS SP62. Edge: Plain. NAPOLEON BONAPARTE. Uniformed bust right; signed below truncation / SURRENDERED TO H. B. M. S. BELLEROPHON CAPT MAITLAND.// XV. JULY / MDCCCXV. Naval battle featuring the Bellerophon; signed BRENET F. and MUDIE D. Bramsen 1691; Julius 3430.
Surrender and exile in Saint Helena where he landed in October. Price: $2,450.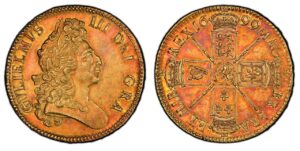 Beautifully Toned 1699 Five Guineas
No. 1061410: Great Britain. William III. (1694-1702). Five Guineas, 1699. By John Croker. NGC AU58. Edge: UNDECIMO• + •DECVS•TVTAMEN•ANNO•REGNI•. GVLIELMVS-III DEI GRA. Laureate bust of William III right / MAG·BR·FRA·ET·HIB REX·16 99·. Crowned cruciform arms with scepters in angles, date divided at top. KM 505.1; SCBC-3454.
Superb deep cabinet toning, very attractive for the grade assigned and an extremely rare type in high grade. Only a single finer example of the date has been certified (MS62) at both services as of September 2020. Price: $149,500.
Deep Cameo 1839 Proof Sovereign
No. 1062122: Great Britain. Victoria (1837-1901). Sovereign, 1839. PCGS PR65+DCAM (Deep Cameo). Edge: Plain. VICTORIA DEI GRATIA. Head left / BRITANNIARUM REGINA FID: DEF:. Without die number. KM 736.1; SCBC-3852; WR-302; Fr-387a; Marsh 23A.
Struck in medal alignment. Superb and exceptional, one of the finest surviving examples of the issue. Price: $89,500.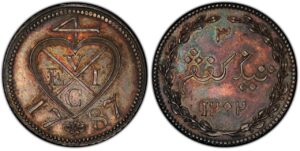 Pattern 3 Kepings in Silver
No. 1061422: Netherlands East Indies. Sumatra, Pattern 3 Kepings, AH1202-1787, . Soho Mint. PCGS SP64. Edge: Oblique milled. VEIC bale-mark, date below / Value and date below; within wreath. KM Pn11 Variant (silver); Pridmore 24. Attractive cabinet patina, exceedingly rare in silver. Ex Pridmore Collection; Ex- Spink Singapore Sale 19, lot 341. Includes original collector's envelope. Price: $49,500.
Current and Upcoming Events
Atlas will not be attending the Whitman Coin Collectibles Expo in November or the NYINC in January as both events have been canceled.
Updates to their online inventory are issued monthly.
For more information and to sign up for the firm's monthly newsletter, visit the Atlas website.