[bsa_pro_ad_space id=4]
23-07-2014 – 01-01-1970
Fixe-Price List July
Atlas Numismatics has updated their website with 130 new coins, medals, and tokens at fixed prices. Selections include Belgian jetons, rare bun-head pennies, choice Dutch minors. Below is a sample of this offering.
1016493: BELGIUM, Antwerp. 1666 CU Jeton. PCGS MS63 Brown. The Advent of King Carlos II of Spain. Dugnoille 4231. $449.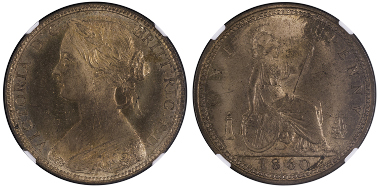 1016538: BRITISH, Great Britain. Victoria (Queen, 1837-1901). 1860 AE Penny. NGC MS64 Red-Brown. London mint. Bun head type. Dies: 2/B. Toothed obverse/beaded reverse. KM 749.2; S 3954; Freeman 9; Peck 1628. Very rare mule. $9,500.
1016202: GREECE. Georgios I (King, 1863-1913). 1869 CU 2 Lepta Essai. PCGS SP65 Brown. Paris mint. KM E5; Stratoudakes 126E. Exceptionally colorful gem. $4,500.
1016658: NETHERLANDS, United Provinces. Zeeland. 1762 AR 6 Stuivers – Scheepjesschelling. PCGS MS64. KM 90.2. $695.
Updates to their online inventory are issued on the final Friday of each month.
For more information and to sign up for the firm's monthly newsletter, visit the website of Atlas Numismatics.