[bsa_pro_ad_space id=4]
21-10-2014 – 01-01-1970
Fixe-Price List
Atlas Numismatics Publishes their Newest Fixed-Price List
Atlas Numismatics has updated their website with 143 new coins, medals, and tokens at fixed price. Selections include the following items:
Apparently Unique Magistrate for Denomination
1016987: GREEK. Ionia, Miletos. Circa 360-350 BC. AR Drachm. NGC MS. Strike: 5/5 Surface: 4/5. Fine Style. (16mm, 3.58 g, 12h). Antiandros, magistrate. Compare to Deppert 56–9 (hemidrachms); compare to Marcellesi series 3; otherwise unpublished. Apparently a unique drachm for this magistrate. $3750.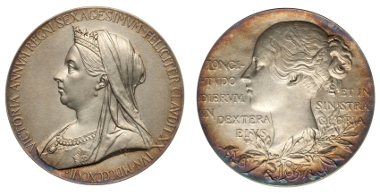 Beautiful Diamond Jubilee Medal Pair With Original Red Leather Case
1017533: BRITISH, Great Britain. Victoria (Queen, 1837-1901). 1897 AR and AE Medal Pair. Mint State. Diamond Jubilee (56mm). By G. W. de Saulles, after T. Brock and W. Wyon. Eimer 1817a. Includes original red leather case of issue. Sold.
Exceptional Napoleon 5 Lire
1017565: ITALY. Napoleone I (King, 1805-1814). 1807-M AR 5 Lire. NGC MS64. Milan mint. KM 10.1; Davenport 202; Pagani 25a. $6,750
Atlas will be attending the following numismatic conventions:
Whitman Coin Expo
October 30-November 2, 2014 Baltimore, Maryland
New York International Numismatics Convention
January 9-11, 2014 New York, NY
Updates to their online inventory are issued on the final Friday of each month. For more information and to sign up for the firm's monthly newsletter, visit the firm's website.