[bsa_pro_ad_space id=4]
03-06-2014 – 01-01-1970
Fixe-Price List June
Atlas Numismatics Publishes their Newest Fixed-Price List
Atlas Numismatics has updated their website with 353 new coins, medals, and tokens at fixed price – representing their largest selection of new material to date. Selections include late eighteenth century British and Mexican colonial, Russian minors, and Polish medals. Below is a sampling of this offering.
1015239: BRITISH, Great Britain. George IV (King, 1820-1830). 1821//II AR Crown. PCGS MS65. London mint. KM 680.1. Most attractively toned; a stunning gem. $7,750.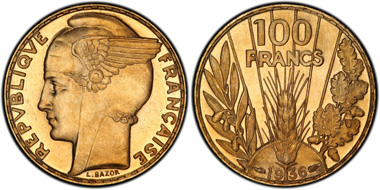 1014646: FRANCE. Third Republic (1871-1940). 1936 AV 100 Francs. NGC PF65. Paris mint. KM 880. Lustrous gem. $6,950.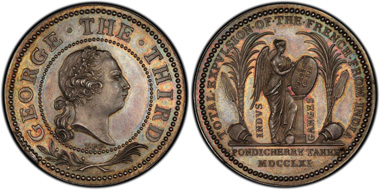 1014233: INDIA, British Colonial Period. George III (King, 1760-1820). 1761 AR Medal. PCGS PF64. Pondicherry Taken (39mm). By T. Pingo. Eimer 686. Exquisitely toned. $2,500.
1014413: MEXICO, Colonial Period. Felipe V (Second reign as King of Spain, 1724-1746). 1738-Mo MF AR 8 Reales – 'Pillar Dollar.' NGC MS61. Mexico City mint. KM 103. Lightly toned. $3,250.
Beginning with this list, the firm offers free shipping via FedEx to all orders within the United States. Updates to their online inventory are issued on the final Friday of each month.
For more information and to sign up for the firm's monthly newsletter, visit the website of Atlas Numismatics.