[bsa_pro_ad_space id=4]
10-09-2014 – 01-01-1970
Fixe-Price List September
Atlas Numismatics Publishes their Newest Fixed-Price List
Atlas Numismatics has updated their website with 263 new coins, medals, and tokens at fixed price. Selections include the following items:
1017284: BRITISH, Great Britain. George IV. 1821 Sovereign. NGC PF64. London mint. KM 682; Friedberg 376; S 3800; Marsh 5. Exceptionally prooflike fields featuring a light, golden-orange tone. Extremely rare. $17,500.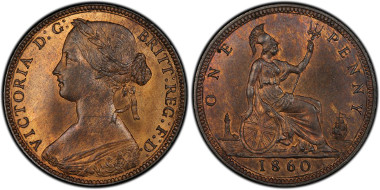 1016921: BRITISH, Great Britain. Victoria. 1860 Penny. PCGS MS64 Red-Brown. London mint. KM 749.2; S 3954; Freeman 11; Peck 1630. An extremely rare variety struck on a heavy flan of 11.29 g. $12,500.
1017091: CZECHOSLOVAKIA. 1936 10 Dukátu. PCGS MS66+. Kremnitz mint. KM 14; Friedberg 4. Low mintage of only 633 pieces. $25,000.
1017064: SPAIN. Felipe IV. 1636-R 8 Reales. NGC MS63. Segovia mint. KM 39.6; Calicó 578; ME 9124. Exceptionally lustrous and choice. $9,500.
Atlas Numismatics has introduced a new feature on their website, an archive section with selections from sold inventory. It is accessible here.
Updates to their online inventory are issued on the final Friday of each month.
For more information and to sign up for the firm's monthly newsletter, visit the website of Atlas Numismatics.