[bsa_pro_ad_space id=4]
Atlas Numismatics Publishes their Newest Fixed-Price List
Atlas Numismatics has updated their website with 280 new coins, medals, and tokens at fixed prices. Selections include the following items: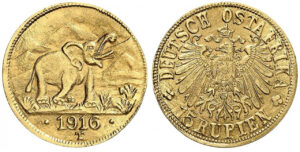 Superb 15 Rupien
1055548: German East Africa. Wihelm II. 1916-T AV 15 Rupien. NGC MS65. Tabora. Crowned imperial eagle above denomination, right arabesque ends below first "A" of "OSTAFRIKA" / Elephant roaring right above date. KM 16.2; J-728a; Friedberg 1. Tabora emergency issue. Superb frosty gem, extremely rare in this quality. $12,500.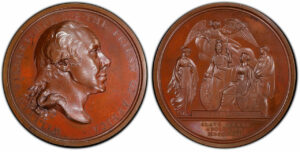 William Wilberforce, Abolitionist
1054334: Great Britain. 1807 Bronzed AE Medal. PCGS SP65. By T. Webb. 53mm. WILLIAM WILBERFORCE M. P. THE FRIEND OF AFRICA. Bare bust of Wilberforce right / SLAVE TRADE ABOLISHED MDCCCVII. Britannia with Victory, Prudence, Mercury and Justice. Eimer 983; BHM-627. On the abolition of slavery. Superb glossy surfaces, very rare in this quality. Housed in an oversized holder. $1,650.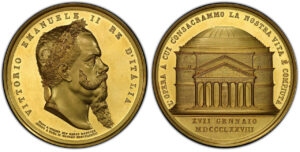 Internment of Vittorio Emanuele II in the Pantheon
1053835: Italy. Vittorio Emanuele II. (King, 1861-1878). 1878 AR and AV Set of Two Medals. NGC MS61-MS63PL (Prooflike). By Filippo Speranza. 237.01gm (AV); 139.55 gm (AR). Both 69mm. VITTORIO EMANUELE II RE D'ITALIA. Bust of the King wearing long beard and curling moustache and facing right in crowned wreath of oak leaves, dates of his birth and death below / L'OPERA A CUI CONSACRAMMO LA NOSTRA VITA È COMPIUTA. Frontal view of the Pantheon, date in two lines in exergue. Comozzi-Vertova 1633.
Commemorating the internment of the late King in the Pantheon, Rome. Grades as follows: NGC MS63PL (Prooflike) (AV); NGC MS61 (AR). A superb matched pair in exceptionally large format (the gold examples weighs in at over 67 ducats), struck in high relief.  Housed in oversized holders. Includes pink velvet case issued by the jeweler Carmagnola of Turin. $69,500.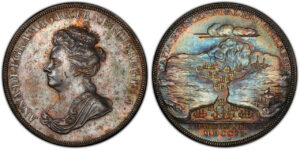 Battle of Vigo Bay Medal
1055438: United States of America. Anne. (Queen, 1702-1714). 1702 AE Medal. PCGS MS62. By J. Croker. 17.75gm. ANNA . DEI GRA: MAG: BR: FRA: ET . HIB: REGINA . Draped and crowned bust left / CAPTA . ET . INCENSA . GAL: ET . HISP: CLASSE. Fleet of ships blockading the mouth of a harbor, fort to right, ships burning within. Eimer 395a; MI II, 236/18. On the Battle of Vigo Bay. Superbly toned. $2,250.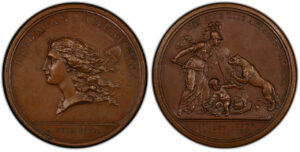 Original Libertas Americana Medal
1055413: United States of America. 1781 AE Libertas Americana Medal. PCGS MS62BN (Brown). By Augustin Dupré. Paris. 48mm. LIBERTAS AMERICANA around, 4 JUIL. 1774 in exergue. Bust of Liberty left with flowing hair, staff with liberty-cap behind / NON SINE DIIS ANIMOSUS INFANS. The infant Hercules on his shield-shaped cradle, strangling a serpent in each hand; Minerva, representing France, stands over him, repelling with lance and lily-emblazoned shield the attack of the British lion. Betts 615; Loubat 14; Adams and Bentley 15.
Struck in Paris at the behest of Benjamin Franklin, who conceived the medal and suggested the mottoes, to commemorate peace following the American victory over Great Britain in the Revolutionary War. French artist Esprit-Antoine Gibelin sketched the design, while the dies were engraved by Augustin Dupré. The obverse portrait would later influence the first renditions of Liberty to appear on United States coinage, specifically those of the Liberty Cap copper coinage and the Flowing Hair silver coinage. The reverse design is highly symbolic, the two serpents representing the American victory over the British at the battles of Saratoga and Yorktown, with Minerva keeping the British lion at bay and confirming that ultimate American independence would not have been possible without French aid. The dates in the exergue on the reverse are the dates of the victories over General John Burgoyne at Saratoga and General Charles Cornwallis at Yorktown. Original striking of 1782. Housed in an oversized holder. $24,500.
Current and Upcoming Events
Atlas will be attending the following numismatic conventions. Please stop by and say hello if you have a chance.
Central States Numismatic Society's 80th Anniversary Convention
April 24th – April 27th, 2019 – Table #1806
Schaumburg Renaissance Hotel and Convention Center
1551 North Thoreau Drive, Schaumburg, IL
The 13th Annual Summer F.U.N. Convention
July 11th – July 13th, 2019 – Table #TBD
Orange County Convention Center
9800 International Drive, West Building, Hall WE1
Orlando, Florida
Updates to their online inventory are issued monthly.
For more information and to sign up for the firm's monthly newsletter, visit the Atlas website.