[bsa_pro_ad_space id=4]
Atlas Numismatics Publishes their Newest Fixed-Price List
Atlas Numismatics has updated their website with 319 new coins, medals, and tokens at fixed prices. Selections include the following items:
1855 Napoleon III Universal Exposition Medal in Gold
1054102: France. Napoleon III. (Emperor, 1842-1870). 1855 AV Medal of 45 Ducat Weight. NGC PR64 Cameo. By Albert Barre. Edge: (Hand). 60mm. 160.16gm. NAPOLEON III EMPEREUR. Half-length portrait to the right / J. GUIMET OUTREMER. Crowned imperial coat of arms surrounded by wreath of heraldry of the twenty countries participating in the exhibition, below cartouche engraved with awardee's name. Divo 234.
For the Exposition Universelle in Paris. Awarded to and inscribed with the name of Jean-Baptiste Guimet for the development of artificial 'outremer' (ultramarine). Awarded to Jean-Baptiste Guimet, who also received the cross of the Legion of Honor during this event. He was a co-founder of the Chemical Company of Alais (Alès) and the Camargue. $55,000.
Attractively Toned 1829 Bavaria Commemorative Thaler
1054262: German States. Bavaria. Ludwig I. 1829 AR Thaler. PCGS MS65+.LUDWIG I KOENIG VON BAYERN, ZEHN EINE FEINE MARK. Head right /HANDELSVERTRAG ZWISCHEN BAYERN, PREUSSEN, WURTTEMBERG UND HESSEN. Caduceus at center of crossed cornucopias, four shields. KM 738; Davenport 564; Thun-57. On the Commercial Treaty Between Bavaria, Prussia, Hesse, and Wurttemberg. Superb and exceptional, prooflike surfaces (not noted as such by PCGS). $3,350.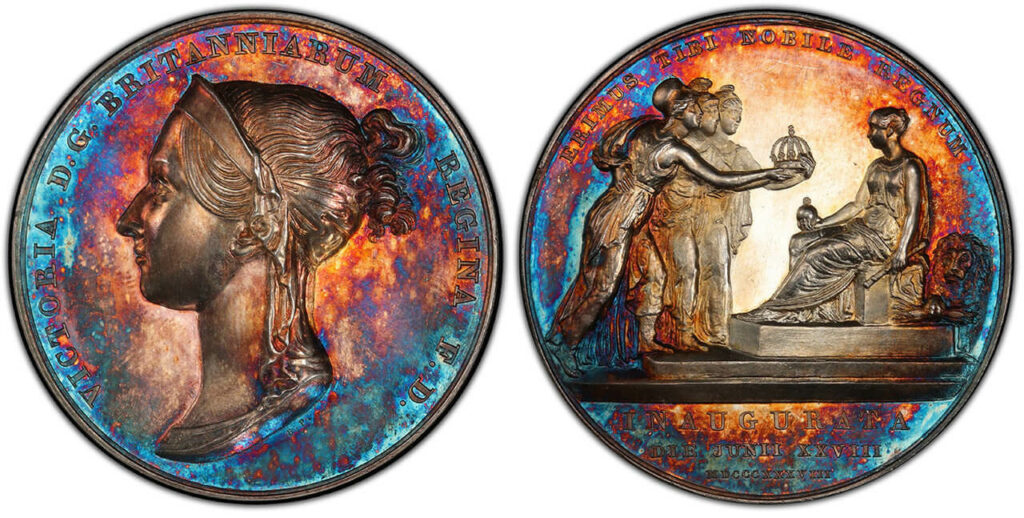 Superbly Toned Victoria Coronation medal
1052359: Great Britain. Victoria. (Queen, 1837-1901). 1838 AR Coronation Medal. PCGS SP64. Bandeau draped bust of Victoria left / Queen enthroned at right being presented crown by Britannia, Hibernia and Scotia at left. Eimer 1315; BHM-1801. On the Coronation of Queen Victoria. Superbly toned and very conservatively graded, in our opinion; the surfaces are exceptional and show the usual die-polishing lines as made. $5,950.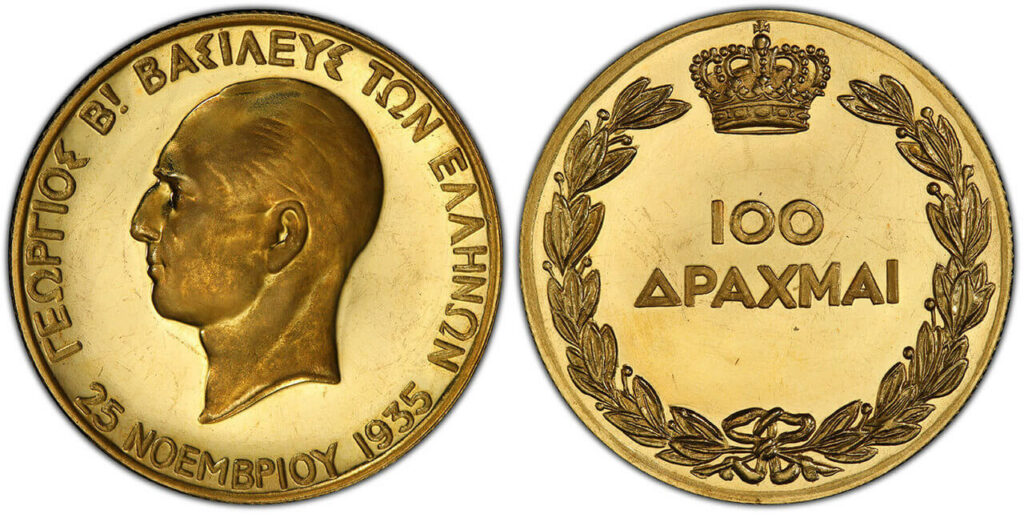 Very Rare Proof 100 Drachmai
1053832: Greece. George II. (1940) AV 100 Drachmai. PCGS PR63DCAM (Deep Cameo). Head left / Denomination within crowned wreath. KM 76; Friedberg 19; Divo 111; Karamitsos 182. Commemorating the fifth anniversary of George II's return from exile, 1935. From a reported mintage of 140 pieces. $35,500.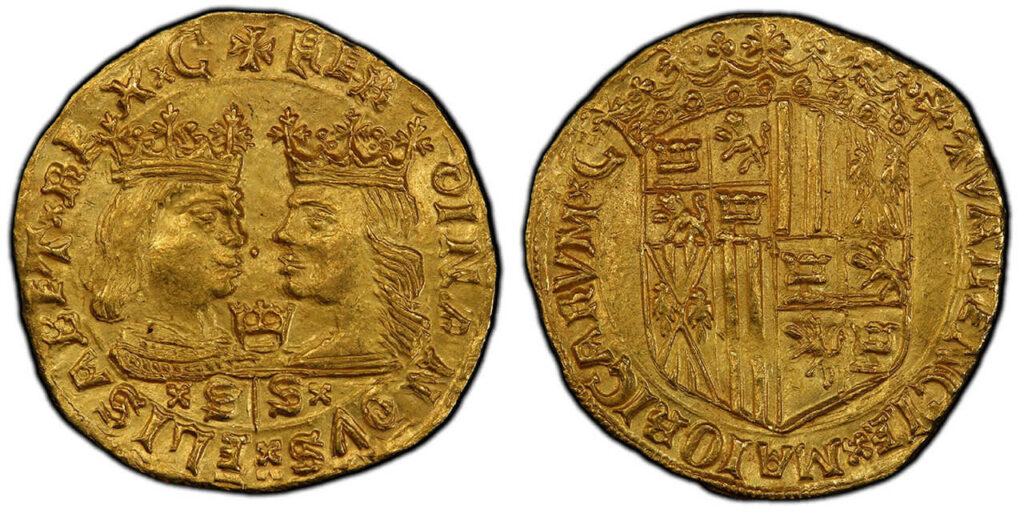 Mint State Ferdinand and Isabella Ducat of Valencia
1053820: Spain. Valencia. Ferdinand and Isabella. (King and Queen, 1475-1504). (1474-1504) AV Ducat. PCGS MS64. 3.51gm. Crowned confronted busts of Fernando and Isabel / Crowned coat-of-arms. Friedberg 82; Calico 165. Sharply struck, full frosty luster. Very rare type in this quality. $8,750.
Current and Upcoming Events
Atlas will be attending the following numismatic conventions. Please stop by and say hello if you have a chance.
Central States Numismatic Society's 80th Anniversary Convention
April 24th – April 27th, 2019 – Table #1806
Schaumburg Renaissance Hotel and Convention Center
1551 North Thoreau Drive, Schaumburg, IL
The 13th Annual Summer F.U.N. Convention
July 11th – July 13th, 2019 – Table #TBD
Orange County Convention Center
9800 International Drive, West Building, Hall WE1
Orlando, Florida
Updates to their online inventory are issued monthly.
For more information and to sign up for the firm's monthly newsletter, visit the Atlas website.