[bsa_pro_ad_space id=4]
25-07-2018 – 01-01-1970
Fixed-Price List July
Atlas Numismatics Publishes their Newest Fixed-Price List
Atlas Numismatics has updated their website with 789 new coins, medals, and tokens at fixed prices. Selections include the following items:
1050526.
Attractively Toned Syracuse Tetradrachm
1050526: Greek. Sicily. Syracuse. Second Democracy. Struck circa 460-440 BC. Tetradrachm. NGC Ch. AU (Choice About Uncirculated) Strike 4/5 Surface 5/5. 17.26gm. Slow quadriga driven r. by charioteer, holding kentron and reins; above, Nike flying r., crowning horses. In exergue, sea monster right / Head of Arethusa right, hair bound with fillet, wearing earring and necklace with pendant. Rizzo pl. XXXVI, 16 (these deis); Boehringer 571; SNG Copenhagen 650 (this reverse die). Beautifully toned, struck from dies of elegant style. Ex CNG Sale 39, 1996, Lot 294. $6,750.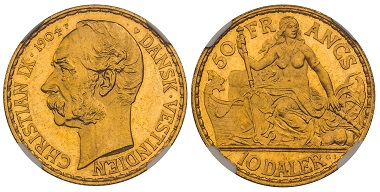 1050711.
Prooflike Danish West Indies 10 Daler or 50 Francs
1050711: Danish West Indies. Christian IX. 1904 AV 10 Daler, 50 Francs. NGC MS63PL (Prooflike). Head left / Seated liberty figure divides denominations, date below. KM 73; Fr.-1. Prooflike choice mint state, very rare as such. $18,500.
1050094.
Large Format George III Gold Medal
1050094: Great Britain. George III. (1768) AV Medal (30 Ducat Weight). PCGS SP62. By J. Kirk. Edge: "JOHANNES GOODSICH, A. B. COLL. TRIN. 1807.". 52.92mm. 103.24gm. GEORGIVS III PIVS FELIX PATER PATRIAE. Laureate half-length bust in cloak right / AUSP:AUG:HEN:DUC:DE GRAFTON ACAD:CANTAB:CANCELL:. Female figure with lyre wreaths student standing with book; angel with horn and banner inscribed with DETUR DIGNISSIMO above. Eimer 728; Brown 112. On the appointment of Augustus Henry Fitzroy, Duke of Grafton, as Chancellor of the University of Cambridge. Exceedingly rare, an enormous and impressive piece. The edge inscription was an engraver's error (John Goodrich received this medal in 1807). $34,500.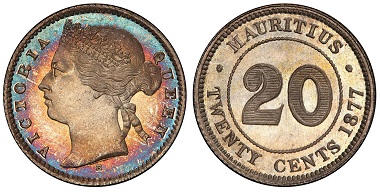 1051349.
Virtually Flawless Mauritius 20 Cents
1051349: Mauritius. 1877-H AR 20 Cents. PCGS SP68. Heaton, Birmingham. VICTORIA QUEEN. Crowned head left / MAURITIUS… Value within beaded circle. KM 11.1. Superbly toned and virtually flawless. $2,450.
1051011.
Extremely Rare Pattern 2 Baht
1051011: Thailand. Rama V. -1877 CU Pattern 2 Baht. PCGS SP58. Bust left / Coat of arms. KM Pn36; A022-02. An extremely rare type struck in Birmingham, England. The only piece certified by both grading services in any grade. Reflective surfaces with slight cabinet friction. $18,500.
Current and Upcoming Events
Atlas will be attending the following numismatic conventions. Please stop by and say hello if you have a chance.
The 2018 World's Fair of Money
August 14-18, 2018
Table #1454-1456, Hall D
American Numismatic Association (ANA)
Pennsylvania Convention Center, 1101 Arch Street, Philadelphia, PA
Updates to their online inventory are issued monthly.
For more information and to sign up for the firm's monthly newsletter, visit the Atlas website.