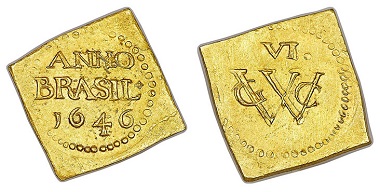 [bsa_pro_ad_space id=4]
23-05-2018 – 01-01-1970
Fixed-Price List May
Atlas Numismatics Publishes their Newest Fixed-Price List
Atlas Numismatics has updated their website with 781 new coins, medals, and tokens at fixed prices. Selections include the following items: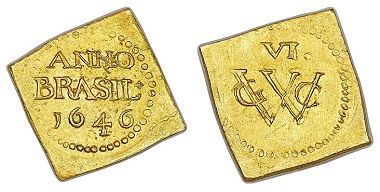 1050264.
Choice Mint State 6 Guilders or "Brazilian Ducat" of Pernambuco
1050264: Brazil. Pernambuco. 1646 AV 6 Guilders (Florins) Klippe. NGC MS63.3.77gm. GWC monogram with a period after VI. / Period after Brasil. KM 6.3; Fr.-2, LMB-O4.
Dutch West Indies Company. Occupation Coinage. Lustrous original choice mint state; one of the finest surviving examples of this exceedingly rare type. $59,500.
1048612.
Superb Cundinamarca Real
1048612: Colombia. 1821 Ba JF AR Real. NGC MS63+. REPUBLICA DE COLOMBIA. Crowned head left / C U N D I N A M A R C A. Pomegranate. KM B9; Restrepo-152.1. Sharply struck and lustrous, extremely rare in this quality. $6,500.
1050301.
Unique Gold Victoria Uniface Pattern
1050301: Great Britain. Victoria. (Queen, 1837-1901). ND (1887) AV Uniface Gold Pattern Penny (?). NGC PR63 Cameo. Attributed to Ludwig Lauer. Edge: Plain, squared rims with partially raised "knife rim". 27.2mm. 10.16gm. 3/4 forward crowned and veiled portrait without date or legend / Blank. KM-Unlisted; Wilson and Rasmussen-Unlisted.
A likely unique gold pattern made by Lauer for Spink with an unrecorded veiled head portrait of Queen Victoria, Ex-Murdoch collection (1904 Sotheby's, lot 541). This intriguing piece was sold together with an 1887 pattern half farthing in gold in the Murdoch sale; unfortunately there are no surviving records at Spink to state what this pattern was for, as their records were destroyed by fire in World War II. The diameter is very similar to the penny. Comparable to the uniface pattern sovereign listed as Wilson and Rasmussen-378 (which has a weight of 7.64g, not the standard 7.32g for a sovereign; therefore we know Lauer was not conforming to the British weight standards.) This piece is unlisted in Wilson and Rasmussen but was only rediscovered in 2008, after the publication of their volume on British gold patterns and proofs. Described on the insert as a "pattern" due to the lack of reference sources. The Murdoch collection con
1049834.
Medallic Kremnitz 10 Ducats
1049834: Hungary. Kremnitz. St. George. ND (circa 1750) AV Medallic 10 Ducats. PCGS AU58. By Heinrich Fuchs. 34.68gm. S GEORGIUS EQUITUM PATRONUS. St. George riding on horse to the right, spearing dragon below / IN TEMPESTATE SECURITAS. Wind God blowing ship carrying Christ and three apostles. Huszar 23; Friedberg-Unlisted.
An extremely rare type, unlisted by Friedberg. The fabric of this piece appears to be 18th century, when Heinrich Fuchs was active, though it is possible the piece was struck in the 19th Century. $22,500.
1049014.
Geneva Shooting Medal in Gold
1049014: Switzerland. Geneva Canton. 1882 AV Shooting Medal. PCGS SP63. By G. Richard. 42mm. 69gm. Helvetica as an angel leaning against a pedestal greeting a heraldic rifleman / Decorative shield of the Coat of Arms of Geneva, over crossed rifles and flags of Switzerland and Geneva, oak and olive wreath surround. R-619a; Martin 321.
Struck for the 4th Cantonal Shooting Festival at Geneva, 1882. From a reported mintage of just 18 pieces struck. Superb prooflike surfaces with frosted devices. $18,500.
Current and Upcoming Events
Atlas will be attending the following numismatic conventions. Please stop by and say hello if you have a chance.
The 2018 World's Fair of Money
August 14-18, 2018
Table #1454-1456, Hall D
American Numismatic Association (ANA)
Pennsylvania Convention Center, 1101 Arch Street, Philadelphia, PA
Updates to their online inventory are issued monthly.
For more information and to sign up for the firm's monthly newsletter, visit the Atlas website.