[bsa_pro_ad_space id=4]
18-04-2018 – 01-01-1970
Fixed-Price List April
Atlas Numismatics Publishes their Newest Fixed-Price List
Atlas Numismatics has updated their website with 452 new coins, medals, and tokens at fixed prices. Selections include the following items: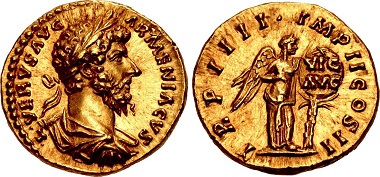 1049764.
Gem Lucius Verus Aureus of Fine Style
1049764: Roman Imperial. Lucius Verus. (Emperor, 161-169 AD). Struck 164 AD. AV Aureus. NGC Gem MS (Gem Mint State) Strike 5/5 Surface 5/5 Fine Style. Rome. 19mm. 7.34gm. RIC III 525 (Aurelius); MIR 18, 94-12/37; Calico 2177 (Same rev. die); BMCRE 296 (Aurelius and Versus); Biaggi 960 (Same dies). Superb gem in an incredible state of preservation; an exquisite portrait struck from dies of fine style. $39,500.
1048011.
Birds of a Feather
1048011: Austria. Franz Joseph I. 1894 AR Medal. PCGS SP65. 58mm. 58.30gm. Different types of fowl / Legend in 6 lines. Hauser 3026. Medal of merit of the anniversary exhibition of the Poultry Breeding Society. Superbly toned gem. $775.
1048967.
Beautifully Toned George II Coronation Medal
1048967: Great Britain. George II. 1727 AR Medal. PCGS SP58. 18.16gm. Laureate, draped, and armored bust left. George seated right on throne, being crowned by Britannia standing left, cradling cornucopia in elbow and leaning upon fasces to right; in two lines in exergue. Eimer-510. Superb iridescent toning, the most attractive example of the type the Atlas team have encountered despite light friction at the highest points. $895
1046072.
Exceptional "Lady Godiva" Coventry Token
1046072: Great Britain. Warwickshire, Coventry. 1792 CU Halfpenny Token. PCGS MS66BN (Brown). PRO BONO PUBLICO. Lady Godiva on horseback / COVENTRY HALFPENNY. Elephant and Castle. D & H 231. Senastional lustrous gem. $1,150.
1048908.
Very Rare 1841 Proof Penny
1048908: Great Britain. Victoria. 1841 CU Penny. PCGS PR63BN (Brown).VICTORIA DEI GRATIA. Head left / BRITANNIAR: REG: FID: DEF:. Britannia seated right. KM 739. REG:; SCBC-3948. Beautifully toned and conservatively graded, an exceedingly rare date in proof. $7,500.
1047896.
Superb University of Athens Medal
1047896: Greece. Othon. (King, 1833-1862). 1839 CU Medal. NGC MS67BN (Brown).By K. Lange. 44mm. Bust left in Greek uniform / Façade of the university building. Wurzb.-7024, Witt-2894. Deeply prooflike and virtually flawless. $1,650.
1048298.
Prooflike 1903 Straits Settlements Dollar
1048298: Straits Settlements. Edward VII. 1903-B AR Dollar. PCGS MS64. Crowned bust right / Artistic design within circle. KM 25. Incuse mintmark. Sharp rims and prooflike devices, unlike the normal frosty matte surfaces of the issue; Atlas believes this piece may be a special presentation or specimen striking (not noted as such by PCGS). $11,500.
Current and Upcoming Events
Atlas will be attending the following numismatic conventions. Please stop by and say hello if you have a chance.
Chicago Coin Expo 2018
April 18-April 21, 2018
The Palmer House Hotel, 4th Floor Exhibition Hall, Table #45
17 East Monroe Street, Chicago, IL
Long Beach Expo
June 14-16, 2018
Long Beach Convention Center, Table #745,
Long Beach, CA
Updates to their online inventory are issued monthly.
For more information and to sign up for the firm's monthly newsletter, visit the Atlas website.