[bsa_pro_ad_space id=4]
02-03-2014 – 01-01-1970
Fixed-Price List
Atlas Numismatics Publishes their Newest Fixed-Price List
Atlas Numismatics has updated their website with 256 new coins, medals, and tokens at fixed price. Selections include hammered gold from England, silver papal medals from the Clain-Stefanelli Collection, and Russian copper issues from czar Nicholas II. Atlas president James Ricks notes that this selection is '…perhaps the most interesting and diverse group we have been able to offer. Our fall and winter buying trips in Europe and the United States allowed us to acquire a good deal of fresh material.' Below is a sampling of this offering.
none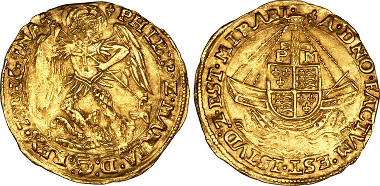 1014951: BRITISH, England. Mary I, with Philip (Queen, 1553-1558). Undated AV Angel, struck 1554-1558. PCGS AU58. London mint; im: lis. S 2496A; Friedberg 196; North 1965. Very rare. $39,500.
1015249: ITALY, Prisoner in the Vatican. Blessed Pius IX (Pope, 1846-1878). AN XXX (1875) AR Medal. PCGS MS64+. The New Hospice for the Poor (44mm). By G. Bianchi. Mazio 768; Rinaldi 69. $895.
1014472: RUSSIA. Nikolai II (Tsar, 1894-1917). 1915 CU 2 Kopecks (Kopeiki). PCGS MS64+ Brown. Saint Petersburg mint. KM (Y) 10.3; Bitkin 245. Rich brown surfaces, with underlying luster and turquoise brilliance. $195.
none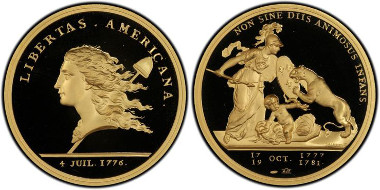 1014677: UNITED STATES, Colonial. Libertas Americana. 1776 AV Medal, restruck 2004. PCGS PF68 Deep Cameo. Paris mint. After the original by Dupré. $5,950.
Updates to their online inventory are issued on the final Friday of each month.
For more information and to sign up for the firm's monthly newsletter, visit Atlas Numismatics.