[bsa_pro_ad_space id=4]
15-11-2017 – 01-01-1970
Fixed Price List November
Atlas Numismatics Publishes their Newest Fixed Price List
Atlas Numismatics has updated their website with 389 new coins, medals, and tokens at fixed prices. Selections include the following items:
1046628.
1916 Cuba Proof Gold Peso
1046628: Cuba. 1916 AV Peso. NGC PR66UCAM (Ultra Cameo). National arms within wreath, denomination below / Head of Jose Marti right, date below. KM 16; Fr.-7. Reported mintage of 100 pieces, likely only 50 were released. 6,750 USD.
1044370.
"Am I Not a Man and a Brother" Token
1044370: Great Britain. Middlesex. 1790s (ND) CU Halfpenny Token, Political and Social series. PCGS MS64BN (Brown). AM I NOT A MAN AND A BROTHER. Chained man kneeling / MAY SLAVERY AND OPPRESSION CEASE THROUGHOUT THE WORLD. Clasped hands. DH-1038a. 950 USD.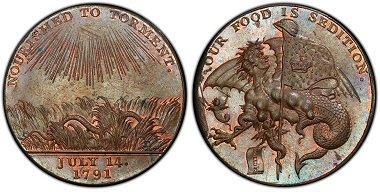 1046977.
"Our Food is Sedition" Token
1046977: Great Britain. Warwickshire. 1791 CU Penny Token. PCGS MS64BN (Brown). OUR FOOD IS SEDITION. Human-headed dragon suckling devil who holds flag bearing crown, cap of Liberty on top / NOURISHED TO TORMENT. Serpent moving through grass, sun's rays above. D & H 34. Extremely popular token and very rare in this quality. 2,450 USD.
1046727.
Choice 1826 Five Pounds
1046727: Great Britain. George IV. (King, 1820-1830). 1826 AV Five Pounds. NGC PR63 Cameo. By William Wyon (Obv.) & Johann B. Merlen (Rev.). Edge: DECUS ET TUTAMEN ANNO REGNI SEPTIMO. GEORGIUS IV DEI GRATIA. Head left / BRITANNIARUM REX FID: DEF:. Arms within crowned mantle. KM 702; SCBC-3797; W&R 213. Lovely original surfaces. 245,000 USD.
1044879.
Medici Venus Medal
1044879: Switzerland. ND (1822) Medal. PCGS SP65BN (Brown). A. Bovy. 44.61mm. 49.22gm. 3/4 bust of the Medici Venus, head right / Cherub seated on seashell left within wreath. Forrer I, S. 245. Award-winning contribution entry for the "Concours de Gravure en médaille". An exceptionally beautiful and rare medal. Housed in an oversized holder. 950 USD.
1046523.
Extremely Rare Specimen Vreneli 100 Francs
1046523: Switzerland. 1925-B AV 100 Francs. PCGS SP63. By F. Landry. Bern. Young bust left / Radiant cross above value, date and sprigs. KM 39; Friedberg 502. Extremely rare as a prooflike specimen presentation striking; only the second example we can locate and the sole example authenticated at PCGS. Deeply mirrored fields, frosted devices and razor-sharp rims. 57,500 USD.
Current and Upcoming Events
Atlas will be attending the following numismatic conventions. Please stop by and say hello if you have a chance.
The 63rd Annual F.U.N. Convention
January 4th-7th, 2018
Tampa Convention Center, Table #TBD Tampa, Florida
The 46th Annual New York International Numismatic Convention (NYINC)
Empire State Ballroom of the Grand Hyatt Hotel, Table #800
January 11-14, 2018
New York, New York
Updates to their online inventory are issued monthly. For more information and to sign up for the firm's monthly newsletter, visit the website of Atlas Numismatics.