[bsa_pro_ad_space id=4]
06-09-2017 – 01-01-1970
Fixed-Price-List
Atlas Numismatics Publishes their Newest Fixed-Price List
Atlas Numismatics has updated their website with 628 new coins, medals, and tokens at fixed prices. Selections include the following items: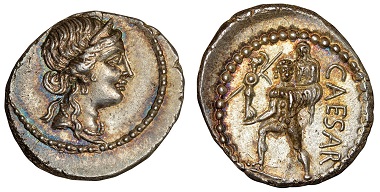 1044389.
Superb Quality Julius Caesar Denarius
1044389: Roman Imperatorial. Julius Caesar. (Dictator, d. 44 BC). Struck circa 48-46 BC. AR Denarius. NGC MS* (Mint State *) Strike 5/5 Surface 5/5. 3.99gm. Diademed head of Venus right / CAESAR. Aenus advancing left, carrying Anchises and holding palladium. Alb. 1400, Cr. 458/1, Sear 1402. Superbly toned and highly lustrous, an incredible example. 4,750 USD.
1044911.
Sharp Sunface
1044911: Argentina. 1813-PTS J AR Real. PCGS MS64. Potosi, Bolivia. Radiant sun with face / Arms within wreath. KM 2; CJ-13.1.1. Superb strike and luster, one of the finest surviving examples of the type. 5,500 USD.
1044732.
Finest Known Cuba Peso
1044732: Cuba. 1897 AR Souvenir Peso. PCGS MS67. Edge: Reeded. Date closely spaced, star above 97 baseline. X M3. Medallic Coinage. Type III. Superbly toned, the single finest certified example of the type at PCGS and tied for finest at both services. 15,500 USD.
1043901.
Choice Nurnberg City View Thaler
1043901: German States. Nurnberg. 1768 SR AR Thaler. NGC MS63. 27.96gm.. Imperial orb on eagle's breast. KM 350; Dav 2494; Kellner 345. 3,350 USD.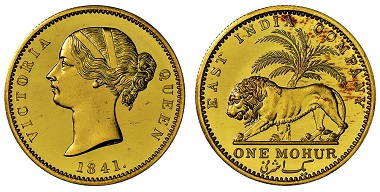 1044524.
Proof Victoria Mohur with Original Mint Envelope
1044524: India-British. Victoria. (Queen, 1837-1901). 1841-(c) (c) AV Mohur. NGC PR65+ Restrike. Calcutta. VICTORIA QUEEN. Head left; W.W. incuse on truncation, large legend and large date with crosslet 4 / EAST INDIA COMPANY. Palm tree, lion walking left. (Restrike); S & W 3.8 Type A/1. Superb gem, the finest example recorded at both PCGS and NGC. Includes original mint envelope from the Calcutta Mint. 39,500 USD.
Current and Upcoming Events
Atlas will be attending the following numismatic conventions.
Please stop by and say hello if you have a chance.
Whitman Winter Expo
November 8-November 10, 2017
Baltimore Convention Cente
Baltimore, MD
Updates to their online inventory are issued monthly.
For more information and to sign up for the firm's monthly newsletter, visit the website of Atlas Numismatics.