[bsa_pro_ad_space id=4]
02-08-2017 – 01-01-1970
Fixed-Price List
Atlas Numismatics Publishes their Newest Fixed-Price List
Atlas Numismatics has updated their website with 650 new coins, medals, and tokens at fixed prices. Selections include the following items:
none
1043467.
Expressive Galba Portrait
1043467: Roman Imperial. Galba. (Emperor, 68-69 AD). Struck 68-69 AD. AR Denarius. NGC Ch. AU (Choice About Uncirculated) Strike 4/5 Surface 4/5. Rome. 3.50gm. IMP SER GALBA AVG. Bare head of Galba right / S P Q R / OB / C S. Three lines of text within oak wreath. RIC 167 (R), RSC 287. Superb expressive portrait, struck from dies of elegant style. 6,500 USD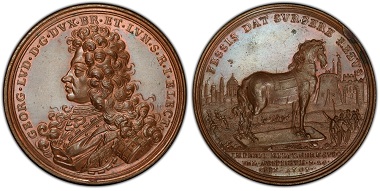 1043219.
Trojan Horse Medal in Copper
1043219: Great Britain. George I. 1707 AE Medal. PCGS SP64. By P. H. Müller. The Trojans discover the wooden horse of Odysseus. Julius 1173; Forster 745; Brockmann 798. On the appointment of George Louis, Duke of Brunswick-Lüneburg (Hanover) in the Holy Roman Empire, as Commander-in-chief of the Imperial Army of the Upper Rhine, after the death of the previous Commander-in-chief, Ludwig von Baden. He would later become George I of Great Britain. 695 USD
1043872.
Choice Mint State Myanmar Gold 2 Mu 1 Pe
1043872: Myanmar. 1228 AV 2 Mu 1 Pe. NGC MS63. Chinze left / Denomination within wreath. KM 20; Friedberg 5. Extremely rare in this quality; one of the finest surviving examples. 9,500 USD
1044004.
Wonderful Winterthur Shooting Medal in Gold
1044004: Switzerland. Zurich Canton, Winterthur. 1895 AV Shooting Medal. PCGS SP67. View of Winterthur within wreath; to left and right, female head facing right and left, respectively, within medallions; coat-of-arms below / Helvetia seated right on rooftop, holding branch; rayed Swiss cross above. Richter 1756a. 44 pieces minted. Wonderful and virtually flawless matte gem, likely the finest surviving example of this very rare issue. 24,500 USD
Current and Upcoming Events
Atlas will be attending the following numismatic conventions. Please stop by and say hello if you have a chance:
The 2017 World's Fair of Money – Table #959 & 1058
August 1-5, 2017
American Numismatic Association (ANA)
Colorado Convention Center, Denver, CO
Whitman Winter Expo – Table #TBD
November 8-November 10, 2017
Baltimore Convention Center
Baltimore, MD
Updates to their online inventory are issued monthly.
For more information and to sign up for the firm's monthly newsletter, visit the website of Atlas Numismatics.