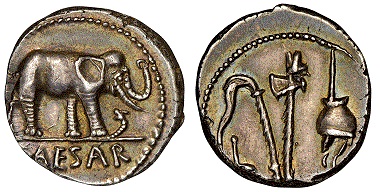 [bsa_pro_ad_space id=4]
21-06-2017 – 01-01-1970
Fixed-Price-List
Atlas Numismatics Publishes their Newest Fixed-Price List
Atlas Numismatics has updated their website with 546 new coins, medals, and tokens at fixed prices. Selections include the following items:
1043108.
Attractive Caesar Denarius with Cabinet Patina
1043108: Roman Imperatorial. Julius Caesar. (Dictator, d. 44 BC). Struck circa 49-48 BC. AR Denarius. NGC AU (About Uncirculated) Strike 4/5 Surface 5/5. Traveling Military Mint. 3.95gm. Sharply struck, lovely cabinet patina. 2,450 USD
1044105.
Very rare Adelaide Pound
1044105: Australia. South Australia. 1852 AV Adelaide Pound. NGC MS63. Crown / Dentilated inner circle. KM 2; Friedberg 3. Superb frosty choice mint state, very rare as such. 38,500 USD
1042050.
Beautiful Louis XIV Demi-Écu
1042050: France. Louis XIV. 1645-A Point AR 1/2 ECU. PCGS MS63. Paris. Laureate, draped and mailed bust right, short hair before ear / Crowned shield of France. KM 163.1; Duplessy 1462; Ciani 1834. Superb pastel toning, very attractive. 985 USD
1043132.
Stunning City View Thaler of Eichstatt
1043132: German States. Eichstatt. 1781 KR/OE AR Thaler. NGC MS65. One of the most interesting perspectives of all the city-view thaler types, an intricate bird's eye view. Beautifully toned gem. 8,500 USD
1044222.
Proof 1818 Sovereign
1044222: Great Britain. George III. 1818 AV Sovereign. PCGS PR65DCAM (Deep Cameo). Stunning gem with superb deep cameo contrast, exceedingly rare as a proof striking. Ex-Property of Gentleman collection, Spink Auction 117, 19 November 1997, lot 1961. 77,500 USD.
Current and Upcoming Events
Atlas will be attending the following numismatic conventions. Please stop by and say hello if you have a chance:
Whitman Summer Expo – Table #956
June 22-June 25, 2017
Baltimore Convention Center
Baltimore, MD
The 2017 World's Fair of Money – Table #959 & 1058
August 1-5, 2017
American Numismatic Association (ANA)
Colorado Convention Center, Denver, CO
Updates to their online inventory are issued monthly.
For more information and to sign up for the firm's monthly newsletter, visit the website of Atlas Numismatics.