[bsa_pro_ad_space id=4]
03-06-2015 – 01-01-1970
Fixed-Price List
Atlas Numismatics Publishes their Latest Fixed-Price List
Atlas Numismatics has updated their website with 466 new coins, medals, and tokens at fixed price. Selections include the following items:
Colorful Syracuse Tetradrachm
1018992: GREEK. SICILY. Syracuse. Agothocles (Agothokles). (Tyrant, 317-289 BC). Struck circa 310-305 BC. AR Tetradrachm. NGC AU (About Uncirculated) Strike 5/5 Surface 5/5 Fine Style. $9,500.
Superb Sunface Minor
1031031: ARGENTINA. 1815 PTS F Silver 1/2 Real. NGC MS64. Beautiful iridescent toning. $2,950.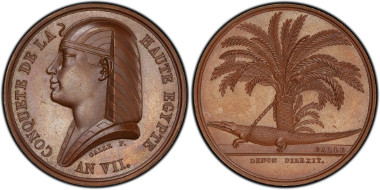 Lovely Napoleon in Egypt Medal
1018257: FRANCE. Napoléon Bonaparte. (First Consul of the French Republic, 1799-1804). 1799 (Year 7) Bronzed copper Medal. PCGS SP65. Struck to commemorate the conquest of Upper Egypt. $695.
Outstanding Gold Coronation Medal with Original Case
1030172: GREAT BRITAIN. George V. (King, 1910-1936). 1911 Gold Medal. NGC MS64. Superb and virtually flawless matte surfaces, quite possibly the finest known example of this large and impressive medal. With original red leather embossed case, "19 GVR 11/ CORONATION MEDAL". $12,500.
Prooflike Monaco 5 Francs
1030079: MONACO. Honore V. (King, 1819-1841). 1837-M Silver 5 Francs. NGC MS64+. Deeply prooflike surfaces (particularly on the obverse), light champagne toning. Quite possibly the finest surviving example of the type. $8,500.
For more information and to sign up for the firm's monthly newsletter, visit the firm's website.