[bsa_pro_ad_space id=4]
21-12-2016 – 01-01-1970
Fixed-Price List
Atlas Numismatics Publishes their Newest Fixed-Price List
Atlas Numismatics has updated their website with 422 new coins, medals, and tokens at fixed prices.
1039712.
Superb Philip II Stater
1039712: Greek. Kingdom of Macedon. Philip II. (King, 359-336 BC). Posthumous issue, struck 322-317 BC. AV Stater. NGC MS (Mint State) Strike 5/5 Surface 5/5 Fine Style. Colophon mint. 8.61gm. Laureate head of Apollo right. Fast biga right, charioteer holding reins with his left hand, kentron in his right hand; below, tripod. Thompson, Studia Naster, Philip pl. VI, cf. 12 Le Rider pl. 90, 16 and pl. 93, 26 (for symbol) Jameson cf. 978 (for symbol) SNG ANS cf. 309 (for symbol). Beautiful lustrous surfaces, struck from extremely artistic dies. $19,500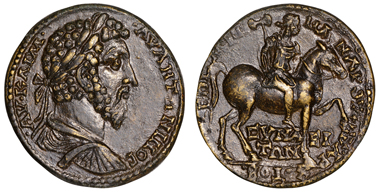 1040075.
Wonderful Portrait of Marcus Aurelius
1040075: Roman Provincial. Phrygia. Synaus (Synnaus). Marcus Aurelius. (Emperor, 161-180 AD). AE 34. NGC AU* (About Uncirculated *) Strike 5/5 Surface 5/5. 25.61gm. Laureate-headed bust of Marcus Aurelius wearing cuirass and paludamentum right / Apollo/Soldier (God or hero) with labrys on horse right. RPC IV online 2186; SNG v. Aulock 3967. Superb glossy surfaces and a wonderful portrait, very rare. Ex Sternberg XI (1981), 321. $5,950
1039716.
Beautifully Toned Augustus Denarius
1039716: Roman Imperial. Augustus. (Emperor, 27 BC-14 AD). Struck 21-20 BC. AR Denarius. NGC Ch. AU (Choice About Uncirculated) Strike 5/5 Surface 4/5 Fine Style. Pergamum (?). 3.64gm. CAESAR. Head of Augustus, bare, right / AVGVSTVS. Young bull standing right, head erect. RIC 475; RSC 28; BMCRR East 284-5 = BMCRE 662-3; BN 941-3. Sharply struck from exceptionally artistic dies. Gorgeous iridescent toning, very attractive. $8,500
1040796.
Attractive Regensburg City-View Thaler
1040796: German States. Regensburg. 1775 AR Thaler. NGC MS62. IOSEPHVS II D . G . ROM . IMP . SEMP . AVG. Armored laureate bust right / MONETA REIP . RATISPON, X. ST. EINE F.C.M./1780. City view. KM 428; Dav 2626; Beckb-7114; Plato-154. Prooflike surfaces with deep cabinet patina. Ex Millennia Collection, Ex-Irving Goodman. $2,950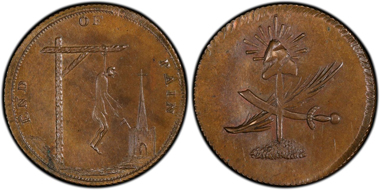 1039773.
Gem "End of Pain" Farthing Token
Great Britain. Middlesex. 18th. Century (ND) CU Farthing Mule. PCGS MS65BN (Brown). Edge: Milled. END OF PAIN. Man hanging on a gibbet, church in the distance / Cap of liberty radiated upon a pole, in front of a crossed sword and palm branch. D&H 1108; Conder p. 252, 70; Atkins 383, 236. Please use this link to verify the PCGS certification number 82298008. $1,750
Updates to their online inventory are issued monthly.
For more information and to sign up for the firm's monthly newsletter, visit the website of Atlas Numismatics.