[bsa_pro_ad_space id=4]
25-07-2016 – 01-01-1970
Fixed-Price List
Atlas Numismatics Publishes their Newest Fixed-Price List
Atlas Numismatics has updated their website with 366 new coins, medals, and tokens at fixed price.
1038239: Greek. Ptolemaic Kings of Egypt. Ptolemy II Philadelphos. Tetradrachm.
Lovely Ptolemy II Tetradrachm or Half-Mnaieion
1038239: GREEK. PTOLEMAIC KINGS OF EGYPT. Ptolemy II Philadelphos. (Pharaoh, 285/4-246 BC). Struck circa 265-246 BC. AV Tetradrachm (Half Mnaieion). NGC AU* (About Uncirculated*) Strike 5/5 Surface 4/5. Alexandria. Svoronos 604; Boston MFA 2275; SNG Copenhagen 134; Dewing 2753-4. Highly lustrous and very attractive. $13,500.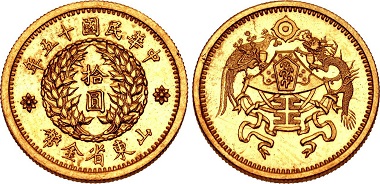 1038327: China. Shantung Province. Pattern 10 Dollars.
Very Rare Gold Shantung Pattern
1038327: CHINA. Shantung Province. 1926 (Year 15) AV Pattern 10 Dollars. NGC MS61. Tianjin (Tientsin) Central Mint. KM Pn7; Friedberg 7; L&M-1066; Kann 1536; Hsu-31; Wenchao-pg.85 #47 (rarity four stars). Extremely rare. Ex-Dr. Lawrence A. Adams. Ex Money Company Hong Kong (6 September 1986), lot 597. $47,500.
1037792: German States. Bavaria. Ludwig I. Ducat.
Choice City-View Ducat
1037792: GERMAN STATES. Bavaria. Ludwig I. 1846 AV Ducat. NGC MS63. KM 816 (Prev. KM 433); Fr.-276. Fully prooflike and exceptional. $9,500.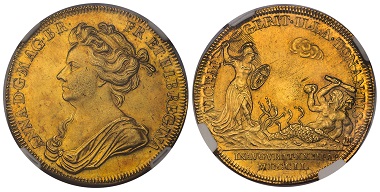 1037502: Great Britain. Anne. Coronation Medal.
Mint State Queen Anne Gold Coronation Medal
1037502: GREAT BRITAIN. Anne. (Queen, 1702-1714). 1702 AV Coronation Medal. NGC MS62. MI-228-4. Beautiful orange-gold cabinet patina, extremely attractive. $18,500.
1038296: Netherlands. Lodewijk Napoleon. 2-1/2 Gulden.
1808 2/1/2 Gulden of Lodewijk Napoleon
1038296: NETHERLANDS. 1808 AR 2-1/2 Gulden. NGC MS61. Edge: DE NAAM DES HEEREN ZY GELOOFD. LODEW. NAP.KON. VAN HOLL. KM 32; Sch 136a; Silver 26.31. Very attractively toned, a few small obverse adjustment marks. $11,500.
Updates to the firm's online inventory are issued monthly.
For more information and to sign up for Atlas Numismatics' monthly newsletter, click here.