[bsa_pro_ad_space id=4]
30-03-2016 – 01-01-1970
Fixed-Price List
Atlas Numismatics Publishes their Newest Fixed-Price List
Atlas Numismatics has updated their website with 1,116 new coins, medals, and tokens at fixed price. Selections include the following items:
Sicily. Leontini. Tetradrachm.
Beautifully Toned Leontini Tetradrachm
1035091: GREEK. SICILY. Leontini. Struck circa 430-420 BC. Tetradrachm. NGC MS * (Mint State *) Strike 5/5 Surface 5/5 Fine Style. Basel 353. Boehringer, Münzgeschichte 55. Rizzo pl. XXIV, 4. SNG ANS 257. Reverse die signed by the "Maestro della foglia". A superb example, beautifully toned. $13,950.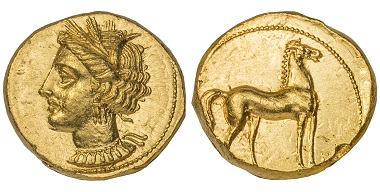 Zeugitana. Carthage. Stater.
Superb Carthage Stater
1035838: GREEK. ZEUGITANA. Carthage. Struck circa 350-320 BC. Stater. NGC Ch. MS (Choice Mint State) Strike 5/5 Surface 4/5 Fine Style. Jenkins & Lewis Group IIIg, 64; MAA 4. Superb and exceptional, full fresh mint luster. High relief example struck from fine style dies. $24,500.
Danish West Indies. Christian IX. 10 Daler.
Mint State Danish West Indies 10 Daler
1036209: DANISH WEST INDIES. Christian IX. 1904-(h) 10 Daler, 50 Francs. NGC MS61. Copenhagen. KM 73; Friedberg 1; Hede 29; Schl 83. Flashy luster, very attractive. $12,500.
Saxony-Albertine. Johann. 2 Thaler.
Wonderful Saxony Double Thaler in Gold
1035940: GERMAN STATES. Saxony-Albertine. Johann. 1872 Pattern 2 Thaler, 3-1/2 Gulden. NGC PR63 Cameo. cf KM 1231.1 (for type in silver); KS 160 note. Struck to commemorate the 50th wedding anniversary of King Johann and Queen Amalie Auguste. Extremely rare. Frosted devices and mirrored fields. $49,500.
Peru. 2 Pieces.
Extraordinary Peruvian Mated Pair (Mint Errors)
1035122: PERU. 1867 & 1868 YB 2 Pieces (1/5 Sol & Sol). PCGS AU53 Mint Errors- Mated Pair, Brockage and Strike-Through. Lima. KM 191 (1/5 Sol) & KM 196.3 Arabic 1, Type II (Sol). This 1/5 Sol (Coin #2) with a weight of 5 grams was struck into the obverse side of the Sol (Coin #1), brockaged by the 1/5 Sol (Coin #2). $16,500.
For more information and to sign up for the firm's monthly newsletter, please visit the firm's website.