[bsa_pro_ad_space id=4]
07-08-2016 – 01-01-1970
Fixed-Price List
Atlas Numismatics Publishes their Newest Fixed-Price List
Atlas Numismatics has updated their website with 136 new coins, medals, and tokens at fixed price.
1038238: Greek. Ptolemaic Kings of Egypt. Ptolemy I Soter. Tetradrachm.
Ptolemy I Tetradrachm from Signed Dies
1038238: GREEK. PTOLEMAIC KINGS OF EGYPT. Ptolemy I Soter. (Pharaoh, 305/4-282 BC). Struck circa 290-285 BC. AR Tetradrachm. NGC AU* (About Uncirculated *). Svoronos 255; SNG Copenhagen 70. Obverse die signed by the artist D… Struck in high relief, lovely cabinet patina. $3,650.
1037896: Switzerland. 1925-B. 100 Francs.
Extraordinary Vreneli 100 Francs
1037896: SWITZERLAND. 1925-B AV 100 Francs. NGC SP64. By F. Landry. Bern. KM 39; Friedberg 502; HMZ 21193a. Extremely rare as a prooflike specimen presentation striking; the only example to be located and the sole example authenticated as such by both PCGS and NGC. Deeply mirrored fields, frosted devices and razor-sharp rims. $165,000.
1037900: Comoros. Said Ali bin Said Omar of Grande Comore. 5 Francs.
Specimen Comoros 5 Francs
1037900: COMOROS. Said Ali bin Said Omar of Grande Comore. (Sultan, 1885-1909). AH1308 (1890-91)-A AR 5 Francs. NGC SP65. Paris. KM 3. Just 2050 coins issued. Raised rims and mirrored fields. Superb multicolored iridescent toning, extremely rare as a Paris Mint specimen striking. $16,500.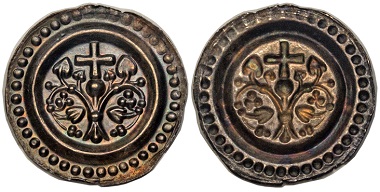 1037794: German States. Lindau. Brakteat.
Exceptional Lindau Brakteat
1037794: GERMAN STATES. Lindau. Anonymous ruler. (1250-1295). 1250-1270 (ND) AR Brakteat. Choice Mint State. Berger 2522; Klein/Ulmer (CC) 94. $495.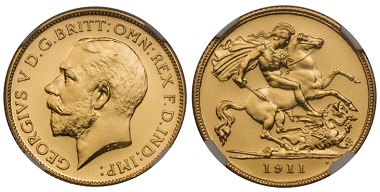 1037476: Great Britain. George V. 12 Piece Set (5 Sovereign through Maundy Penny).
Attractive 1911 "Long" Proof Set
1037476: GREAT BRITAIN. George V. (King, 1910-1936). 1911 AV & AR 12 Piece Set (5 Sovereign through Maundy Penny). NGC PR62-PR65. KM PS17 (KM 811 – KM 818.1, KM 819 – KM 822); SCBC-PS11 Coronation. Superb matched set with original case, very attractive. $39,500.
Updates to the firm's online inventory are issued monthly.
For more information and to sign up for Atlas Numismatics' monthly newsletter, click here.