[bsa_pro_ad_space id=4]
09-12-2015 – 01-01-1970
Fixed-Price List
Atlas Numismatics Publishes their Latest Fixed-Price List
Atlas Numismatics has updated their website with 162 new coins, medals, and tokens at fixed price. Selections include the following items:
Fine Style 10 Litrai
1033245: GREEK. SICILY. Syracuse. Hieronymos (Hieronymus). (Tyrant, 215-214 BC). 10-Litrai. NGC Ch. AU * Strike 5/5 Surface 5/5 Fine Style. SNG ANS 1029. $5,950.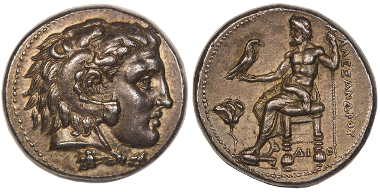 Sculptural Lifetime Issue Alexander III Tetradrachm
1033246: GREEK. KINGDOM OF MACEDON. Alexander III, 'the Great'. (King, 336-323 BC). Lifetime issue, struck 332-323 BC. Tetradrachm. NGC Ch. AU* Strike 5/5 Surface 5/5 Fine Style. Memphis. Price 3971; Müller 124. Very rare lifetime issue. Struck in high relief from dies of the finest style, lovely old cabinet toning. $13,950.
Brilliant Quinarius
1033693: ROMAN REPUBLICAN. Anonymous. Struck 211-208 BC. Quinarius. NGC MS * Strike 5/5 Surface 5/5. Uncertain Mint. Crawford 47/1a; King 3. Prooflike brilliant surfaces, exceptional. Virtually as struck. $2,250.
Krause Plate Coin
1033805: AFGHANISTAN. Sher Ali. 1288 Mohur. NGC MS67. Kabul. KM 525; Friedberg 18; Album E3164. Extremely rare. Flawless frosty gem, stunning and certainly the finest known example. $16,500.
Beautiful Gold Medal of Crown price Rudolf
1033520: AUSTRIA. 1886 Medal. PCGS SP62. Hauser 2959; Wurb 8044. On the 4th General Exhibition of the Ornithological Society in Vienna under the patronage of Crown Prince Rudolf. Extremely rare in gold. $4,500.
For more information and to sign up for the firm's monthly newsletter, please visit the firm's website.