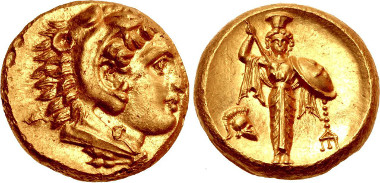 [bsa_pro_ad_space id=4]
25-11-2015 – 01-01-1970
Fixed-Price List
Atlas Numismatics Publishes their Latest Fixed-Price List
Atlas Numismatics has updated their website with 380 new coins, medals, and tokens at fixed price. Selections include the following items:
Fine Style Pergamum Stater
1033796: GREEK. MYSIA. Pergamum. Struck after 336 BC. Stater. NGC MS (Mint State) Strike 4/5 Surface 5/5 Fine Style. Callataÿ, Statères 2 (D2/R3); Von Fritze, Pergamon 7 var. (rev. not incuse); SNG France 1557 = De Luynes 2493; Gulbenkian 699 = Jameson 2580 var. (same); PCG pl. 28, 25 var. (same). Very rare. Superb lustrous surfaces, struck from fine style dies in high relief. Ex Dr. Lawrence Adams. $49,500.
Choice Mint State Daric
1034235: CENTRAL ASIAN. ACHAEMENID EMPIRE. Persia. Darios I – Xerxes II. (Circa 485-420 BC). Struck circa 5th Century BC. Daric. NGC Ch. MS (Choice Mint State) Strike 5/5 Surface 5/5. Sardes. Carradice Type IIIb, Group A/B (pl. XIII, 27); Meadows, Administration 321; BMC Arabia pl. XXIV, 26; Sunrise 24. Superb and virtually as struck, extremely rare in this quality. $14,500.
Beautiful War of the Spanish Succession Klippe Medal
1032850: AUSTRIA. Joseph I. 1706 Medal, Klippe. PCGS AU55. G. F. Nürnberger, engraver. VQR 14012; Montenuovo 1339; van Loon IV 447. Commemorating the Grand Alliance's Victories in the War of the Spanish Succession. Lovely antique patina. Ex Ernst Otto Horn collection. Housed in an oversized holder. $2,850.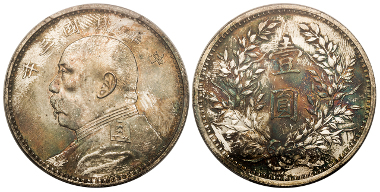 Colorful Gem "Fat Man" Dollar
1034055: CHINA, REPUBLIC OF. Yuan Shikai. (President, 1912-1915). 1914 (Year 3) Dollar. PCGS MS65. By Luigi Giorgi. Y-329; LM-63 NC. Superb colorful toning. $3,450.
Extremely Rare Comoros Essai 5 Francs
1034066: COMOROS. Said Ali bin Said Omar of Grande Comore. (Sultan, 1885-1909). AH1308 Silvered Bronze Essai 5 Francs. PCGS SP66. Paris. Edge: Reeded. Lec.-7. Exceedingly rare. Superb gem, virtually as struck with only some light raised die polish lines. $12,500.
For more information and to sign up for the firm's monthly newsletter, please visit the firm's website.