[bsa_pro_ad_space id=4]
12-08-2015 – 01-01-1970
Fixed-Price List
Atlas Numismatics Publishes their Latest Fixed-Price List
Atlas Numismatics has updated their website with 289 new coins, medals, and tokens at fixed price. Selections include the following items:
Superb Syracuse Decadrachm, Ex-Hess-Leu 1958
1030325: GREEK. SICILY. Syracuse. Hicetas (Hiketas). (Tyrant, circa 288-279/8 BC). AV Decadrachm. NGC Ch. AU * (Choice About Uncirculated *) Strike 5/5 Surface 5/5 Fine Style. 4.25gm. Buttrey NC 1973 9 3-G; Jameson 871; Luynes in 1340; Gulbenkian 345 var; SNG ANS 776; Béhague 65. Superb and exceptional, deep honey-gold patina, excellent strike and centering. Ex-Hess-Leu (04/02/1958), lot 105 and NGSA II (2002), lot 25. $13,500.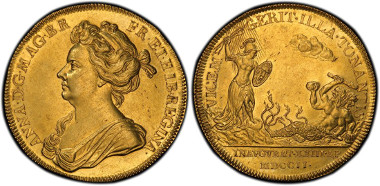 Richly Toned Queen Anne Gold Medallion
1032034: GREAT BRITAIN. England. Anne. (Queen, 1702-1714). 1702 AV Medal. NGC MS61. By J. Croker. 25mm. 18.6gm. MI 228/4; Eimer 390. Superb prooflike surfaces and rich honey-gold color, the finest example of the type we have encountered. $13,500.
One of the Finest Surviving Gothic Crowns
1032693: GREAT BRITAIN. Victoria. (Queen, 1837-1901). 1847 AR Gothic Crown. PCGS PR67 Cameo. KM 744; SCBC-3883; ESC-288. Stunning iridescent gem, virtually flawless and very likely the finest surviving example of the Gothic crown type in existence. PCGS has graded one other example at this level (none finer) but without the eye appeal of this piece; NGC has graded one PF67 without the cameo designation and none finer. $67,500.
Appealing George II Five Guineas
1032230: GREAT BRITAIN. George II. (King, 1727-1760). 1738 AV Five Guineas. NGC XF45. KM 571.1; SCBC-3663A; Fr.-332. Guinea Coinage. $32,500.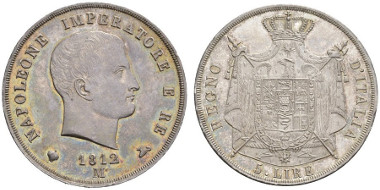 Presentation Striking Napoleon I 5 Lire
1032369: ITALIAN STATES. Kingdom Of Napoleon. Napoleon I. 1812-M AR 5 Lire. NGC SP64. Milan. KM 10.4; Dav 202; Pagani 30a. Exceedingly rare proof or specimen striking with raised rims and mirrored fields. $11,500.
For more information and to sign up for the firm's monthly newsletter, please visit the firm's website.