[bsa_pro_ad_space id=4]
01-07-2015 – 01-01-1970
Fixed-Price List
Atlas Numismatics Publishes their Latest Fixed-Price List
Atlas Numismatics has updated their website with 556 new coins, medals, and tokens at fixed price. Selections include the following items:
Beautifully Toned Lady-in-the-Clouds 100 Corona
1032060: AUSTRIA. Franz Joseph I. 1908 AV 100 Corona. NGC PR62. KM-2812; Fr-514. Struck to commemorate the 60th anniversary of the reign of Franz. $17,500.
Possibly Unique 100 Francs Essai Pair, Unlisted in Mazard
1019327: FRANCE. Napoleon III. 1856-A (Hand, Anchor) Gilt Bronze Uniface Essai 100 Francs Pair, Obverse & Reverse. NGC PF64 & PF65. By Barre. Paris. KM 786.1-variant; Mazard-unlisted; Cf. Maz-1601 (1855). Grades as follows: Obverse PF64; Reverse PF65. Superb deeply mirrored surfaces with frosted cameo devices. Deep honey-gold color. Housed in old NGC holders. $13,500.
Exceptional Harold II Penny
1032173: GREAT BRITAIN. England. Harold II. (King, January 6th to October 14th, 1066). 1066 (ND) Moneyer: Wulfur AR Penny. NGC MS63. London. 19mm. SCBC-1186; North 836. Pax or Sole type. Lustrous choice mint state, extremely rare as such. $14,500.
Extremely Rare Annam Lang in Exceptional Quality
1017995: VIETNAM. Tu Duc. (1848-83) AR Lang. NGC MS61. 66mm. 37.2gm. Tu Duc Thong Bao, Van The Vinh Lai. KM 477; Schroeder 348; Dav.-130. Lovely cabinet patina, very rare type and extremely rare in this quality. $11,500.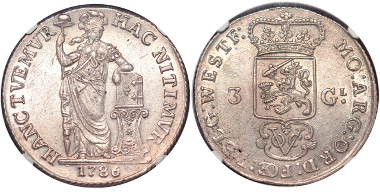 Mint State VOC 3 Gulden
1032142: NETHERLANDS EAST INDIES. West Friesland. 1786 AR 3 Gulden. NGC MS62. Utrecht. KM 140; S-63A. Extremely rare in this quality. $5,750.
For more information and to sign up for the firm's monthly newsletter, visit the firm's website.