[bsa_pro_ad_space id=4]
18-01-2017 – 01-01-1970
Fixed-price offers at MA-Shops
New Greek Dealer at MA-Shops
MA-Shops works with a network of especially reputable European coin dealers. MA-Shops presents a new Greek dealer who has joined MA-Shops recently: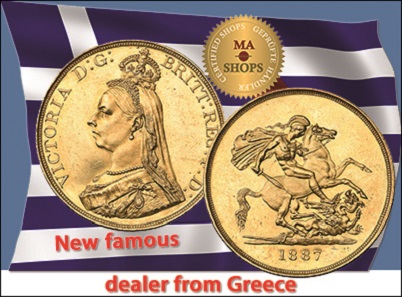 Athens Numismatic Gallery is a single ownership business from Greece, based in central Athens.
This company deals in World coins from 1700 and modern Greek coins from 1830: "I have an extensive 20 years experience in World Numismatics having had the opportunity to work abroad (London UK) and made great friends along the way, the likes of good numismatists such as Stephen Fenton and the late Dimitri Loulakakis but it all began with my late father who operated for 50 years locally. Working with him I learned the tools of the trade and acquired knowledge of GB numismatics as he was a great fan of the Gold Sovereign. The business is registered to my daughter and I work as a consultant helping her in every aspect."
Some nice coins offered by this seller:
GreatBritain 1887 Currency Set. 7,300.00 US$
Queen Victoria Jubilee bust. Gold Five Pounds to Silver 3d, 11 coins. Gold UNC with attractive red hues, Silver aUNC with superb matching colours. Housed in a contemporary maroon Goldsmiths case.
Sometimes called Specimen sets, these are not official Royal Mint sets contrary to what many people believe. The new Jubilee bust of the Queen was extremely popular in the population but the Proof sets of the year (of which only 780 were struck) were very expensive for the average working class. To satisfy the demand, Goldsmiths took coins from circulation generally UNC and placed them in purpose made cases of various shapes and sizes usually with their business logos. These were sold to the public at a fraction of the price of the RM Proof sets. Sets surviving today in a pristine condition as the above command a substantial premium as they still fulfil the purpose for which they were made in the first place. A 1887 RM Proof set in the original box will cost 4-5 times as much.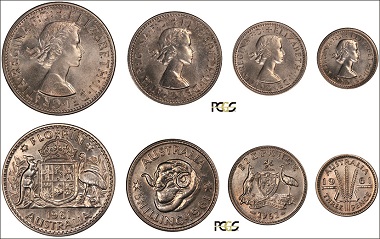 Australia 1961 Silver Proof Set PCGSPR 65. 575.00 US$
KM-PS24. Queen Elizabeth II. Four coins, Florin to 3d. Mintage of 1506 sets. Melbourne mint. Quite scarce as a complete set as most have been broken up. Technically speaking FDC-as struck. PCGS graded as: Florin, 6D and 3D PR66. Shilling PR65.
Greece 1828 Silver Phoenix PCGS MS 63. 4,150.00 US$
KM-4. The ever popular first coin of modern Greece with an incredible design (the Phoenix rising from its ashes symbolizing the rebirth of the State after 400+ years under Turkish rule).
Tiny mintage of just 12,000. Superb uncleaned surfaces with mottle tones. Tied for second highest with a POP of 3, one higher (64+). Ex Otto Horn collection lot 4542, Kuenker auction 255, October 2014. Grades MS63 PCGS. Image courtesy Kuenker Auctions. Verify PCGS Certification here: 30834628
1870 BB Greece Lepton PCGS MS 63 BN. 1775.00 US$.
KM-40. George A'. The key date and very rare in this grade. Grades MS63BN PCGS. Population 6 with just 3 one grade higher! Verify PCGS Certification here: 17237751
You can visit ANG at MA-Shops.