[bsa_pro_ad_space id=4]
24-10-2014 – 03-11-2014
Auction of Historic Banknotes, Coins, Medals and Scripophily
Auction of Historic Banknotes, Coins, Medals and Scripophily
Archives International Auctions will offer 1,450 lots of U.S. and worldwide banknotes, coins, medals, scripophily (stock and bond certificates) and security printing ephemera in a pair of auctions slated for Saturday, Oct. 25th (in New York City) and Tuesday, Nov. 4th (in New Jersey). Start times for both sales will be 10:30 a.m. Eastern time.
The Oct. 25th auction will be held at the Museum of American Finance in lower Manhattan, in conjunction with the Wall Street Coin, Currency, Scripophily & Collectibles Bourse. The Nov. 4th auction will be held at Archives International Auctions' offices, at 1580 Lemoine Avenue in Fort Lee, N.J. Both sales will feature live gallery bidding, phone, absentee and live internet bidding.
"We are fortunate to offer another exceptional collection of numismatic rarities that rarely if ever cross the auction block," said Dr. Robert Schwartz of Archives International Auctions. "We expect this sale to achieve record prices, with collectors competing for rare items they might never see again in their lifetimes at auction."
Palestine Currency Board, 1929 High Grade Issue Banknote, One of 2 Sequential Notes Being Offered. Palestine, 7th September, 1939, 10 Palestine Pounds, P-9c, Issued, S/N B416717, PMG graded Choice Uncirculated 64, amazing note rarely seen this nice. TDLR. None graded higher in the PMG census.
The auction will be packed with rare and desirable banknotes, coins, medals, autographs and ephemera and includes two new discovery Palestine Currency Board, sequential 10-Pound 1939 high-grade bank notes, both possibly the finest known; an 1885 Grover Cleveland Indian peace medal, graded NGC Gem 65 and possibly the finest example known of this rare issue (one of only 30 struck in bronze); as well as hundreds of rare and desirable coins, banknotes and scripophily.
Also offered will be a circa 1849-1850s California Gold Rush-era Currier lithograph titled "The Way to Go to California", with very early aviation images. Autographs will include a historic Franklin D. Roosevelt autograph on a 1945 Yalta Conference "short snorter." There will be more than 400 lots of scripophily, including historic mining certificates; over 170 issued and specimen railroad stocks and bonds; foreign bonds and shares, with many rarities offered and numerous topics from navigation to automobile and finance will be included. Some of the many highlights include a Bodie Bluff, 1879, Bodie Mining district rarity …
Estados De Tamaulipas y San Luis Potosi, 1000 Pesos Issued and Uncancelled "2 Presidents" Bond with Lincoln & Washington. San Carlos, Tamaulipas, 1865. VG condition with archival reinforcement. U.S. BNC, NY.
… a Mexican Estados De Tamaulipas y San Luis Potosi, 1000 Pesos, 1865, Issued and Uncancelled "2 Presidents" Bond; Richmond and Petersburg Rail Road Company, 1870 $1000, Specimen Bond. Unique in ABN Archives.
The balance of the Scarsdale Collection of modern African banknotes will also come up for bid, as will many selections from the Hamtramck Collection, assembled by a U.S. Army officer over a 40-year period, from the end of World War II to the late 1980s. The Connecticut Collection of U.S. and worldwide coins and medals, with certain items unseen for over 40 years and new to the collecting community, will also be sold.
The 450+ lots of worldwide banknotes will include a rare and very attractive 1886 10-Pesos, Aguan Navigation & Improvement Company banknote; a 1973-1978 Pakistan presentation book with five different specimen issues; numerous high-grade Russian State Treasury and 'Gold Ruble' issues; a 1905 Danish West Indies 5-Franc specimen rarity; Dominican Republic, Haiti and Ecuador issues; and countless other rare and attractive banknotes.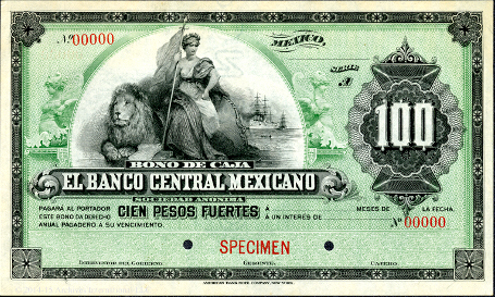 Bono De Caja, El Banco Central Mexicano, 1899 Specimen Banknote. Mexico, 1899, Ser. A. 100 Pesos, P-Unlisted. Note would have been CU but there is a small indentation where the note had been paper clipped to something in the past, otherwise a beautiful and dramatic design on this rare note. ABNC.
Also to be offered will be three rare and previously unlisted Honduras banknotes from 1848 and 1873; a large selection of Israeli and Palestinian banknotes with many rare issues; rare Mexican issues, to include two specimen Bono de Caja issues; early proof Paraguay 1882 and 1886 issue banknotes; a Portuguese 1909-1919, 2 ½ Mil Reis, specimen-proof banknote issue; and other rare banknotes.
United States Treasury, Assistant Treasurer of the United States at Philadelphia, Gold Coin Certificate Uncut Pair. Philadelphia, PA. 186x, Temporary Loan of 1862 Hessler X134 F. This pair of both the original and duplicate, grades Very Fine Plus with bit of toning on the ledger section as shown, a few tiny pin holes and minor edge splits.
U.S. banknotes will include a rare uncut pair of U.S. Treasury, Assistant Treasurer at Philadelphia, gold coin certificates, Hessler X134-F; an uncut block of Jan. 1, 1776 Delaware colonial issues, all different denominations; three different 1934 D Federal Reserve Note specimens with zero serial numbers and more than 50 obsolete U.S. banknotes, including numerous rare ABN proofs.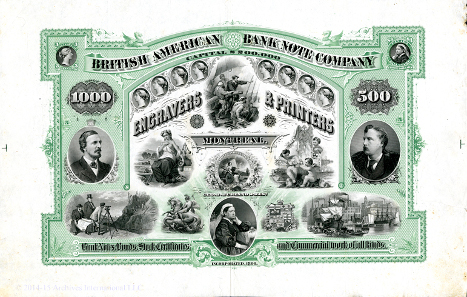 British American Bank Note Company Engravers & Printers, ND (ca.1860's) Dramatic Proof Security Printer Advertising Sheet. Canada, ND (ca.1860's), 15″ x 10″. Internal tears archivally restored, must be seen to be appreciated.
Fractional currency will feature large margin proofs and high-grade issued notes; a spectacular British American Bank Note Company advertising sheet (circa 1860s), possibly the only one in existence; an uncut sheet of six notes from the First National Bank of Alexander City (Alabama, 1929), T2, in mostly Choice to Gem condition; a 1934 A $10 inverted back error; a discovery Giori 15 subject test sheet; U.S. postal notes; and large and small type notes, including errors.
U.S. and worldwide coins and medals – most of them from the Connecticut Collection – will be offered for the first time. A majority of these items will be sold as single items to small and large group lots. Due to the massive quantity of material involved and the large size of some of the lots, personal inspection is highly recommended prior to the auction.
There will be over 150 lots of foreign coins and medals in the sale. Highlights include high-grade Palestine issues; Russian coins and hundreds of other coins in single to large group lots with much of the older material purchased and off the market since the 1950s to 1970's. Also included will be close to 150 lots of U.S. coins and medals, to include commemoratives, type coins, bulk lots and a great group of medals.
Previews are scheduled for Oct. 20-21; Oct. 28-30 and November 3rd at Archives International Auctions' offices in Fort Lee, New Jersey by appointment. Also shown will be non-coin lots at the Wall Street Coin, Currency, Scripophily & Collectibles Show Oct. 23-24.
The catalog is presently online at Archives International Auctions website and can be viewed through Archives International Live's bidding platform or as a virtual catalog as well as a downloadable PDF.
To pre-register for live event bidding, you may log on to the AIA's website.
Archives International Auctions is always looking for U.S. and worldwide banknotes, coins, stocks, bonds, stamps, postal history, autographs and historic ephemera and documents for future auctions or to buy outright. To sell or consign one piece or an entire collection, you may call AIA at (201) 944-4800; or you can send them an e-mail.
To learn more about Archives International Auctions and the upcoming two-day, three-session sale planned for Oct. 25 and Nov. 4, please visit the website of the company.
Contact:
Dr. Robert Schwartz
(201) 944-4800
email