[bsa_pro_ad_space id=4]
12-03-2018 – 01-01-1970
March Sale (#47)
U.S., Chinese and Worldwide Banknotes, Scripophily and Coins
The Archives International Auctions' March sale, hold in two sessions on Tuesday, March 13, 2018 at their offices in Fort Lee, N.J. will feature an extensive collection of over 950 lots of U.S., Chinese and worldwide banknote rarities, worldwide scripophily, coins, and security printing ephemera. Also included in the auction are U.S. and world coins from an old estate collection featuring a nice assortment of Italian States and World Coins that deserve further inspection and hundreds of additional banknotes, stocks, bonds, and autographs. Numerous consignments from old estates and family collections are included with many items having been off the market for over 25 to 50 years.
The sale is broken into two sessions, the first includes Chinese and Worldwide Banknotes, Chinese Scripophily, and World Coins, while the second session begins with U.S. coins, then Colonial and Obsolete banknotes, U.S. type notes, MPC, Depression Scrip and Security Printing Ephemera followed by U.S. and World Scripophily.
Lot 7: Argentina. 1883. 500 Pesos Oro, P-S544p. Banco De La Provincia De Buenos Aires, 1883. Unique Production Proof Model Banknote. Estimate 700-1,200 USD.
Session A: Chinese and Worldwide Banknotes, Chinese Scripophily, and World Coins
The first session begins with over 500 lots of world banknotes featuring 130 lots of Chinese banknotes and scripophily; over 30 lots of modern Iran specimen banknotes, all different, with a majority new to the collecting community; an impressive assortment of Colombia proof banknotes with many rare notes in high grades as well as hundreds of other attractive, rare, and desirable banknotes. Highlights include Argentina, 500 Pesos, Banco De La Provincia De Buenos Aires, 1883 Unique Production Proof Model, est.$700-$1200; A 1968 Bahamas Monetary Authority set of 8 Specimen banknotes, 50cts to $100, est.$1750-$2000; a pair of extremely rare Chile, ND (ca.1870) El Banco Agricola Specimen Banknotes, 1 and 5 Pesos, both unlisted as specimens and unpriced in the SCWPM with low estimates at $1200 and $1600 respectively.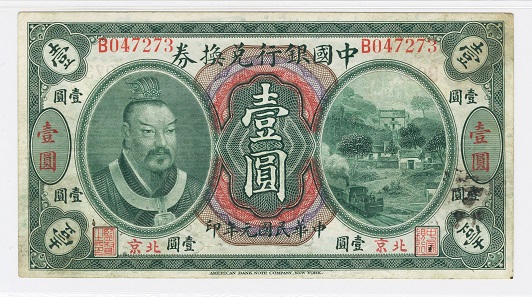 Lot 73: China, $1, P-25w, S/M#C294-30w, Issued banknote, Green on m/c. PMG graded Very Fine 30. Estimate: 4,000-8,000 USD.
Furthermore, a 1912 Bank of China, Peking Branch rarity, $1, P-25w, possibly the finest known, est. $4000 to $8000; 4 examples in high grade of 1907, Kiangse Government Bank, $1 banknotes from a new find, est. $1000-$2000 each; and an outstanding, ND (ca.1910) Peiyang Tientsin Bank 5 Taels rarity, est. $6000-$8000. Included are 22 lots of Chinese Railroad bonds, ca.1904-1911.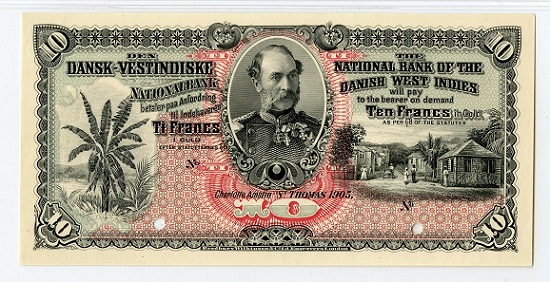 Lot 242: National Bank of Danish West Indies. St. Thomas, DWI, 1905, Banknote 10 Francs in Gold, P-18p. Uniface Proof face, no back. Estimate: 1,250-1,750 USD.
Discover also a desirable 1905 National Bank of Danish West Indies Uniface $10 Proof, the finest of 4 graded in the PMG census, est. $1250-$1750; over 17 lots of French Revolution Era Siege Notes with many rare varieties; a Bangko Sentral ng Philippines, 1998 Commemorative 100,000 Piso Banknote, est. $9000-$10,000; and an extremely rare United Arab Emirates Currency Board, 1982-1989 Specimen Set of 6 notes in its original booklet overprinted Specimen in English and Arabic in Uncirculated to Gem Uncirculated condition, est.$7000-$10,000 in addition to hundreds of other desirable banknotes in every price range.
Lot 604: Merchants Bank. Baltimore, Maryland, 18xx (ca.1830's), $100, Plate C, MD-105-Unlisted, Proof banknote. Black on india paper. Estimate: 600-900 USD.
Session B: U.S. coins, currency, scripophily, security printing ephemera and autographs
The second session includes 400 lots of U.S. coins, currency, scripophily, security printing ephemera and autographs. Highlights include a very attractive Bust Half Dollar collection of 10 different coins from an old estate, est. $1000-$1500; Colonial and Obsolete Currency highlighted by 2 examples of high grade "DIX" notes, est. $600-$900; numerous obsolete proofs from the "Silver City Collection" with many off of the market for over 7 years and extremely rare including an 1830's, $100, Merchant Bank of Baltimore rarity, est. $600-$900; and an 1830's, $20, Bank of Burlington Proof, est. $600-$1000. Over 20 lots of Security Printing Ephemera are offered highlighted by 3 lots of National Bank Note Company Proof Vignette sample pages, ca.1850-70's with many rare and unique vignettes used on banknotes, fiscal documents, stocks and bonds. An extremely rare 1894, Type V, U.S. Postal Note from Elkton, Oregon is offered, est. $1250-$2000.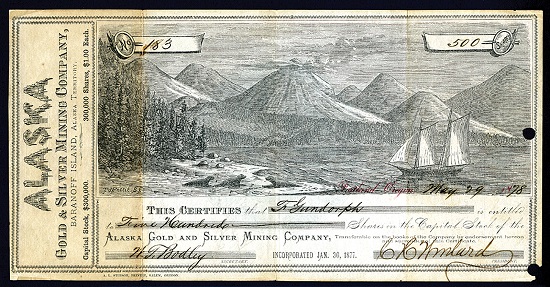 Lot 793: Baranoff Island, Alaska Territory. May 29, 1878, 500 Shares. Certificate #183. Issued and uncancelled stock certificate. Estimate: 3,000-5,000 USD.
The Scripophily section is represented by 250 lots covering numerous topics including Automobiles, Aviation, Mining, Banking, Technology, Railroads as well as foreign bonds and shares. Highlights include an extremely rare and historic 1878 Alaska mining certificate, Alaska Gold & Silver Mining Company, Baranoff Island, issued 11 years after the purchase of Alaska (Seward's Folly) and possibly one of the earliest Alaska Stock Certificates know, est. $3000-$5000; a 1904, Ford Motor Company of Canada Stock Certificate signed by Hohn S. Gray, president of both Ford U.S.A. and Ford Canada and issued on the first day of the company, December 17th, 1904, est. $900-$1250; an early Bank of Baltimore, 1798 Stock Certificate, est.$750-$1250; an extremely rare Pain's Fireworks Co., 1896 I/U stock certificate est. $600-$900 and first time seen by cataloger.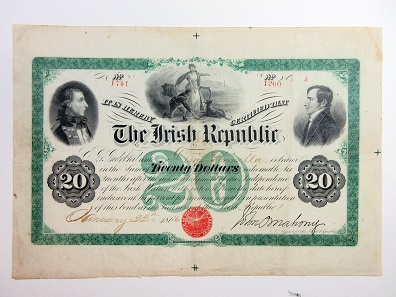 Lot 768: Irish Republic, January 23rd, 1866, $20, Plate A, P-Unlisted, I/U, 6% bond payable 6 months after the Independence of the Irish Nation, Black on green. Estimate: 900-1,800 USD.
Also an impressive 1866, $20, I/U, Irish Republic Bond; an 1887, Meigs Elevated Railway Construction Co. bond signed by Civil War General Benjamin F. Butler as president, est. $800-$1600; as well as dozens of additional scripophily rarities. The auction will feature hundreds of additional rare and desirable banknotes, coins, and scripophily in every price range, for the beginner to the advanced collector.
Previews will be held at Archives International Auctions offices Wednesday, March 7th to Friday, March 9th, and Monday March 12th between 10 AM and 5 PM and by appointment. For an appointment send an email.
Here you can visit the AIA website.
Visit the AIA live bidding platform.
The catalog is also available as a pdf.