[bsa_pro_ad_space id=4]
31-03-2014 – 01-01-1970
Numismatic Sale #7
Pre-Columbian Art and ancient coins
Agora Auctions' Numismatic Sale #7 is now live and closes Tuesday, April 1, 2014 starting at 12:00 noon EST with lots closing every 30 seconds.
151: Roman Republic. Anonymous. Uncia, 214-212 B.C., Sicilian mint. Ex Goodman collection. Crawford 42/4. Fine, overstruck. Estimate: $60.
This sale includes several Roman Republican coins from the famous Goodman collection.
231: Roman Empire. Galerius, as Caesar. Follis, A.D. 303, Carthage. Ex William C Boyd collection, with his ticket, Ex Sotheby's 1892, Ex Baldwin's sale 42, 2005. RIC 34b. Estimate: $175.
There is also a well provenanced coin from the collection of William C Boyd, which includes his original ticket, sold by Sothebys in 1892.
There is an excellent Carthaginian stater, high grade Alexander III tetradrachms, and a superb Ptolemy tetradrachm. The catalogue comprises the usual sample of Roman, Greek, Eastern empires, Islamic coins and a nice variety of Judean coins.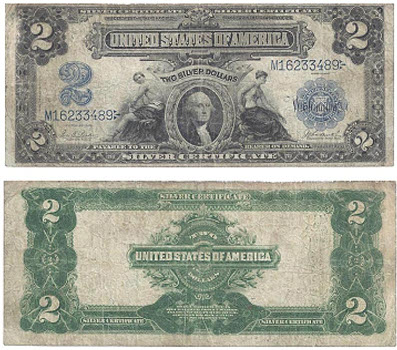 331: United States of America. Two Dollars Silver Certificate, 1899. Fine, circulated. Estimate: $210.
And finally, another small group of currency is listed which include two scarce Confederate States of America notes.
361: Chimu Whistle Vessel with Monkey from Peru, ca. 1100-1450 AD. This superb double-chambered bottle is 6-1/2″ high, 8-1/2″ long and features a nicely detailed monkey seated atop the front chamber. He is surrounded by sea birds, probably pelicans, which also cover the top of the rear chamber. Intact, good mineral deposits, great tone. Ex Freeman estate. Value range $585-$700.
And, as you've come to expect, Agora Auctions are offering another selection of ancient Pre-Columbian and Roman antiquities. There is certainly something for every collector in this sale.
To browse through the complete auction sale catalogue go to the Agora Auctions website.