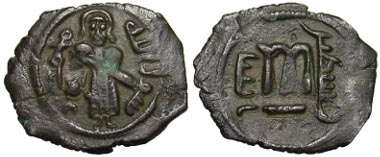 [bsa_pro_ad_space id=4]
10-03-2014 – 01-01-1970
Numismatic Sale #6
Rosa test strikes of the first generation
Agora's Numismatic Sale #6 is now live and closes Tuesday, March 11, 2014 starting at 12:00 noon EST with lots closing every 30 seconds. Auction number six is the auction house's largest yet with several outstanding specimens.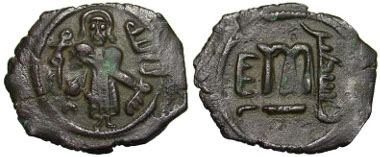 Lot 6-307: Arab-Byzantine, Umayyad Caliphate. 'Abd al-Malik ibn Marwan. 65-86 / 685-705. AE Fals. Ilya Filastin (Aelia Capitolina, Jerusalem). Walker 75; SICA 731. VF. Extremely Rare. Estimate: $420.
Agora is offering one of the earliest Islamic types of the Umayyads, an extremely rare fals from the Jerusalem mint.
Lot 6-098: Herod I. 40 B.C.E.-4 B.C.E. AE 8 prutot. Samarian mint, Year 3 = 40/39 BCE. Hendin 1169; Meshorer 44; RPC 4901. VF, green patina. Estimate: $300.
There are several high grade Eastern coins as well as a nice selection of Judaean and Biblical city coins. The provincial coins offering includes some scarcer issuers, including Galba, Aemilian, Hostilian, and Numerian.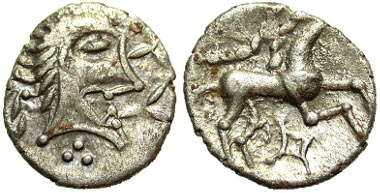 Lot 6-002: Britain, Iceni. Queen Boudicca. Ca. A.D. 61. AR unit. Van Arsdell 794-1; SCBC 434. Toned VF.
There are a few seldom seen Celtic and Vandalic issues and a couple of early countermarked pieces, one of them possibly from Vindix. Also on offer is a consignment of scarcer late Roman and Byzantine gold.
Lot 6-355: Akarnania, Leukas. 320-280 B.C. PB stater. BIFACE LEAD / ROSA OFF-METAL TRIAL STRIKE. cf. BMC 84; CD-084. EF. Estimate: $200.
This sale also includes another batch of Rosa test strikes. Peter Rosa (1926-1990) was the owner of Becker Manufacturing Company in New York City and an avid admirer of the artistry of ancient coins. Since purchasing coins was beyond his means, he ordered casts of coins from the British Museum from which he created high quality replicas. Although considered by some as one the great numismatic craftsmen of the 20th century, his copies were never intended to deceive, but to educate the public about ancient art. The Rosa off-metal trial strikes offered for sale at Agora Auctions are Rosa's innovative craftsmanship. They are not second or third generation cast copies commonly found on the market today. This collection was purchased by Wayne Sayles directly from the Rosa family after his death. The dies themselves were donated to the ANS museum. All Rosa test strikes are accompanied by a Certificate of Authenticity from, and signed by, Wayne Sayles.
And, as you've come to expect, Agora is offering another wide selection of ancient antiquities from Rome, Greece, Egypt and other cultures. There is certainly something for every collector in this sale.
You can browse through the complete catalogue bidding online on the Agora Auction website.