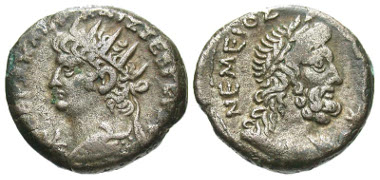 [bsa_pro_ad_space id=4]
18-08-2014 – 01-01-1970
Sale of the Surber Collection
Agora Auctions: sale of the Surber collection
Agora Auctions is conducting the sale of the ancient coin collection and numismatic library of Dave Surber, the founder of WildWinds.com, the first and most prominent ancient coin research website.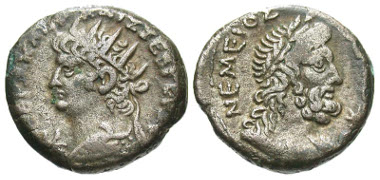 Lot 15-105: Egypt, Alexandria. Nero. A.D. 54-68. BI tetradrachm. Dated year 14 = A.D. 67/8. Scarce type. Ex Lindgren collection. Estimate: $125.
The Surber collection includes a selection of Lindgren plate coins, South Italian Greek coins, and a variety of Greek, Roman Imperial and Provincial coins.
"Dave was an avid collector and it is a great honor to be trusted with the sale of his collection. What makes this collection incredibly special are not just the rarities it contains, but their incredible pedigree. These coins were owned and treasured by a very important figure in ancient numismatics in the 20th and 21st Century," says Alfredo De La Fé, Director of Marketing at Agora Auctions. "Thanks to Dave's work, hundreds, if not thousands, of new collectors got their start and tens of thousands of enthusiasts continue to use WildWinds on a regular basis."
Lot 15-011: Calabria, Tarentum. Ca. 280-272 B.C. AR drachm. Vlasto 1068ff; HN Italy 1018; SNG ANS 1317. VF. Estimate: $150.
A graduate from MIT, Dave was a chemical engineer and software programmer by trade, Dave Surber began his fascination with ancient coins in 1996. After attempting to research an ancient coin he had purchased on the internet without success he took on the personal project of creating the first research website dedicated to ancient coins. In his own words he wrote to a friend in a private email: "I got an ancient coin as a gift for Christmas in 1996… my next step was to do a web search… and amazing as it is to say today, there was nothing, not one hit! Try it today of course and you'll get hundreds or thousands of hits, but then there was a glaring need for an online catalog of ancient coins. There are hundreds of ancient coins venues every day, the images flowing through and disappearing like the wind. My idea for WildWinds was to create the equivalent of a windmill to capture some of this boundless energy…"
Lot 15-085: Roman Provincial. Nero as Caesar. AR cistophoric tetradrachm. Ephesus mint, A.D. 50-51. RPC 2225. Fine. Rare. Estimate: $500.
Sadly, Dave passed away suddenly on February 20, 2009, at the age of 49. His passion and commitment to his hobby has fueled the growth of the field of ancient numismatics and has inspired dozens of research websites as well as thousands of collectors worldwide.
Lot 15-243: Gratian. A.D. 367-383. AR siliqua. Trier mint, A.D. 367-375. RIC 27f; RSC 86b. gVF, toned and clipped. Estimate: $150.
The dedicated sale of the Surber collection began on Tuesday July 29th, at 3:00pm EST which closes on Tuesday August 19th at 12:00 pm (noon) EST, with lots closing every 30 seconds. Additional lots will be included in the following three sales.
More information provides the website of Agora Auctions.