[bsa_pro_ad_space id=4]
07-07-2014 – 01-01-1970
Sale #13
Rare Vandal and Ostrogoth coins
Agora Auctions' Sale #13 went live on June 24th with 262 lots and begins to close Tuesday, July 8, 2014 starting at 12:00 noon EST with lots closing every 30 seconds. Please note that our sales now run every two weeks.
1: Islands off Attica, Aegina. Ca. 445-431. Stater. SNG Cop 516. VF. Estimate: $1,250.
This sale has an excellent land-tortoise stater from Aegina, which comes with a Certificate of Authenticity from David Sear, a nicely detailed stater from Thasos, and an excellent Susa mint tetradrachm of Seleukos I. Also included are several hard to find Parthian and Persis coins, …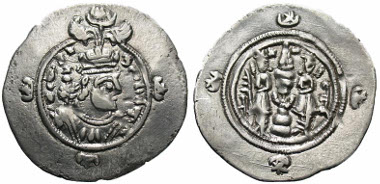 25: Sasanian Kingdom. Yazgard III. A.D. 632-651. Drachm. SK (Sijistan mint), RY 7. Göbl II/2. EF. Estimate: $175.
… as well as a few high grade Sasanian drachms. There are several excellent LRBs …
104: Maximinus II Daza. A.D. 309-313. Follis. Antioch mint, A.D. 313. RIC 170b. gVF. Estimate: $300.
… including Maximinus – Statue of Farnese reverse, and a brockage camp gate.
138: Vandals, Carthage. Municipal Coinage. ca. 480-533. Nummus. BMC 12 (Huneric); MIB 20 (Gelimer); MEC 55. EF. Estimate: $400.
The highlight of this sale is four hard-to-find Vandal and Ostrogoth coins and two pristine condition Swedish plate coins.
This sale also features a number of important numismatic references. Don't forget to check out the antiquities selection, there are a lot of great pieces at low prices.
Here you can browse the complete auction catalogue.