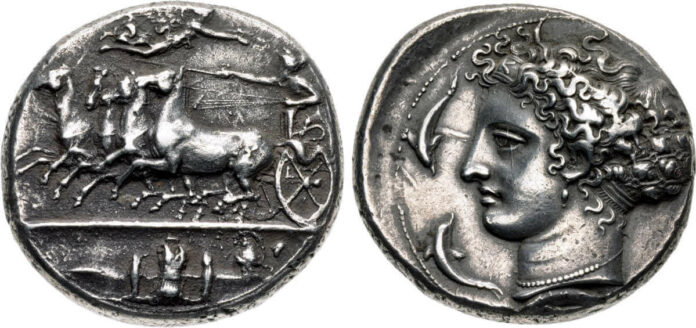 [bsa_pro_ad_space id=4]
A Quarter-Century of Triton: Rarities and Masterpieces
Marking a quarter-century of numismatic excellence, Classical Numismatic Group LLC's Triton XXV Auction in New York City 11th-12th and 25th-26th January 2022 will bring to the block nearly 3,000 masterpieces of Ancient Greek, Judean, Roman, World and British coinage, according to CNG Managing Director Michael Gasvoda.
"We were hoping to assemble a great auction to mark Triton's twenty-fifth anniversary," Gasvoda said, "and with this monumental offering, it's mission accomplished!"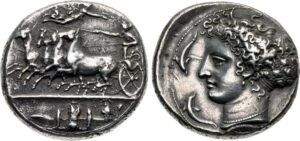 Among the high-value coins to be offered are a magnificent silver dekadrachm of Syracuse, circa 405 BC, signed three times by the master engraver Kimon and pedigreed to the Bibliothèque Nationale de France; an Attic-weight silver tetradrachm of the legendary Indo-Greek King Menander, one of only two known; a major offering of Biblical-related coins, including an extremely rare Year 5 Shekel of the first-century Jewish War against Rome, two of the rare and famous bronze "menorah coins" of King Matathias Antigonus, and an impressive bronze medallion 217 depicting the Biblical Noah's Ark, one of only three known examples; and a huge and impressive piece of Swedish plate money with a stamped value of 8 Daler, dated 1659.
Triton XXV also includes more than 90 Roman gold coins, including several highly important rarities; a rare and historically significant Umayyad gold dinar dated Year 77, the first year of issue; and a rare silver denarius of the rebel Roman general Labienus.
The Triton series of auctions commenced in New York on December 2, 1997 in conjunction with the New York International Numismatic Convention (NYINC) and has continued in an unbroken yearly sequence since then, making it one of the longest-running major numismatic auctions in the field of Ancient, British and World coins. Sessions 1 through 4 of Triton XV will be held prior to the 50th annual NYINC, scheduled at the Intercontinental New York Barclay Hotel, 111 E. 48th Street, New York NY, 13th-16th January 2022.
With the total presale estimate exceeding $7 million, Triton XXV is anchored by several "spectacular" collections, said Gasvoda. Among the these holdings are the collection of Dr. Jay Galst, a New York opthalmologist who spent five decades collecting ancient Judaean and related coinages; the Melinda Collection, focused on Hellenistic masterpieces from the Greco-Baktrian and Indo-Greek civilizations; The Archytus Collection, an important offering of ancient coinage from the Indian subcontinent; the Thomas A. Palmer Collection, a stellar group of Roman Imperial Silver denarii; the DeWilde Collection, a remarkable holding of Dutch rarities; and the DMS Collection of important Swedish coins.
Artistic excellence, historical importance and extreme rarity abound in the offering, the first four sessions of which will be held as live floor auctions at the Barclay Intercontinental Hotel in New York City, Tuesday and Wednesday, 11th-12th January 2022. Triton's Fifth and Sixth Sessions will be conducted live on the internet from CNG's headquarters in Lancaster, PA, on 25th and 26th January 2022. All coins may be viewed at the Barclay starting Sunday, 9th January 2022, at 1.00 PM through the auction dates.
Bidders may view and participate remotely in all sessions of Triton XXV via the CNG website.
To receive a printed copy of the full-color catalog and a detailed schedule, contact Classical Numismatic Group LLC via email, or call (717) 390-9194.