[bsa_pro_ad_space id=4]
02-05-2016 – 03-05-2016
Baldwin's London Auctions 98 and 99
Baldwin's London Auctions 98+99
A H Baldwin & Sons Ltd announce their upcoming May auctions, a two-day event held in the prestigious London saleroom at 399 Strand in the heart of London on the 3 and 4 May 2016.
These auctions will be the 98th and 99th of the flagship London auctions that Baldwin's have conducted, and join a history that stretches back more than twenty years of numismatic auctions held by Baldwin's in the capital. Over the years, the Baldwin's auctions have featured some incredible items and collections – for example the David Fore Collection of British Coins of India and the Bentley Collection of British Milled Sovereigns to name but two.
This time around, the tradition has most certainly been maintained, with some wonderful collections sitting neatly alongside some very rare (and often unique) numismatic items.
These auctions contain a varied selection of many areas of numismatics – an eclectic assortment that covers the widely coveted and the more niche – from Military Medals to British 18th Century Tokens to Commemorative and Coronation Medals to Islamic, Ancient and British Coins.
Auction 98
First up, on May 3, there will take place Auction 98, which features a very strong and large selection of Military Medals, a section that has been carefully crafted by the new Medals specialist Mark Smith.
Lot 2334: George I (1714-1727), Coronation Gold Medal by John Croker. Extremely fine, cameo prooflike, rare. Estimate: £2,500-3,000.
At Auction 98, Baldwin's is also delighted to present one of the finest and most complete collections of British Coronation and Jubilee Medals ever assembled – the Dr Robert & Joshua Feldman Collection of Official British Coronation and Jubilee Medals.
Historically, these medals were distributed at Westminster Abbey at the coronation of a new monarch – the gold medals were given to Lords, the silver to the peers, and the copper strewn to the crowd gathered outside the Abbey. At her coronation in 1838, however, Victoria characteristically deemed this to be 'an unseemly process' and after that the medals were given out individually.
It is with some pride that Baldwin's now has the opportunity to offer this incredible collection for public sale just a stone's (or copper medal's) throw from Westminster Abbey.
Auction 98 also features a large and varied selection of World Commemorative Medals and a fine selection of British 18th Century Tokens – tokens that were manufactured during and after the Industrial Revolution in the United Kingdom, and distributed by merchants and shopkeepers in the absence of sufficient small coinage.
Often, they became political statements, reflecting the changing attitudes in the UK at the time. As such, these tokens represent a fascinating area of numismatics, and are rapidly growing in popularity as collectors come to realise the appeal of the history that surrounds them.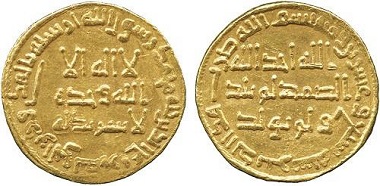 Lot 2874: Marwan II b.Muhammad (127-132h / 744-750 AD), Gold Dinar. Extremely fine and rare. Estimate: £15,000-20,000.
As well as the above, auction 98 contains a strong Islamic Coins section, which is, as ever, a hugely in-demand area. This catalogue covers a wide selection, including a number of rare Marwan II b. Muhammad Gold Dinar's and an extensive section of Arab-Byzantine, Umayyad and later Fals.
The second day of this two-day event sees Auction 99 go under the hammer, with a heavy focus on the more ancient areas of numismatics.
Auction 99
Auction 99 features at its core a quite remarkable collection of Ancient Coins in the Alfred Franklin Collection, encompassing the Greek and Roman periods with a meticulous appreciation of quality and historical interest. For A H Baldwin & Sons Ltd, it has been an enormous pleasure to help develop this collection over many, many years.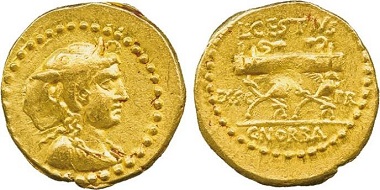 Lot 6: Ancient Rome – L Cestius and C Norbanus (43 BC), Gold Aureus. Well-struck and of good style, about extremely fine, a rare variety. Estimate: £8,000-10,000.
Alfred Franklin is a retired Orthopaedic Surgeon, and has been familiar to the London numismatic scene for a number of years as an active and enthusiastic collector with a keen eye for quality and detail.
Following the Alfred Franklin Collection on day two is an equally strong collection of Aksumite Coins, a rarely seen yet important area of numismatics that is steeped in history and mystery.
The Kingdom of Aksum was the only sub-Saharan African State to issue its own independent coinage in ancient times – the first issues appeared in c.AD 290 and continued well into the 7th Century. Very little is known, however, about this long-standing Kingdom, and the coinage represents the only evidence available for the existence of many of its monarchs.
What we do know is that the Kingdom of Aksum was only the second state in the ancient world to make Christianity its official faith (behind Armenia), and was almost certainly the first to feature the cross on its coinage. The collection is also remarkable as it contains denominations in gold, silver and copper.
For collectors of this series, this offering provides an excellent and rare opportunity.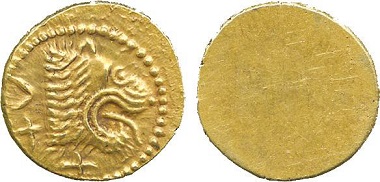 Lot 536: Etruria, Populonia (c.300-250 BC), Gold 25-Asses. About extremely fine, rare. Estimate: £2,500-3,000.
Staying with the ancient theme, Auction 99 also features a collection of Etruscan, Early Italian and Roman Coinage, appropriately titled 'The Collection of an Antiquary'. The collection was formed following the first visit of the present owner to Italy in 1949, where, as a schoolboy, he became fascinated by the Etruscan civilisation and their coinage.
Many of the individual items from this collection contain wonderful provenances, with many types that are seldom encountered.
The final (but by no means least) collection offered in this two-day sale is a collection of Ancient and British Coins: The Collection of a Classicist.
This extremely extensive collection has been assembled throughout the second half of the 20th Century and contains material from the Ancient Greek, Roman and Byzantine Worlds, with a strong focus on Ancient Roman coinage.
Much of the material featured in this section is new to the market after many decades in private hands, with several individual lots of superb quality – a true numismatist's collection.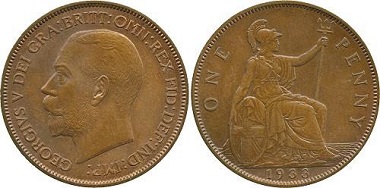 Lot 1070: Great Britain, George V Copper Pattern Penny, 1933, by Andre Lavrillier. Extremely rare, one of only four known. Estimate: £35,000-45,000.
Rounding off the sale is an equally strong section of British Coins, covering all areas of the British Isles and most periods of history from this extremely popular area of numismatics.
This section also features some key items, not least of which is the extremely rare Lavrillier 1933 pattern Penny, one of only four known examples.
All offered lots you may find here.