[bsa_pro_ad_space id=4]
2022 Central States Signature Auctions at Heritage
Heritage Auctions presents their 2022 Central States Signature Auctions. This sale event consists of two auctions with almost 5,000 lots and many sessions. The event starts with the Central States US Coins Signature® Auction including many important collections such as the Bob R. Simpson, Warren and Long Island Collections. The Central States World Coins & Ancient Coins Platinum Session and Signature® Auction features among others the famous Regent Collection.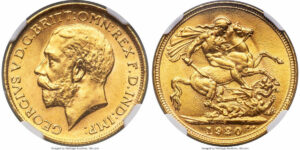 Central States World Coins & Ancient Coins Signature® Auction
The Regent Collection, one of the finest selections of early Australian gold ever assembled, will bring collectors from around the globe to Heritage Auctions 5th-7th May 2022 for its Central States World Coins & Ancient Coins Platinum Session and Signature® Auction.
"The Regent Collection represents the finest group of Australian rarities to come to market in years, if not ever," Heritage Auctions Executive Vice President of International Numismatics Cristiano Bierrenbach said. "This group represents the cross-section of high-end collectors of Australia, British Commonwealth Sovereigns and World Gold Trophy Hunters, so we anticipate serious bidding activity on them."
Among the top attractions is the finest of just six known examples of the George V gold Sovereign 1920-S MS64+ NGC ($400,000-500,000), which is widely acknowledged as the "King" of the Australian Sovereign series. This magnificent specimen is from an issue that initially was underappreciated as a rarity, due to its mintage of 360,180 – all from 1920-dated dies and struck between January and June 1920. Most dates before and after WWI included mintages of more than 1 million coins across Sydney, Melbourne and Perth; wartime needs boosted those numbers to nearly 4 million in 1918. Most of the 1920-S Sovereign's original mintage was melted, along with 105 million other Sovereigns in the late 1920s and early 1930s in the U.S. and England. It was suggested that the small handful of surviving examples was commissioned by prominent Sydney citizen Jacob Garrard from the Mint for distribution to his seven children to celebrate his Golden Wedding Anniversary, but contemporary documentation records no formal order from Garrard, meaning he likely obtained them from the Commonwealth Bank to which the Sydney Mint delivered newly struck Sovereigns during the 1920s. Therefore, the 1920-S represents what is perhaps the paramount rarity of the regular circulation Sovereign series, rather than a private order. This particular representative was held by Garrard's descendants for the last 100-plus years, and represents a fresh addition to the known census not previously available for public auction.
What is believed to be the only known example in private hands of a Victoria gold Proof Pattern Sovereign 1853-SYDNEY PR63 Ultra Cameo NGC (estimate: $300,000-500,000) is a prize within the Australian series. The "Sydney Mint" Pattern Sovereign of 1853 is the first Sovereign for the colony; the example offered here is one of just four originally produced. All other specimens of the coin are permanently impounded in museum collections – one in the British Museum and the other two in the Royal Mint Museum in Wales. There are none in Australian institutions, and this date was absent from the famed Murdoch Collection for both the Sovereign and 1/2 Sovereign. The specimen offered here has been off the market for more than 12 years.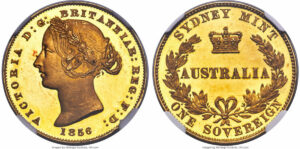 A Victoria gold Proof Pattern Sovereign 1856-SYDNEY PR65 Ultra Cameo NGC, the finer of just two examples in private hands and one of only three known, is regarded as a masterpiece of Victorian coin engraving and elevates Leonard Charles Wyon to the same level as his famous father, William. One other example resides in the British Museum, and the other privately held specimen, a PR62 Ultra Cameo, pales by comparison to the example offered in this auction, which previously has been part of such revered collections as Murdoch, Farouk and Quartermaster.
The sale also features nearly 200 British coins, including:
A magnificent Victoria gold Proof "Una and the Lion" 5 Pounds 1839 PR62 Ultra Cameo NGC (estimate: $150,000-200,000). This extraordinary coin is prized by collectors of British numismatics, becoming one of the most fervently and consistently contested series in recent memory. The crowning artistic achievement of master engraver William Wyon at the height of his career – a monumental proclamation when considering his other masterworks, each impressive in their own right, including the "Gothic" Crown and "Three Graces."
Also offered is a Victoria gold Proof Pattern Sovereign 1887 PR67 Deep Cameo PCGS, W&R-331 (R5), Marsh-58D (R6), DM-217 (estimate: $80,000-120,000). Featuring an obverse by William Wyon and reverse by Jean-Baptiste Merlen, it is rated an R5 by W&R, corresponding to a mere 6 to 10 specimens known. Only one other example of this high-grade rarity, ranking two points lower at PR65, has been certified by PCGS.
A George IV gold Proof 5 Pounds 1826 PR63 Ultra Cameo NGC, KM702, S-3797, L&S-27, Marsh-F6, W&R-213 (R3) (estimate: $80,000-120,000). Yet another product of William Wyon and Jean-Baptiste Merlen's collaboration, this covetable type was struck from a mintage of just 150, was designed for inclusion in the monarch's mid-reign Proof Set.
The auction also showcases 42 lots from the WTR Collection, an exceptional assemblage of Greek and Roman coins with particular strength in Lydian issues of Croesus, including Staters, Trites, Hectes, and Hemihectes. Highlights from the collection include, but are not limited to:
A Calabria. Tarentum. Time of Pyrrhus of Epirus (ca. 280-272 BC). AV stater (18mm, 8.57 gm, 5h). NGC MS 5/5 – 4/5, Fine Style (estimate: $80,000-120,000). An iconic gold issue employing Fine Style dies displaying a fully struck profile of Heracles donning his signature lion skin headdress and almost never encountered this fine; struck during a tumultuous time at the end Pyrrhus's reign during an era of conquest in Calabria, likely for the purpose of paying his army during occupation.
Septimius Severus (AD 193-211). AV aureus (20mm, 7.22 gm, 5h). NGC MS 5/5 – 5/5, Fine Style (estimate: $15,000-25,000). Yet another wonderful example and clear product of meticulously engraved Fine Style dies, coupled with advanced strike and surface ratings and eye-appeal to boot. After an extensive program of construction in Rome, Septimius Severus became commonly referred to as the "RESTITVTOR-VRBIS" or "Restorer of the City" as proclaimed in the legends of this issue.
Achaemenid Persia. Darius I-Xerxes I (late 6th-early 5th centuries BC). AV daric (16mm, 8.30 gm). NGC MS 5/5 – 4/5 (estimate: $15,000-20,000). A rare early Daric of Archaemid Persia, an issue generally not encountered surpassing AU designation, only a handful of which are awarded the coveted "star" designation, making for a highly unusual and sought-after specimen.
The auction features 43 lots from the perennial favorite Macedonian Kingdom, including:
An extremely rare Alexander III the Great (336-323 BC). AV stater (18mm, 8.59 gm, 1h). NGC Choice AU 5/5 – 4/5(estimate: $6,000-8,000). An always sought-after posthumous Stater of Alexander III in gold, struck in Amphipolis under Cassander, exhibiting a fully-detailed head of Athena with Corinthian helmet decorated with a coiled serpent.
A Philip II (359-336 BC). AV stater (19mm, 8.57 gm, 9h). NGC MS 5/5 – 4/5 (estimate: $6,000-8,000). A bright and incredibly well-preserved posthumous gold Stater of Lampsacus under Philip III Arrhidaeus, displaying deeply-defined motifs where even the braided manes of the steeds are fully articulated, enhanced by ample flow lines likely the product of being struck with fresh dies.
In the online catalog you can find all lots of the Central States World Coins & Ancient Coins Platinum Session and Signature® Auction.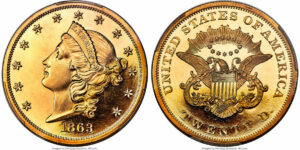 Central States US Coins Signature® Auction
For some collectors, the more fertile the mine, the greater the treasure within. Such is the case with Heritage Auctions' Central States US Coins Signature® Auction, one of the premier annual events for the most serious collectors of numismatics. This year's 4th-8th May event is loaded with nearly 3,000 lots, many of which come directly from significant collections.
Important Selections from The Bob R. Simpson Collection, Part VIII
Long before he became part owner of Major League Baseball's Texas Rangers, Bob R. Simpson owned XTO, previously Cross Timbers Oil Co. Simpson's collection has been ranked by Professional Coin Grading Service as one of the best ever amassed.
"The Bob R. Simpson collection is as impressive in its quality as it is in its quantity of extraordinary rarities, which has allowed us to get to this, the eighth installment" said Greg Rohan, President of Heritage Auctions. "What he has put together over the years is an assemblage of some of the best coins anywhere, many of which will become centerpieces of their new collections."
Among the highlights from the Simpson Collection in this event:
An 1863 Double Eagle PR65+ Cameo PCGS. CAC. JD-1, Low R.7 is from a reported mintage of just 30 specimens. This beauty is exceptionally rare: both John Dannreuther and PCGS CoinFacts estimate no more than 10-12 proofs – some in impaired condition – survive today in all grades. Two are in the National Numismatic Collection at the Smithsonian Institution and another is in the collection of the American Numismatic Society. The Simpson example offered in this auction is the finest known of this acclaimed 19th-century rarity.
An 1839 Gobrecht Dollar Name Omitted, Judd-107 Restrike, Pollock-119, Unique, PR65 Brown PCGS is believed to be one of a kind, as no other specimens have surfaced since this coin was first sold at auction in 1908. The Judd-107 is basically a Judd-105 struck in copper, and it was one of just two Gobrecht issues and mules missing from the extraordinary collection of the late Dr. Julius Korein, whose collection was donated to the ANS and remains there. This auction marks just the second time in the last half century that this piece has been at public auction.
A 1915 Panama-Pacific Half Dollar in gold, Judd-1960, (formerly Judd-1793, Pollock-2031), High R.8, PR64 PCGS is one of the rarest and most enigmatic issues in the U.S. pattern series; this offered coin is one of just two known examples and is struck on a cut-down Saint-Gaudens double eagle. Eric Newman's handwritten notes state that "Colonel" E.H.R. Green owned both of the known gold specimens, four of the silver examples and three of the copper pieces. These extremely rare patterns were clearly clandestine strikes, produced at the Philadelphia Mint before mintmark punches were applied to the working dies.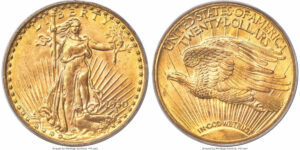 The Warren Collection
The Warren Collection includes a nearly complete date/mintmark run of Saint-Gaudens double eagles, as well as 11 certified proof sets, with dates ranging from 1860-69, plus 1880. The sets, each of which is ranked as the all-time finest for those sets on the PCGS Registry, are being sold as individual coin lots.
Highlights from The Warren Collection include:
A 1930-S Double Eagle MS65 PCGS is the second-rarest collectible issue in the Saint-Gaudens series after the 1927-D. The famous 1933 double eagle, of which at least 13 pieces are known, is not legal to own (aside from the monetized King Farouk example) and therefore cannot be considered collectible. In 1930, the San Francisco Mint produced just 74,000 double eagles – one of the lowest mintages in the series – in its final twenty dollar issue. But the 1930-S is even rarer, initially intended to serve as currency reserves, rather than circulation issues, because the Great Depression had significantly reduced the economy's capacity to absorb virtually any significant quantity of large denomination gold coinage. Research by Roger W. Burdette indicates only 727 examples of this issue were ever available for collector acquisition, and many of those coins were not distributed. It is believed that no more than 75 examples are extant today, almost all in Uncirculated grades.
A 1920-S Double Eagle MS65 PCGS is one of a handful of MS65 or finer coins ever to reach the market. Only two MS66 coins are certified at PCGS; the example offered in this auction is one of just four Gems at that service. Virtually all of the 558,000 minted 1920-S examples were melted, and no European hoards emerged in later years to augment the diminished population of known survivors. The example offered here, which Heritage Auctions sold in 2011 for $212,750, is one of just six on the PCGS 1920-S Double Eagle Roster, MS65 and finer specimens.
The Long Island Collection, Part III
The third installment of this collection features exemplary rarities, including a notable number of choice Colonials. Among the highlights from the Long Island Collection:
An 1854-S Quarter Eagle VG10 PCGS, the first Liberty quarter eagle struck at the San Francisco Mint, which boasts a minuscule mintage of just 246 pieces – a production total smaller than all but the 1875 eagle (100 pieces) and half eagle (200 pieces). The first verifiable auction appearance of this coin was in the 1979 ANA Convention Auction; it has appeared at auction on two occasions since then, but it has been off the market for 22 years. It is one of just 12 examples that appear on the Roster of 1854-S Liberty Quarter Eagles.
Of the six varieties listed in Walter Breen's Complete Encyclopedia under the "New Hampshire Coppers" heading, a 1776 New Hampshire Pine Tree Copper, Breen-708, Whitman-8395, High R.7, Good 6 PCGS. CAC is the only variety considered a genuine New Hampshire Copper. Surviving examples are exceptionally rare: Walter Breen estimated that eight or nine pieces exist, and Q. David Bowers suggested the total might be as high as 32 when he assigned this variety a rating of "URS-5 or 6" in the Whitman Encyclopedia of Colonial and Early American Coins.
One of just two known examples of the 1714 Gloucester Shilling Fine 12 NGC. Breen-237, W-8180, R.8 is from an issue most collectors never encounter "in the wild" and has not been seen publicly in four decades, making it an unquestionable prize for the most advanced Colonial collector. The example offered in this auction is graded Fine 12, but it's technical grade is less significant than its rarity.
The Fred Weinberg Collection
Those who enjoy collecting error coins will find numerous options among the 151 lots from the collection in this auction, including:
A (2000)-P Sacagawea Dollar / Statehood Quarter Mule MS65+ PCGS, which is believed to have been discovered in a roll of otherwise ordinary Sacagawea dollars in May 2000 by Frank Wallis, of Mountain Home, Arkansas. Heritage Auctions experts know of only eight other appearances at auction of the Sacagawea dollar / statehood quarter mule. The offered example is one of what is believed to be about 18 remaining specimens, most of which have been acquired over the last couple of decades by New Mexico numismatist Tommy Bolack.
An 1880-S Morgan Dollar – Struck 40% Off Center – MS63 PCGS draws attention immediately, in part because it is so far off-center. For comparison, most off-center Morgans offered by Heritage Auctions are in circulated grades and are struck off-center by 20% or less. Finding a coin graded MS63 or finer and struck this far off center is extremely rare. This example is so far off center, toward 11:30, that most of "E PLURIBUS UNUM" and all of "ONE DOLLAR" are off the flan. All of the eagle is present, but half of "LIBERTY" is absent, as is the top of Liberty's head. The mintmark area is absent from the coin, but PCGS believes this mint error was struck at San Francisco, due to its similarity in appearance to other Mint State 1880-S silver dollars.
Other top lots include, but are not limited to:
A 464.65-ounce Justh & Hunter Gold Ingot
A 238.84-ounce Henry Hentsch Gold Ingot
A 1921 Chapman Proof Dollar PR67 PCGS
An 1864 Eagle PR65 Deep Cameo PCGS. JD-1, High R.6
An 1884 Half Eagle PR66 Ultra Cameo NGC. JD-1
A 1907 Double Eagle High Relief, Flat Rim, MS67 PCGS
An 1852 Double Eagle MS65 PCGS. CAC
An 1879 Flowing Hair Stella, Judd-1635, Pollock-1833, JD-1, R.3, PR64 Deep Cameo PCGS. CAC
For images and information on all lots in the Central States US Coins Signature® Auction, visit the online catalog.
For further information about the auction house, visit the website of Heritage Auctions.