[bsa_pro_ad_space id=4]
Is there something better than browsing the internet for great bargains that you can add to your collection? After all, Covid-19 still makes us spend most of our weekends at home. And hoarding money in your bank account hasn't made profits for quite some time now. We cannot help but ask ourselves whether our money will significantly decrease in value due to the large sums that governments currently put into the economy. So why don't you combine the pleasant with the useful and invest in your own coin collection?
After all, the internet is completely contactless and there is no need for face masks or other hygienic precautions.
Mints and Coin Dealers
Today, most mints have their own online shop. If you are interested in current contemporary issues, that is the way to go. By the way, if you are looking for older coins, it is also worth checking whether the online shop still offers some specimens at the original price. Such websites are especially attractive for collectors because they compile a lot of information on the motif and the specimen all in one spot for you to read.
Mints obviously mainly sell their own products – and many of them do not ship internationally. If you are looking for old world coins, the best place to find them are online shops of coin dealers. Search engines make searching these websites, which contain thousands of coins by now, a piece of cake.
As Easy as Ordering Books
By now, most coin dealers have their own online shop, where you can order a coin with a few clicks. You probably already know how it works from ordering books. You pick whatever you like, add it to your cart and proceed to checkout. There you can sign in with your name and your address to place a binding order for the items you chose.
If you are already a regular at your dealer or you can name a few other dealers as a reference, you will probably hold the coins in your hands within a few days. If the dealer does not know you, he will insist that you settle the payment before he sends you the coins. This is not about mistrust but a common practice in the coin trade.
The European Right to Cancel and Return also Applies to Coin Orders
In theory, purchasing coins online via an online store is a long-distance transaction – regardless of whether you place your order on the website, by means of a letter, via phone or email. And the European legislation offers special protection for these long-distance transactions. If you place such an order, you have 14 days to cancel it. This period begins as soon as you receive your coin. By the way, the right to cancel and return only applies to collectors, not to dealers.
How to Detect Fishy Online Shops
Even when it comes to buying coins online, keep in mind that prevention is better than cure. Black sheep can be found anywhere, so make sure to spot them before they fool you. Fraudulent websites are very convincing at first sight because they copy the design, the content and the products from other websites that actually do exist. Nevertheless, there are some clear hints indicating that something isn't right.
The most important indicators are the item itself and the price. Is the price too low? Can you find items there, that are sold out in all other places? In such cases, you should be extremely cautious. Most swindlers – and not just those online – benefit from the greed of their target group and outwit the psyche of their potential victim by giving them the impression that they can make a great bargain if they purchase the item quickly enough.
If you fall for it, you are kindly asked to pay for the items first. As mentioned above, this is quite common in the coin trade. But once you transfer the money, it will quickly be transferred to other accounts preventing the bank from being able to trace it back, making a refund impossible. In most cases, you won't get anything for your payment, sometimes items of poor quality.
Therefore: whenever you order something from a dealer you haven't purchased items from before, take a close look at the imprint of their website. You should find an address, sometimes a phone number and an email address. Then check whether this information is correct – by means of Google Maps, the Yellow Pages and dealer associations. Searching the dealer via Google often provides you with customer ratings; if the ratings differ greatly from customer to customer, this might be a red flag. Shady but tech interested website owners can generate top ratings for themselves.
There is a basic rule for any online purchase: regardless of how cheap and attractive a coin might be, if you have a bad feeling about it, it is better to refrain from buying it!
Associations and Platforms
If you do not want to take all these steps, it might be a better option to use the website of an association to find a dealer or to visit one of the many platforms where dealers offer their goods in one place. On these platforms, others take care of the precautionary measures for you, and you can devote your time to your favourite hobby without having to deal with other issues.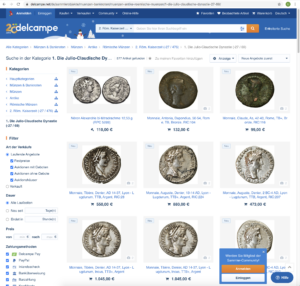 A Wealth of Offers
In the past, eBay was the only platform where private collectors and specialised dealers could offer coins at the same terms. But these days are long gone. Delcampe is a good alternative covering a similar range of items. There you can find coins at fixed prices and special sales too – for every budget. They offer more than 1.2 million items.
The advantage of platforms like these is that you do not transfer money to an unknown dealer but to an independent, third party that checked whether the dealer really exists. The evaluation system for dealers is also helpful in this regard.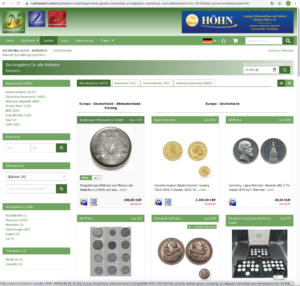 A True Alternative: Online Auction Sales
In the past, auction sales were rather the exception than the rule – but this changed completely. Most coin dealers hold – in addition to public auctions at their premises – regular online auction sales. Every day, one of these auctions closes, giving you the chance to make a bargain.
You can find online sales on the websites of many coin dealers, but also on platforms where various interesting dealerships present their goods. By now, there is a wealth of such platforms.
If you collect stamps, you will certainly first think of NumisSearch, the partner website of PhilaSearch that is specialised in numismatics. There, you can not only browse the material of individual auction sales, but you can also take a look at sort of a general index that tells you which items of a certain area of interest can be found in all auctions available on the platform. Other well-known names include AUEX, bid inside, catawiki, Invaluable.com, NumisBids and Sixbid.
The internet provides you with many possibilities. And that's a blessing. After all, it will take some time until visiting coin fairs will be something completely normal again.