[bsa_pro_ad_space id=4]
3. Marcus Sitticus II of Hohenems
On March 7th, 1612, Wolf Dietrich von Raitenau officially resigned before the papal nuncio. In an unfortunate fight against Bavaria he had lost rule and liberty. With his resignation he cleared the way for the election of a new bishop of Salzburg. It seems safe to assume that the cathedral canons had looked for a suitable candidate even before that resignation since they very quickly reached an agreement, on March 18th of that very year. They found it in a relative of the unlucky archbishop, his cousin Marcus Sitticus II of Hohenems.
Portrait of Marcus Sitticus of Hohenems.
Marcus Sitticus II was the son of Jakob Hannibal I, the elder brother of Marcus Sitticus I, who had held the bishopric as the first one of Hohenems. The young man came from the Borromeo family on his mother's side. His mother's brother was the famous Bishop of Milan, Charles Borromeo, who was canonised in 1610 as model to follow for all priests of the Counter Reformation.
To that man Marcus Sitticus owed his education. He had lost his mother when he was only four years old. Charles Borromeo sent him his court vicar to further instruct him and had his older two nephews come to Milan in 1582 where he supervised their education for the two years that were left to him. Marcus Sitticus must have been deeply impressed by the great church dignitary. At the tender age of ten, he decided to become a priest himself. What better place than Rome to realize his dream? After all, his paternal uncle lived there whom he was named after. Marcus Sitticus I used his influence to slot the 11 year old candidate for priesthood into the Collegium Germanicum in Rome. Just one year after his entry, he received minor orders. Another year later, Marcus Sitticus II felt prepared enough to return to Germany where another relative of him, Wolf Dietrich of Raitenau, had just become Bishop of Salzburg. Therewith, Wolf Dietrich vacated some other churchly benefices that were transferred to his relative.
Just like his namesake, Marcus Sitticus II was not very fond of personally caring about the spiritual duties that came with the benefices. Instead, he preferred to study and travel, first to Ingolstadt then to Bologna, in 1593/94 he was seen in Spain. He loved the scent of the big, wide world and had constantly financial problems his cousin had to fix for him. Marcus Sitticus II, however, repaid him poorly.
The Bishop of Salzburg
He was elected the new Bishop of Salzburg by the local cathedral chapter after Wolf Dietrich's resignation. Marcus Sitticus was a compromise candidate everyone quickly agreed on since the Bavarian duke threatened to staff the bishopric with a member of his own family. Marcus Sitticus not only became Prince Bishop but jailer of his predecessor and benefactor. The young man was merciless. Either out of fear of a riot or out of human indifference, Marcus Sitticus did not do anything to lift the heavy burden of his relative. Wolf Dietrich was not even allowed any contact with his beloved, Salome Alt, or any visits – during his confinement, he had become ill – by his brothers who vehemently demanded his release.
SALZBURG. Marcus Sitticus II of Hohenems, 1612-1619. Taler 1619. Creast under legate hat. Rev. Enthroned Saint Rupert. Probszt 973. From auction sale Numismatik Lanz 127 (2005), 336.
Due to a silver shortage that increased the metal price considerably and made it unprofitable for any mint master to produce big silver coins the Salzburg Mint under Marcus Sitticus II issued only very small taler emissions that were primarily intended for representative purposes.

Marcus Sitticus II inherited a poisoned chalice in Salzburg. He never became as popular as his predecessor. And his financial problems continued to trouble him. Not to mention that the Bavarian duke asked him to repay his war costs. In Salzburg the foundation walls of a huge cathedral were standing that Wolf Dietrich had begun to build. That project had to be finished in all its splendour which cost vast sums of money. The revenues from the estates of the diocese of Salzburg did not suffice at all. And Marcus Sitticus had never learned to operate economically with his money. He was a far too keen builder himself.
SALZBURG. Marcus Sitticus II of Hohenems, 1612-1619. Gold gulden 1619. Shield of diocese and family under legate hat. Rev. Standing Saint Rupert. Probszt 946. From auction sale Numismatik Lanz 127 (2005), 332.
The heraldic animal of the House of Hohenems, the Capricorne, played a major role in Marcus Sitticus' representation. Not only were some of these animals kept in the Hellbrunn Castle; Marcus Sitticus also used this motive again and again as his personal sign. At the carnival parades he had introduced he decorated a wagon with an orange tree plus a Capricorne and a lion below.
Hellbrunn Castle
His most prominent project, the Hellbrunn Castle, allows us a small glimpse into the soul of this bishop of Salzburg who died after only seven years of his reign, aged 45. The picture above shows the builder with two other depictions: one of the Salzburg Cathedral under construction, the other of the spatial layout of Hellbrunn Castle. Remarkable are the frames of the pictures. Whereas the image of the Cathedral in the foreground has a golden frame, Hellbrunn is framed black. According to alchemistic ideas, gold symbolised brightness, light, sun. Black or lead meant the dark and melancholic that the Prince Bishop was committed to fight in his Hellbrunn Castle.
Marcus Sitticus II was aware of the opposites inherent in his character and loved the images thematising that – and he used his crest, which is often shown on coins, to depict the contrast: the heraldic animal of the House of Hohenems was the Capricorne, the zodiac sign that rules during the darkest days of the year, from December 22nd to January 20th. Anyone born in that period was regarded a dark child of Saturn. The crest of Salzburg was the lion whose zodiac sign watches over the summer days, from July 23rd to August 23rd. "Lions" were regarded as bright children of the Sun.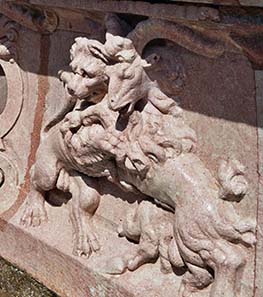 Capricorne and lion in a close embrace. Detail from the garden of Hellbrunn Castle.
These opposing heraldic animals in a close embrace the church dignitary had depicted everywhere on his buildings, on the inside and the outside. They constitute the talking picture of his motto "Numen vel dissita iungit"(= a divine power unites even opposites). And a child of opposites Marcus Sitticus II surely was. His being his cousin's jailer notwithstanding, he continued the anti-Bavarian, neutral policy of his. Although he held an office as religious shepherd, he nevertheless spent 70.000 gulden on ladies' jewellery during his short reign. In his ceremonial hall, he, who always regarded himself melancholic, is shown wearing a courtly robe, giving a rose to a beautiful lady. With the election of Marcus Sitticus II as Bishop of Salzburg, the family of Hohenems had reached their zenith of power – but that power soon came to an end.
Only one brother of Marcus Sitticus continued the male line. His sons divided the rule of the House of Hohenems into one line of Hohenems and another one of Vaduz. Whereas the line of Hohenems perished in 1713, the line of Vaduz was forced to sell its rule bit by bit to John Adam Andrew of Liechtenstein between 1699 and 1719. In return, they received the reign over the Bohemian Bistrau (Bystré) which was no adequate compensation. As only one of many small noble families those of Hohenems scraped along for centuries, never able to put forward a bishop ever again.