[bsa_pro_ad_space id=4]
Nomos Auction 18 with a fine selection of ancient coins
The last time I wrote introducing our forthcoming Nomos Auction, it was in the late summer of 2018, the sun was shining brightly and it was very hot: that was Nomos 17. Well, today the sun is still shining brightly – though it is not hot at all! – and there is a new forthcoming auction to write about: Nomos 18.
In fact, this is actually taking place in the year of our tenth anniversary! It is has been quite an experience: we have had our ups and downs, and everything in between; the market has had all sorts of changes; bureaucracy has increased; generations have changed; and the influence of the internet has skyrocketed: in a positive sense it has made the spread of information faster and allowed a vast expansion of participation in on-line sales, but, negatively, it has led to the rise of experts without libraries (only one example on Coin Archives!). But, of course, we have been around a lot longer than that: I remember getting bids by…telex, and our libraries, at home and in the office, never stop growing! Our watchwords when we catalogue and interpret the coins we have are accuracy, care and precision. So now let me give you some accurate, careful and precise information about Nomos 18!
The sale is an extensive one – for us, with 395 lots, including Celtic, Greek, Roman and Byzantine coins, as well as some Byzantine weights; we have picked all the coins in this sale for their quality, interest and eye-appeal. Let me show you a few…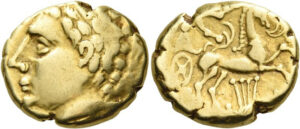 This is lot 9 (est. CHF 3750), a gold stater of the Arverni, a tribe located in central Gaul, present-day Auvergne, and was struck some time in the late 2nd or early 1st centuries BC. It has the usual reverse of a rather disconnected biga derived from a stater of Philip II, but the obverse, ostensibly based on the expected portrait of Apollo, is rather perplexing. This is because of its very distinctly individualistic features, which seem much more than to be those of just a local version of Apollo. Could this actually be a real portrait of some contemporary personality, albeit one now unknown? Or are we trying to give a special meaning to a Celtic coin type that actually didn't have one?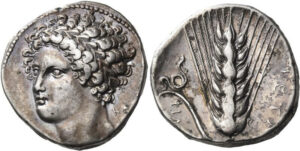 What we have here is lot 29 (est. 15,000 CHF), a didrachm or nomos of Metapontum, dating to 340-330 BC and bearing the signature of the Kal… engraver. On Metapontum's early incuse coinage its state badge, the grain ear, appeared along with the city name on the coins' obverse (and, obviously, also on the reverse, but without the inscription). With the change to double-relief the first issues continued with the grain ear on the obverse (paired with an arrangement of grains, a standing river god or a standing figure of Herakles); soon, however, the grain ear and the city name were removed to the reverse while the obverse was given over to the heads of various deities and heros. On the coinage of Metapontum heads of Demeter, the goddess of grain, were particularly common – understandable at a city whose badge was a grain ear! – as are a variety of other goddesses (Kore for example), but this is the only head of Dionysos in the series. In fact, this head has often been misidentified as that of Apollo, but it is clear that his wreath is made of somewhat rounded and pointed ivy leaves, rather than slim laurel or olive leaves! To make this distinction clear, compare the wreath on the head of Apollo from the nearby city of Kroton…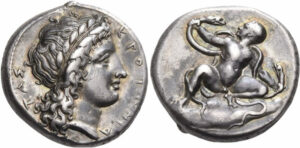 This is lot 39 (est. 3750 CHF), a stater struck in Kroton at roughly the same time as the piece from Metapontum. On its obverse we see a typical head of Apollo, with long locks tumbling down the back of his neck and with a laurel wreath composed of paired leaves, separated by the branch on which they grow. The difference between this representation and the previous is drastic! Note also how differently the hair of both these heads is shown: we definitely have two different gods. On the reverse of this coin we see the infant Herakles – Herakliskos – strangling the serpents that were sent by Hera to destroy him: this scene on coinage came to symbolize the issuing state's struggle against enemies. Here the serpents surely represent attacking Italic tribes; on issues from Boeotia and Asia the serpents doubtless represent Athenian domination.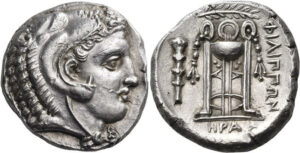 This wonderful obverse, with its splendid head of a youthful Herakles is not what you probably think it is! Rather than a tetradrachm of Alexander, it, lot 72 (est. 18,000 CHF), is a a very rare tetradrachm of Philippoi, struck c. 350 BC. A few years earlier the city had been founded by Thasos in order to control the local silver and gold mines, but in 356 it was taken by Philip II and remained part of Macedonia from then on. Philip may have intended to use Philippoi as a main mint for his coinage – the initial gold and silver coins in the name of the city, as this one, may have been struck as a test – but he clearly changed his mind and made Amphipolis and Pella (possibly Aigai?) into the kingdom's primary mints. Slightly marred by the very thin die break across the mouth, this very rare coin bears a head of Herakles, which is a clear prototype for the huge mass coinage of Alexanders that began 10-15 years later.
But, of course, Herakles was not always shown as a youthful hero filled with optimism; he is also shown, as grown man, aged by his exploits and the many testing trials he underwent.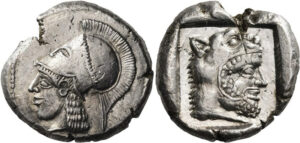 Here he is, (lot 212, est. 5000 CHF), a much older and rougher looking Herakles as depicted on the reverse of a stater from Lapethos on Cyprus, minted c. 425 BC. With his tall head and close fitting headdress, he not only looks like a Roman signifer, he also, with his circular tufts of hair on his forehead and beard, looks like the heads on Cypriote male statues from the 5th century: which, in fact, is what he should look like! This is quite a wonderful piece.
Now for a portrait, albeit of a different kind…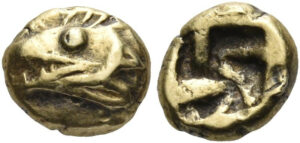 This is lot 136 (est. 250 CHF), a 1/24th stater from Kyzikos, struck c 600-550 BC: on it we see the head of a very ferocious-looking tunny fish, the symbol of the city. As is well known, Taras, the founder of the city of Tarentum, was rescued after a shipwreck by a dolphin, sent by Poseidon: however, if this tunny had gotten there first… Despite its very small size (6 mm), when it was minted this coin was actually very valuable – it was at least a day's salary – yet its convenience for payments must have rapidly led to the inauguration of pure silver coins to serve as its fractions.
On the Nomos website you can browse the complete auction catalogue.