[bsa_pro_ad_space id=4]
Nomos 23: The Results!
Nomos 23 was held on the last day of November, a cold, grey, rainy-snowy, typically Zürich winter day, one that made staying inside – in the auction room itself or in a comfortable place where you could bid online or on the telephone – a perfect idea. In fact, there were very few people in the room: some professional numismatists and dealers in coins and antiquities acting as agents for themselves and their clients, one genuine, bona fide collector, and five highly talented and attractive people who were constantly on the telephone with an absolute record number of telephone bidders! In other words, while there were few people physically present, it seemed like the whole world was with us online or on the phone! There were active and enthusiastic bidders from America, China and Russia; from Denmark, England, France and Germany; from Australia, Japan and Singapore; and while they were all competitively bidding against each other, they weren't shooting at each other! Maybe if there were more coin collectors in the world, the world would be a happier and safer place?
In any event, it was thanks to all those people that the auction, with a total estimate of 2,261,375 CHF, sold for a total of 3,340,955 CHF, an overall jump of some 47.8%! And there were surprises galore…so let's look at some of the results:
Remember the decadrachm of Alexander minted in Babylon? – It was lot 74 (Estimate: 27,500 CHF) and sold on the floor for 38,000 CHF!
Lot 25 (Estimate: 15,000 CHF), a really superb Leontinoi tetradrachm, which was once in the Pozzi collection, and which was previously in Nomos 5 (where it was estimated at 10,000 CHF and sold for 12,000 CHF). Well, now, after quite a fight, it sold for 28,000 CHF!
Among the lots in Nomos 23 were a number of ancient coins from Sicily from "the Collection I" in the USA. They were chosen by a businessman who loves attractive Greek coins because they make him happy when he looks at them (!), and because having them provides him with a physical link between the increasingly complicated modern world we live in, and the historical events and mythology of Classical antiquity. Luckily, he also has a very good eye:
Lot 27 (Estimate: 20,000 CHF), a wonderful Syracusan tetradrachm struck c. 480 BC. It has an impressive pedigree, including Bank Leu, Monnaies et Médailles, Gillet, de Sartiges and Benson, and it soared from a starting price of 16,000 CHF all the up to a telephone bidder's bid of 44,000 CHF!
Another great coin of his was lot 34, a stunning Syracusan tetradrachm engraved by the artist Parmenides. Estimated at 15,000 CHF it went to the same buyer as lot 27, but for 50,000 CHF!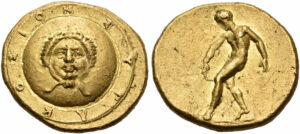 But Syracuse was definitely a very popular mint. Lot 35 is an extremely rare gold piece of 4 litrai, which last sold in 2008 for $55,000 (then 60,000 CHF). We gave it the estimate of 100,000 CHF: it sold, again to a telephone bidder, but to a different one this time, for 120,000 CHF ($130,000)!
Many of you may have noticed that the online version of our catalogue has quite a few exciting pedigrees that are not in the printed catalogue. The reason for this is that our Pedigree-Hunter© in Oz, who previously only had a fashionably monogramed (LV) personal tucker-bag filled with stents, ICDs and LVADs, now has it filled with provenance research, including many really exciting and interesting ones. Here's one:
Long lurking in the vaults of a Swiss Bank, lot 44 (Estimate:15,000 CHF), a really lovely Carthaginian gold stater, had no previous provenance we could find. But thanks to LV, voilà, we know it was lot 599 of Monnaies et Médailles XIX in 1959, and that it almost certainly came from the Orrestano find of 1925. It soared to 28,000 CHF with an online bidder!
Lot 48: Reaching an impressive $95,000 (90,000 CHF) when it last sold in 2011; ten years later it soared to an even more impressive 160,000 CHF ($174,000) to a determined telephone bidder!
Frankly, I really liked this "coin" (lot 95, estimate: 2500 CHF) from the first day I saw it! Produced in an unknown Illyrian city at some time between the 4th and 2nd century BC, the boar's head it bears is endearingly impressive. It is actually a weight, but given its "oxhide"-like shape, could it have served as a form of aes grave-like money? It sold for a not at all piggish 4,200 CHF!
We try to be conservative with our estimates, but sometimes we seem to be too conservative, perhaps because there are sudden jumps in demand. A perfect example of that comes from Corinthian and Corinthian-Type staters, which have become massively popular.
Lot 96, a fairly uncommon stater from Leukas with an unusual symbol: two knotted cords. Estimated at 275 CHF (it is good VF and has a graffito) it opened at 500 CHF and there was a massive internet battle until it finally sold at 3,000 CHF!
Sometimes great rarities turn up in odd places, in this case from a box of miscellaneous ancient coins, which an old Swiss, part-time dealer, had squirrelled away since the late 1940s.
It's an obol (lot 113, estimate: 750 CHF) from the town of Same on the island of Kephallenia off Elis. This is the kind of coin you see once in a blue moon: it opened at 600 CHF and floor, internet and telephone bidders fought over it until it hit 3,600 CHF!
I really liked this lobster coin, and I already wrote about it (lot 118, estimate: 2,500 CHF): it whizzed up to 3,800 CHF!
This wonderful gold stater of Demetrios I Soter (Lot 165) came from a sale in New York in 2017, where it then sold for $26,000 (26,600 CHF). It sold in Nomos 23 for 60,000 CHF or $65,000!
Here's another fabulous gold coin (lot 186); this one was once in the Jameson Collection and, in 2009, also sold in New York for $18,000 / 20,000 CHF (estimated at $10,000). With us it was estimated at 35,000 CHF, opened at 40,000 CHF and finally sold for 140,000 CHF! Great rarity, great pedigree and great condition combined to create enormous interest among potential buyers!
Let's end for today with two other highlights:
The wonderful drachm of the Indo-Greek king Zoilos I is lot 175, estimated at 250 CHF. It turns out that the quality is even better than we thought it was: it opened at 1,200 CHF and finally sold for 1,700 CHF!
This very rare coin (lot 192, estimate: 110,000 CHF) was issued in the climactic year of Sulla's long struggle for power, 82 BC. It was last sold with our friends at NAC, in their Auction 54 of 2010, for 85,000 CHF. We estimated it at 110,000 CHF. It sold on the internet for 190,000 CHF.
You can find prices realized for Nomos 23 sale in the online catalog.
For further information about the auction house, visit the Nomos website.