[bsa_pro_ad_space id=4]
Multiple lots and Byzantine seals
by Alan Walker
While Dimitris is constantly in the office, working away on all sorts of things and checking the bids that come in for our sales, I have the luxury of being able to be semi-semi-retired and only turn up at odd moments (generally when some great coins turn up, or the weirdness level has expanded). In addition there are times when help is urgently needed, calling for specialized cataloguing skills or writing ability. That's when Mitsos sends up an urgent Nomos Call into the Zurich sky, rather like the Bat-Signal in the sky over Gotham City, and in I come! So, yes, I have been called as it is about time for the next Obolos 13 newsletter…
I've decided to start with some multiple lots – sometimes even I am struck by how interesting are the coins they contain, and how much fun their new owner will have with them!
Here is lot 815 (SP, 100 CHF), a group of 130 folles of the House of Constantine, primarily dating to the 2nd quarter of the 4th century, with most from the mints of Constantinople, Antioch and Alexandria. Of interest are the many examples of the commemorative issues showing the goddesses Roma and Contantinopolis. Most of the coins have the typical earthen deposits seen on coins found in the East; I would doubt that any of them are unusual or scarce, but they are really quite attractive. They include the occasional scarce officina and so on: the rarity scale in the RIC can be quite misleading since it was compiled solely from material recorded by the relevant writer, thus resulting in a distinct lack of information on coins from certain areas of the Empire – like those in the East, Antioch for example – as compared with Western mints like Trier and Arles. While the buyer of this lot could keep the coins for study, they are so pleasant to look at that he or she could use them for jewelry! They would surely make nice cuff links!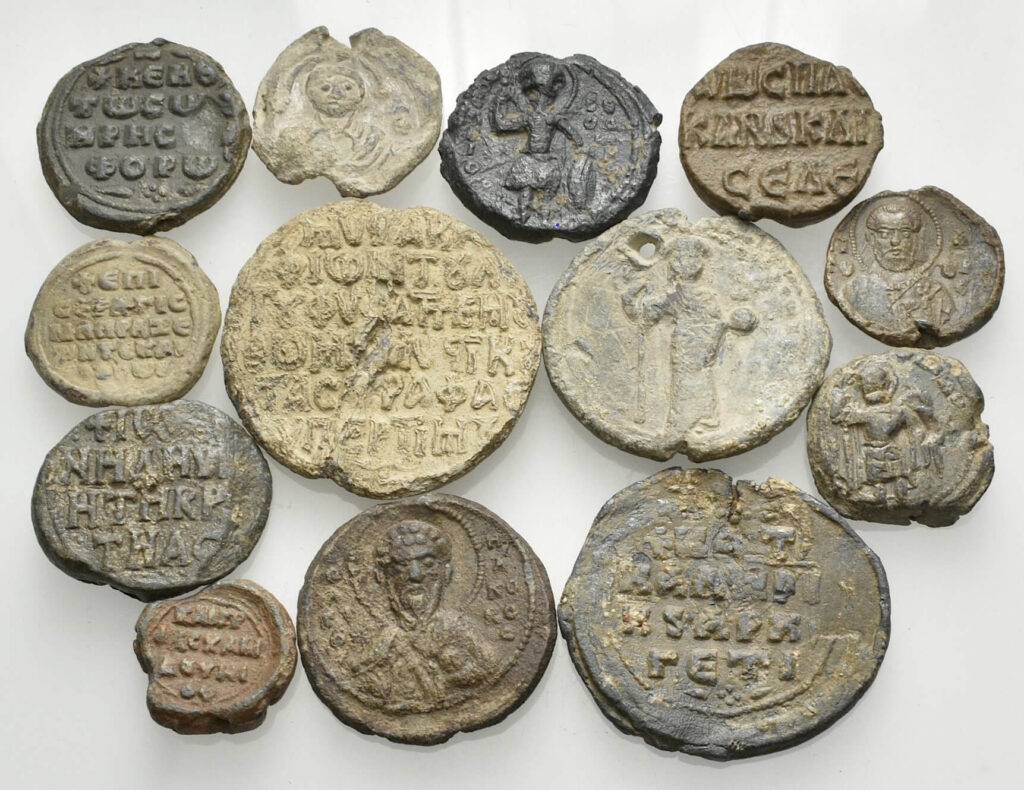 Of rather more interest than 4th century small-sized folles are Byzantine seals, like the 13 pieces that appear in lot 823 (SP, 200 CHF).
For a long time Byzantine seals were a real mystery to me. I first saw some when I was rummaging around in the basement of the University Museum of the University of Pennsylvania in Philadelphia while I was there as a graduate student; the then registrar tried to get me interested in a very large box of them, which were all individually wrapped in fine 19th century paper envelopes with descriptions written in a spidery hand. I realized much later that those descriptions were by the great Byzantinist and Medievalist Gustave Schlumberger, and that it was quite likely that the collection had been bought for the university by the controversial Professor H. V. Hilprecht around 1900: I doubt very strongly whether anyone had ever looked at them! I must admit that I was then totally baffled by them and put them away almost instantly; returning to the Museum's ancient coins. They actually have quite a good, small group of 200+ Roman gold coins, which are almost entirely from the collection of R. C. H. Brock (1861-1906), who donated his coins to the museum in 1898. In its entirety, the collection was on a par with that of the Garretts (!), but in an unusual fit of academic idiocy, all of the non-ancient coins were sold en bloc in the early 1950s by the museum's then director, Froehlich Rainey (he thought coins weren't sufficiently scholarly). But back to lot 823! Over the past few years, thanks to a number of catalogues and discussions and articles, Byzantine seals have become much less of a mystery to me: in fact, I can even read them! Research shows more and more how important they are for the history and understanding of the vast and highly organized Byzantine bureaucracy: the names they bear allow prosopographers to reconstruct families over multiple generations. The pictorial representations can also serve as a gazetteer for the styles and trends of Byzantine art. This lot illustrates different epigraphic forms, a plethora of official titles, as well as different ways of showing a variety of divine figures and humans. For anyone interested in Byzantine history, seals like this are a colossal bargain!
The last multiple lot I want to highlight today is 829, SP, 200 CHF: it contains 20 silver coins (some which die link) of Levon I, the first, and greatest, king of Cilician Armenia (1198-1219: from 1187-1198 he had the title Lord of the Mountains). His reign was one of almost unrelenting struggle between his kingdom and his various friends, enemies and neighbors; he also produced a very extensive coinage of which the coins here are quite typical. Rather untypical is the way they are illustrated here: as a rather snail-like spiral!
This curious shape comes from the subconscious of the photographer: Dimitris; he was just about to go home for a short holiday and was dreaming of his mother's delicious tyrospanakopita strifti, which she makes in exactly the same shape as the way he arranged the coins for their photograph. This can't be a coincidence!
During the early Hellenistic period there was a tendency towards making gods and goddesses look more and more human, and less idealized. The present piece, lot 69, a bronze chalkous from Metapontum (SP, 150 CHF) is a perfect example of just such a portrait of a very human-looking god Pan. We know that he's Pan because he has two horns over his forehead as well as a pointed, animal-ear (and his pipes, the syrinx, appear on the reverse), but his face is astonishingly familiar to some of the heads of Ptolemy II (!). Could it be that this coin reflects, in a very minor way, the relationships we know there were between the Ptolemies and the West? A rather far-fetched idea to be sure, but this somewhat plumpish character does not look like anyone's possible idea of Pan! It is no wonder that this coin was in the collection of both the Vineyard Collector and by David Freedman, the well-known dealer in exquisite Chinese porcelain and the owner of one of the finest collections of Greek bronzes formed in the 20th century. Soon it will go to another connoisseur!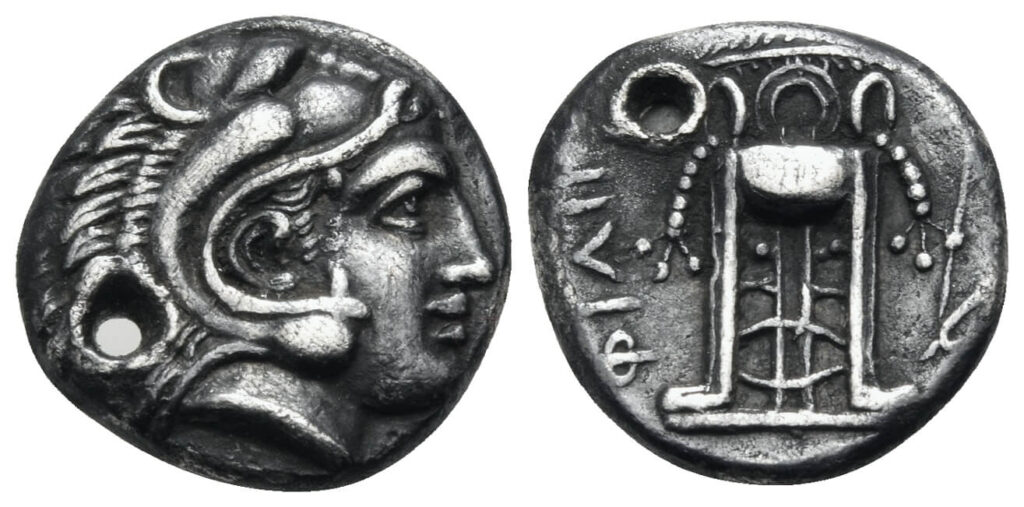 I can just hear you say, "But this coin has a hole in it! Why are you showing us this??" Actually, that's a fairly reasonable comment! Well, this coin has a lot to tell us: it is a hemidrachm of the city of Philippoi and was struck sometime during the period 356-345 BC (lot 196, SP, 75 CHF). Philippoi was founded as a mining town called Krenides by the Thasians in 360, only to then be taken by Philip II in 356 and renamed after himself. The city only produced gold and silver coinage in its own name over a very short period: as a result this hemidrachm is extremely rare. The style is very good and the quality of the engraving is high, as befits a short-lived, carefully struck issue. Obviously, by the later 340s the coinage was suppressed and all the city's bullion was retained for the minting of Royal Macedonian issues from the kingdom's main mints of Aegeae, Amphipolis and Pella.
But what about the hole? As holes go, this is a very informative one. The first thing is that it is a very large hole, smashed through with what looks like a nail. It is not a carefully made small and delicate hole for suspension, of the kind we might expect from antiquity. Coins were also suspended using soldered-on links – there's no sign of one of those. I would suggest that the holing was done during Medieval or early modern times, in order to be used for one of those headdresses or costumes worn by Balkan women, covered with a tinkling array of silver coins designed to display the wearer's wealth. European travelers of the 18th and 19th centuries have reported such ornamental monetary displays, and some of the actual costumes and ornaments are on view in various museums. However, there are some reports that tell of observers seeing, among the many dangling Turkish or contemporary western European silver coins hanging from a local dignitary's wife's costume, ancient coins as well, including pieces that were surprisingly rare. I think this is exactly what happened with this piece. Perhaps we can imagine it being worn by a beauteous Greek woman like Katharina Botsaris, who beguiled Ludwig I of Bavaria and appears in his famous portrait gallery, or by Sophia Engastromenos, the second wife and muse of Heinrich Schliemann! You can be sure it will also look very attractive and intriguing in a modern collector's tray!
You can find the auction catalog on the Nomos website, Sixbid, Numisbids, and Biddr.