[bsa_pro_ad_space id=4]
Astonishing Results for Astonishing Coins
Nomos 24 was held on a sometimes hot and sunny, sometimes hot, sunny and rainy Sunday in Zurich: i.e., the weather was changeable. But what wasn't changeable at all was the brilliant atmosphere in the auction room, which sent the results right up into the stratosphere! In fact, the total estimates of the sale were 2,895,860 CHF and the total sold ended up at 5,574,360 CHF! In other words, it sold for 92% over the estimates (or 192% of the estimates, whichever you prefer)! That means that out of 504 lots, only 14 remained unsold. This was a wonderful and very successful sale!
Before we turn to some highlights of the sale – actually, virtually everything was a highlight! – let's turn to the people who worked so hard to make this sale such a success. Obviously, we need to name both our brilliant and scholarly numismatists, Dimitris and Johannes, the first with his Svoronos-like Hellenic enthusiasm and the second with his traditional k.u.k. and Eckhel-like sobriety. But at the sale, and at all other times too, the two people who keep everything on a even keel are our secretaries, office angels and general factotums, Claudia and Christina. You can be absolutely sure that nothing would work without them ensuring that all rules are followed, all customer requests are filled, all questions answered, and all shipments correctly made. Not only did Christina handle telephone bidders, but we also had Christina's daughter Elisa and her friend Anna doing so too (both are bright and enthusiastic med students who look like they just dropped in from Girton or Vassar – we were very lucky to have had them!).
Of course, we also have to thank everyone who participated, in the room, online and on the telephone! Some owners came to see how their coins did – they were very happy, indeed! – and, of course, there was Frau Orsi, who represented the State of Zurich and kept her eye on things to ensure everything was on the up-and-up. The room bidders included both collectors and dealers, from Europe and the USA, acting for themselves and for a large number of clients (there was even an Italian dealer who looked exactly like Ercole II d'Este); on the phone were collectors and dealers, mostly based in Europe; and, not surprisingly, on the internet were also collectors and dealers from all over the world. We want to especially thank all our many clients from China – and Japan – who were all such active, prompt and clear internet bidders! But now, for some results: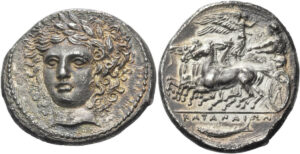 Remember those two splendid tetradrachms from Katane, lots 18 (Estimate: 40,000 CHF) and 19 (Estimate: 150,000 CHF)? Well, 18 sold for 95,000 CHF and 19 for 200,000 CHF!
Then there was the fascinating gold piece, struck in 406/405 BC in Syracuse… It was estimated at 35,000 CHF but Elisa got it for her phone bidder at 44,000 CHF.
The style of lot 49, a Thasian stater minted c. 414-404 BC, simply could not be improved. Thus, its solid estimate of 17,500 CHF… not enough: it went for 40,000 CHF!
I really liked that 1/6 stater commercial weight with the tortoise (lot 57, Estimate: 600 CHF), but so did everyone else…it sold for 6,500 CHF!
Corinthian type staters are in constant demand, especially when they are in top condition like this one from Leukas (lot 87, Estimate: 750 CHF): it sold for 4,200 CHF. But when they turn out to be extremely rare varieties from Corinth herself, like lot 116, estimated at 3,500 CHF, they soar to 11,000 CHF!
It is always heartwarming when a serious collector who has formed a serious collection gets to see it sold to a wildly enthusiastic group of avid buyers. Now entering into his golden years and preparing to embark on a quiet retirement in the south of France, the owner of the Maleatas Collection of the coins of Epidauros decided to sell his coins to better be able to support his ever-growing swarm of grandchildren. Well, his coins did amazingly well. This light drachm (lot 132) was estimated at 7,500 CHF, but sold at over 4 times that: 32,000 CHF!
Sometimes wonderful coins of great historical and artistic interest are only fought over by a limited audience of aesthetes and connoisseurs. What would happen if that audience expanded tenfold, simply because of the astoundingly universal importance that the coin has for our relation to the world of the ancient Greeks? Here is the answer: This is by far the most exciting Greek coin in this sale, and it would be equally so in any other sale too! It is the wonderful didrachm from Ios, which bears a portrait of Homer (lot 152, estimated at 40,000 CHF). Given this coin's overwhelming significance we were certain that whatever estimate we should put on it would be a most tenative one. You can say that again. In fact our Dimitris told me, in his best descendant of Odysseus way, that he'd buy it himself up to 75,000 CHF (fat chance)! I wonder what Kallirhoi would have said had he done so! In any case, it rapidly sped past 75,000 CHF, past 100,000 CHF, past 150,000 CHF, and on and on until it sold in the room for 360,000 CHF! This was some battle, but if any coin deserved it, this one certainly did; it makes whatever collection contains it into one of the world's greatest collections of Greek coins!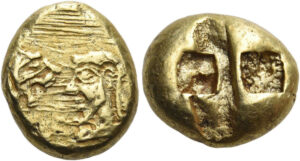 But what about the first human portrait to appear on a coin? Estimated at 100,000, lot 189, an electrum hemistater very possibly minted in Miletus in c. 650-600 BC, shows a male bust looking left, confronting a roaring head of a lion. Both historically and art historically this is a fantastic coin. And we certainly were not the only people to think so – it sold for 200,000 CHF!
Coins with cuts or other damages usually suffer in value compared to other pieces. But, somehow, if a cut or punch mark is in the right place, and especially if it does not damage the type in any way, it can emphasize a coin's beauty and add to its attractiveness. So it was with lot 229, a stater from Nagidos (Estimate: 2,500 CHF). Elisa bought for her phone client at 19,000 CHF!
The distinguished buyer who bought the Homer for 360,000 CHF bought this wonderful gold stater of Ptolemy I (lot 251, Estimate: 125,000 CHF) for only (only) 140,000 CHF – thus a total of a half a million CHF for two of the most wonderful ancient coins in existence!
This wonderful, and very rare, drachm from Euhesperides in the Kyrenaica came with a pedigree going back to the collection of the collector-dealer-scholar E. P. Warren in 1905 (lot 265, Estimate: 14,000 CHF). It sold to a crusty, but cultured, antipodal kangaroo magnate for 23,000 CHF!
Putting a collection of Alexandrian bronzes into a Nomos sale was always a somewhat risky idea; but the coins are so interesting and so different from all other issues of the Roman era that I simply could not resist doing so. And the fact is, really perfect ones are extremely rare since these coins were made to be used by a large population, and used they definitely were! This coin is only good very fine, but it combines a truly noble portrait of Antoninus Pius with an elegantly designed reverse showing Apollo between the Two Nemeses (lot 338, Estimate: 850 CHF). It almost doubled at 1,600 CHF!
We thought this was a lovely denarius of Cleopatra and Antony (lot 387, Estimate: 12,500 CHF); so did everybody else and it soared up to 34,000 CHF!
This amazing coin caused a good deal of trouble in its cataloguing! It was completely done but, mysteriously, its entry disappeared, doubtless spirited away by malignant goblins. So it was rewritten. The reason for all this effort is the absolutely fantastic Julio-Claudian/Augustan-looking portrait on the obverse; it does not look like any of the definite portraits of Augustus that appear on the coinage of the Lycian League – or anywhere else for that matter. So could it actually be a portrait of Agrippa? Estimated at 4,000 CHF (lot 391), it ended up selling at 8,500 CHF!
Seals are becoming ever more desirable to an ever more numerous audience of scholarly collectors. This piece, lot 475, the seal of Amalric, the Latin Patriarch of Jerusalem (1158-1180) was estimated at 2,000 CHF and sold, after quite a struggle, for 9,000 CHF.
The Merovingian coinage of Switzerland may not have been all that rare when it was made back in the 7th century, but almost all of it was doubtless melted down during the 8th and 9th centuries when silver became the sole metal used for money. This rare piece (lot 480, Estimate: 8,000 CHF) was minted for the Abbey of Saint Maurice, Agaunum (in the Swiss Canton of the Valais) and is one of a very few survivors. It sold for 15,000 CHF to a dealer acting for a particularly erudite collector!
As our final sparkling result here is lot 494, a gold Fiorino di Camera struck during the sede vacante of 1523 by the Cardinal Camerlengo Francesco Armellini. It is of great rarity (estimated at 20,000 CHF) and goes back, at least, to the Butta collection of 1939. It sold for a very pleasing 46,000 CHF!
If you want more results just go to the online catalog and check for yourself.
For further information about the auction house, visit the Nomos website.