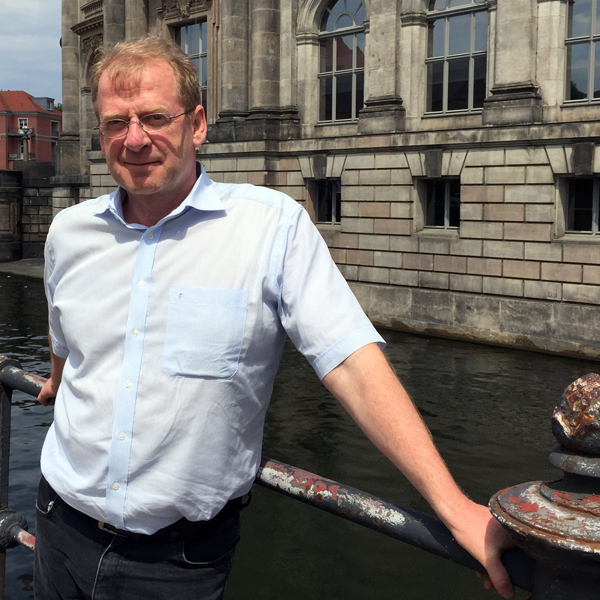 [bsa_pro_ad_space id=4]
Research Associate for medieval and early modern times at the Berlin Münzkabinett
Christian Stoess (* 1959) studied History, Pre- and Early History, Historical Auxiliary Sciences and Folklore Studies at the University of Münster. He obtained his master's degree with Peter Berghaus in 1985 with a work that translates as 'Studies on the history of the coinage of the city of Lüneburg from the middle of the 16th century until the end of minting'. Aside from preparing an (unfinished) PhD thesis on the monetary history of Mainz in the High Middle Ages, he began working at the numismatic dealership Dr. Busso Peus Nachf., Frankfurt am Main, as an auctioneer and an authorized signatory. The coins and medals of medieval and modern times constituted his professional focus.
Already during his time at university, Christian Stoess was a voluntary academic assistant at the Münzkabinett of the Westphalian State Museum of Art and Cultural History. He inventoried the coin collections of several smaller museums and documented the medieval and modern coin finds of Western Lower Saxony. As a scientific manager of the 'Archäologische Kommission für Niedersachsen', he was responsible for the documentation of the Roman coin finds for the relevant volumes on Lower Saxony of the 'Fundmünzen der römischen Zeit in Deutschland' series. Until 1989, he worked as a freelance contributor for various German museums, preparing exhibitions and doing inventory work, among them the Lower Saxony State Exhibition 'Stadt im Wandel' ('Changing city').
Since 2016, Christian Stoess has been Research Associate at the Münzkabinett of the Staatliche Museen zu Berlin where he is responsible for coins of the medieval and the early modern period.
Christian Stoess has written many auction sale catalogs for Dr. Busso Peus Nachf., including specialized collections with material from various German territories as well as the catalogs with the remaining stocks of the GDR (12 catalogs, 1994-2000) and the specialized auction sales 'Reichsbankschatz' 1-5 (2003-2009) offering German securities with thousands of short portrayals of Germany-based companies. In addition to contributions for conference volumes and academic journals, he published, together with Frank Berger, 'Die Fundmünzen der römischen Zeit in Deutschland. Abteilung 7: Niedersachsen und Bremen on 'Osnabrück – Aurich – Oldenburg' (1988).
Christian Stoess has been President of the Gesellschaft für Internationale Geldgeschichte and Editor of the 'Geldgeschichtliche Nachrichten' since 1992. From 2006 to 2016, he was a member of the Supervisory Board of Sixbid AG. Since 2008, he has been treasurer and member of the board of the Numismatic Commission of the States of the Federal Republic of Germany.
You can reach Christian Stoess via e-mail.
The introduction of Christian Stoess as the new staff member can be read on the German website of the Berlin Münzkabinett.
On the website of the Numismatic Commission of the States of the Federal Republic of Germany you can find Christian Stoess here.
*21 April 2020