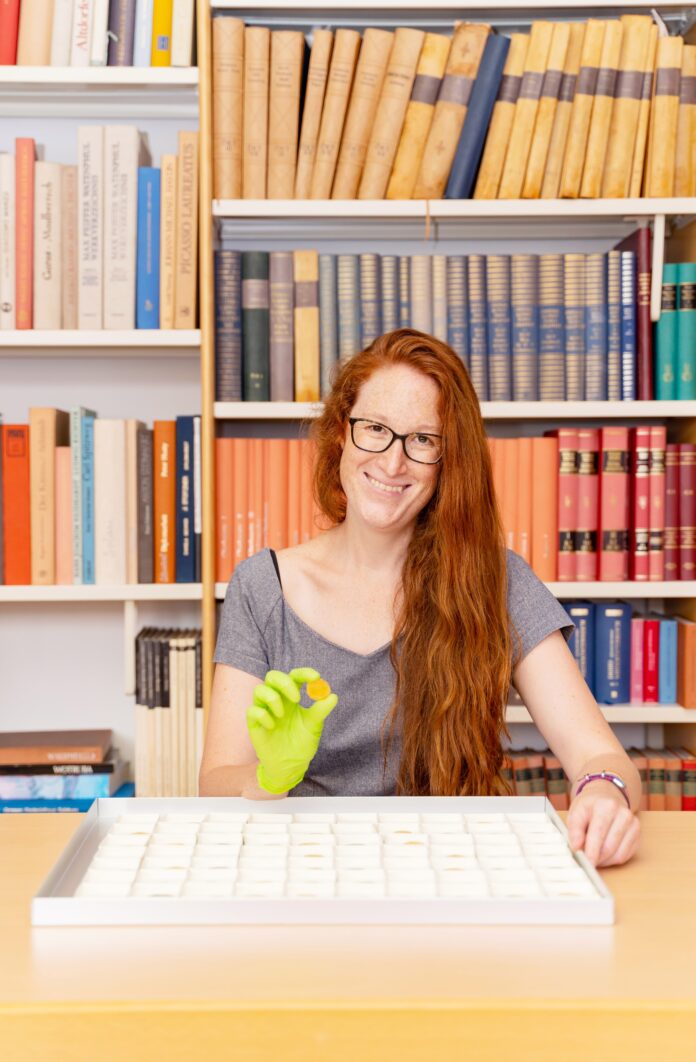 [bsa_pro_ad_space id=4]
Cultural scientist and art historian with a focus on numismatics, head of the Collection of coins, medals and monetary tokens at the Salzburg Museum
Alexandra Hylla (* 1988) finished her studies in Cultural Studies with a focus on History at the Distance University Hagen with a Bachelor's degree in 2014. In her thesis, she examined the Salian era as mirrored in the coinage of the city of Regensburg. From 2014 to 2016 she studied Art History at the LMU Munich and obtained the Master's degree with her thesis on exceptional 16th century silver objects from the Ore Mountains. Among other things, it dealt with mounted and reworked pieces of ore, and medals made of acanthite.
Alexandra Hylla plans to start a doctorate at the LMU Munich in 2017. Within a project that translates as "Constellations and scenarios. On the intermediality of zoomorphic creatures as conveyors of messages during the Middle Ages", organized by Prof Dr Stephan Hoppe, Institute of Art History, she intends to examine the iconography of medieval board games and jetons. The aim is to present a systematic comparison of the closely related motifs on coins, jetons, floor tiles and hand washing basins, through a thorough study of their particular origins, meaning and functions.
Accompanying her studies, Alexandra Hylla worked on the treasure troves of Teisendorf and Dollnstein during her internships at the Staatliche Münzsammlung München (SMM) in 2009/10. After a short period in the coin trade, she was Research Associate at the SMM from 2011 to 2014 and, in this capacity, worked on coin finds. Project contracts for the work on treasure troves – including the finds of Obing, Berchtesgadener Land and Waal – followed.
Since 2014 Alexandra Hylla, holding a Künker research scholarship, forms part of a research and exhibition project that translates as "Romanesque imagery on coins. The art of minting and currency areas between Brixen and Prague", in collaboration with the SMM, the Coin Cabinet of the Kunsthistorisches Museum Wien, and the Stiftung Bozner Schlösser, Bozen. Adding to this, she deputized for the curator at the SMM, Dr Martin Hirsch, for five months in 2017. Since 1 February 2018 Alexandra Hylla has been head of the Collection of coins, medals and monetary tokens at the Salzburg Museum. And since 2020 she has been the editor of the Salzburg Museum's arthistorical magazine "Barockberichte. Informationsblätter zur bildenden Kunst des 17. und 18. Jahrhunderts".
Alexandra Hylla's publications include the contribution "Antike Helden in der hochmittelalterlichen Kleinkunst" (MAQ Sonderband 33, 2016), and she also co-authored the article "Der Münzfund von Oberteisendorf. Einblicke in die mittelalterliche Münzprägung im Erzbistum Salzburg und im herzoglichen Bayern" (Numismatische Zeitschrift 118, 2011).
You can reach Alexandra Hylla via email by clicking here or here. 
This is her profile at academia.edu.
And to download her article "Antike Helden in der hochmittelalterlichen Kleinkunst", please click here. 
And you can find here the website of the Salzburg Museum.