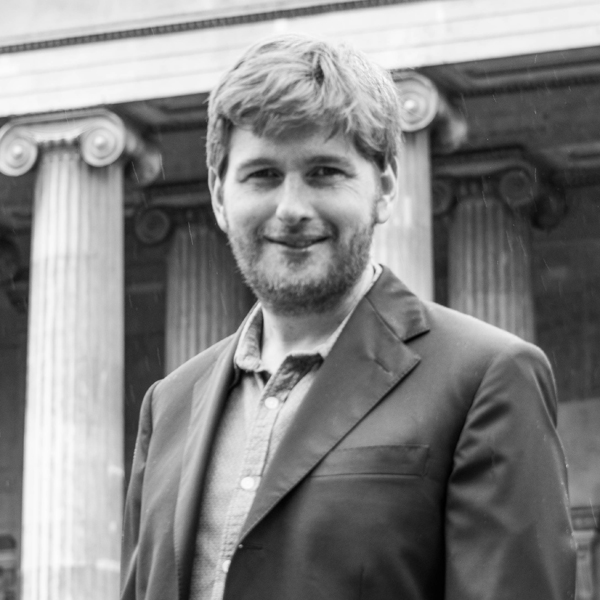 [bsa_pro_ad_space id=4]
Historian and specialist in Classical Civilizations, Curator of Modern Money at the London British Museum
Thomas Oliver Hockenhull (* 1984) obtained his BA in History in 2005, followed by an MA in Classical Civilizations with a focus on Classical Greece in 2006, both at the University of Leeds. In his dissertation, he dealt with Philip II of Macedonia's policy towards Thrace.
In 2007 Thomas Hockenhull worked as an Accounts Manager at MBNA, Chester Business Park, and as a Visitor Services Assistant at the Household Cavalry Museum, Horse Guards. Also in 2007 he started to work at the British Museum, London, where he served as Visitor Host until 2008 and Museum Assistant until 2011.
Since 2011 he is Curator of Modern Money at the British Museum. His responsibilities include the acquisition and care of the Museum's collection of more than 160,000 modern (post 1700) coins, banknotes, credit/debit cards, badges, tokens and financial instruments.
Thomas Hockenhull is also co-ordinator of the Museum's volunteer program and Program Manager of the Room 69a temporary exhibitions. In this capacity, he curated the exhibitions "Bubbles and Bankruptcy: Financial Crises in Britain since 1700" (2013) and "The Other Side of the Medal: How Germany saw the First World War" (2014). He is also Curator of the forthcoming exhibition "The Currency of Communism" (autumn 2017).
Adding to his professional work, Thomas Hockenhull gives media interviews and appears on current affairs programs (such as different BBC formats and Sky News). He is peer reviewer of articles for the British Numismatic Journal and Journal of Post-Medieval Archaeology. He regularly contributes to the British Museum Magazine. Select publications of Thomas Hockenhull's are "The British Museum and the Blitz: Coins and Medals in Wartime" (British Numismatic Journal, 2012) and "Stamped all over the King's Head: Defaced Coins and Women's Suffrage" (British Numismatic Journal, 2016). He is editor of the book "Symbols of Power: Ten Coins that Changed the World" (2015).
In 2016 Thomas Hockenhull was the recipient of an Art Fund "New Collecting Award" to study and collect objects from former communist regimes.
You can reach Thomas Hockenhull by email.
On the British Museum website, you can find him here.
To view Thomas Hockenhull's profile on academia.edu, please click here.
Here you can download his paper "The British Museum and the Blitz – the Department of Coins and Medals in Wartime".
And in this YouTube video you can see Thomas Hockenhull presenting the book "Symbols of Power: Ten Coins that Changed the World".