[bsa_pro_ad_space id=4]
by Hadrien Rambach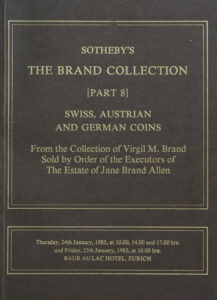 Virgil Brand (1861/62-1926), a bachelor whose German father had arrived in America in 1848, took over the family brewery business in Chicago. Brand's numismatic collection was without equal: 368,000 items! When he died in 1926, when the collection was inherited by his brothers Horace and Armin William Brand (1877-1946), it was estimated at a staggering five million US$ (some 250 000 ounces of gold!). He was still buying just before his death, and it can only be dreamt how much more Brand would have bought, if he hadn't died prematurely.
The collection was dispersed over many decades, both by private sale and in many auctions. Some unpublished archive material (Heritage, Eric P. Newman collection – part XI, 7 November 2018, lot 15104) document the dispersal of many Brand coins which were inherited by his brother Armin and handled by the St. Louis dealer Burdette Garner Johnson (1885-1947) from 1935 onwards. Armin had offered many coins on 28 November 1941 to his daughter Jane Brand (1908-1981, by marriage baroness von Boecklin and later Mrs John Hall Allen), and those that he kept were inherited by his widow Frieda Grommes Brand (1881-1969) in 1946. It was said that Glendining's auction, on 11-12 March 1936, of Central and South American gold coins, was also part of Brand's collection.
Brand's first numismatic purchase dated from 1889 (an Augustus Himbert $50 gold slug from 1851), but Brand only started to collect ancient coins seriously in 1899, with purchases from Spink, Weyl, A. Cahn and Jacques Schulman. In 1901, he purchased a very large group of Roman silver coins from Jacob Hirsch. In 1902, Hirsch continued to supply him with numerous Roman denarii and aurei. In 1903, Brand bought a large collection of Roman silver and bronze coins from Emil Fischer, while Hirsch sold him many Greek and Roman pieces (including a Syracusan decadrachm for $262.50). In 1904, Hirsch was still his main supplier of ancient coins, with many sales including an aureus of Diadumenian for $600. In 1905, Brand bought many Greek coins in Hirsch's auction XIII, while Ernest John Seltman sold him groups of high quality Roman silver coins. In 1907, Brand was a major buyer in both Hirsch's auctions XVI and XIX.
In 1908, Brand purchased over 100 aurei from various sources, as well as more than 500 Roman coins from two important European collections from Spink. Brand used Spink in 1909 to buy Roman coins from a Merzbacher auction. Brand purchased heavily in 1911, and from then onwards he mostly focused on ancient and foreign (rather than US) coins. In 1913, major acquisitions were made, including items from the Taranto hoard, and a decadrachm by Kimon for which he paid $1,000. 1914 provided Brand with huge acquisitions from two Hirsch auctions, in addition to a second aureus of Diadumenian from Spink. His European purchases were much slowed by WWI, but he nevertheless bought some of the best Jewish coins of the collection of the Reverend Edgar Rogers (1873-1961), through Spink in 1916. In 1917, Spink was again an important supplier, with the complete (500+ items) Ogle collection of Roman denarii and bronzes; and from 1920 onwards, Spink sold Brand many hundreds of Greek coins from the Weber collection, and also a number of Pozzi pieces.
In the 1920s, Brand acquired a large part of the electrum coins of Grand Duke Mikhailovitch. In May 1923 he bought from Spink three medallions from the Arras hoard (including a 10-aurei at $5,000 and a 5-aurei at $4,250). And in October 1925, Brand purchased over 300 lots of Roman coins from a Hamburger sale. Brand kept descriptive ledgers (thirty volumes), archived in New York at the American Numismatic Society, which still need an in-depth study, and unfortunately the provenance of each coin was not indicated in the later auction-catalogues.
Bibliography:
Q. David Bowers, Virgil Brand: the man and his era. Profile of a numismatist, Wolfeboro NH 1983.
Hadrien Rambach, "Provenance glossary", in Numismatica Ars Classica, Auction 91: the George W. La Borde collection of Roman aurei – part I, Zurich, 23 May 2016, [pp. 67-79].
Hadrien Rambach, "Provenance glossary", in Numismatica Ars Classica, Auction 99: the George W. La Borde collection of Roman aurei – part II, Zurich, 29 May 2017, [pp. 47-63].
Hadrien Rambach, "Provenance glossary", in Numismatica Ars Classica, Auction 105: the George W. La Borde collection of Roman aurei – part III, Zurich, 9 May 2018, [pp. 82-105].
This article was first published in a catalogue of auction house Numismatica Ars Classica.