Gerhard Hirsch Nachf., D-Munich
14. February 2019
Auction 347: Modern Coins and Medals
Modern Coinage at Hirsch
On 14 February 2019 Gerhard Hirsch Nachf. offers modern coins and medals in their auction sale 347 featuring nearly 1,200 lots.
Lot 4054: Electorate Baden. Karl Friedrich. 1803-1806. Rheingold medal 1803. Estimate: 8,750 euros.
The auction of Modern Coins and Medals offers some fine rarities for collectors. A Medal from 1803, made out of Gold from the Rhine River and struck under Karl Frederick of Baden on the occasion of his homage of this year in Mannheim, will go under the hammer at € 8.750,-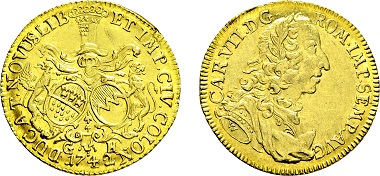 Lot 4400: City of Cologne. Ducat 1742. Estimate: 8,000 euros.
From Hamburg, a beautiful medal struck to 10 Ducats in 1855 and for the friends of the schools, a truly unique piece, is valued at € 7.000,-. From Cologne a uncirculated Ducat from 1742 with the bust of Emperor Karl VII, will go under the hammer for € 8.000,-. A very rare piece is a 1/2 Frederick d'Or from 1814 struck under Frederick Wilhelm III. of Prussia, valued at € 4.500,-.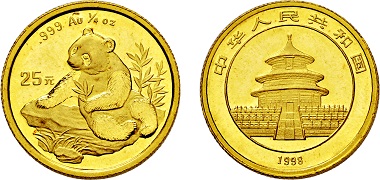 Lot 4857: People's Republic of China. 25 Yuan 1998. Estimate: 1,750 euros.
Among the coins and medals from around the world, a beautiful St. Anna Medal from czarist Russia stands out, valued at € 4.250,-.
On the Gerhard Hirsch Nachf. website is the online catalogue of auction 347 available.
Subscribe to our newsletter now
Get the latest news from the world of numismatics promptly delivered once a week by email.