Dr. Busso Peus Nachf., D-Frankfurt
07. December 2018 - 09. December 2018
Auction 423
Collections and Rarities at Peus
Frankfurt-based auction house Dr. Busso Peus Nachf. offered in their autumn auction 423 from 7 to 9 November 2018 coins and medals from antiquity to the middle ages, modern times, and numismatic literature.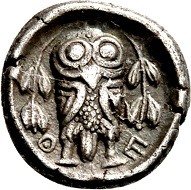 No. 32.
The sale opened with a special collection of Greek coins. The Dr. Schäfke's collection was built in the course of his research on the topic "Athena", and here especially some Attic small silver coins (nos. 32, 35) met with great interest. The monograph on this collection is now available from Dr. Busso Peus Nachf.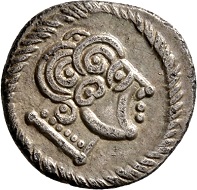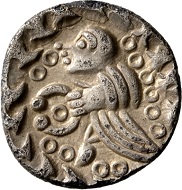 No. 184.
Also the following lots of Celtic coins were very much in demand. In addition to the well-bidded Treveri gold, the rare Gallic Pons / Sainte Eanne stater (no. 173) as well as the finely cut quinarius of the Nauheim type (no. 184) experienced extraordinary increase.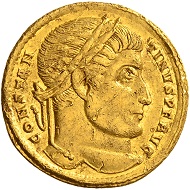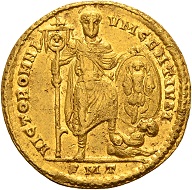 No. 424.
Roman and Byzantine gold continues to be very popular, and the numerous aurei and solidi achieved solid results. Of particular note are the Galba aureus (no. 313) and the exquisite golden Domitianus (no. 325). The unedited solidus of Constantine the Great (No. 424) found its new owner for 8500.-.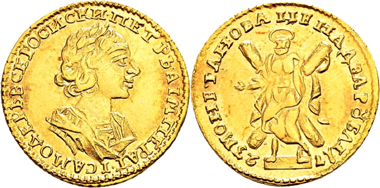 No. 1204.
Among the following world coins a series of Venetian zecchines (nos. 1039-1088) whose surcharges were usually far better than their estimates, must be mentioned here. As expected, a great interest was shown in the coins of Poland and Russian rarities, for example a 2 rubles 1723 (No. 1204). An increased interest was also noticeable in the goldguldens of Hungary (Nos. 1358-1375), which were hotly contested by Internet bidders. In general, the more than 200 Habsburg coins and medals, and especially those from East Central European mints, were in great demand.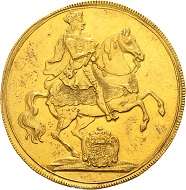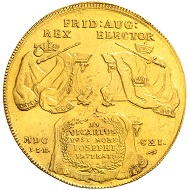 No. 2628.
Among the German feudal coins a large collection of Nuremberg and several small but pretty serieses of Bavaria, Brandenburg-Prussia, Mecklenburg, Saxony, and the Rhenish Electorates were auctioned. Here again and again single rarities stood out, like the Saxon 8 Ducats on the Vicariate of August the Strong in 1711 (No. 2628, estimate: 35,000, hammer price 67,500,-) or a Mecklenburg-Strelitz 5-thaler-pistol 1754 (No. 2348, estimate 15,000, hammer price 31,000, -).
As usual, the German imperial coins and the once again hotly contested combined lots followed the unusually successful group of coins from the German feudal states. Special mention should be made of the auction of a large Numismatic Library, which was offered mainly in combined lots due to their quantity.
The digital catalog is available on the auction house's website.
There you can also find the online catalog and the post-auction sale.
Subscribe to our newsletter now
Get the latest news from the world of numismatics promptly delivered once a week by email.